Trump Awards Rush Limbaugh Medal of Freedom During SOTU, Prompting Moans From Dems, Standing Ovation
Conservative radio host Rush Limbaugh was presented with the Presidential Medal of Freedom Tuesday during the State of the Union address.
Limbaugh recently revealed to his listeners that he has been diagnosed with stage 4 lung cancer.
"I wish I didn't have to tell you this, and I thought about not telling anybody. I thought about trying to do this without anybody knowing, 'cause I don't like making things about me," Limbaugh said Monday on his syndicated radio program. "But there are going to be days that I'm not gonna be able to be here because I'm undergoing treatment or I'm reacting to treatment, and I know that that would inspire all kinds of curiosity with people wondering what's going on."
"That is not good news, but what is good news is that he is the greatest fighter and winner that you will ever meet," Trump said, adding that Limbaugh deserved the award for "all that you have done for our nation, the millions of people a day that you speak to and inspire, and all of the incredible work that you have done for charity."
First Lady Melania Trump presented Limbaugh with the medal, placing it around his neck. Limbaugh seemed surprised by the honor and appeared to be wiping tears from his eyes.
According to Newsweek Washington correspondent Ramsey Touchberry who was present at the State of the Union address, reactions from Democrats in the audience ranged from applause to "moans and groans."
"Former Rep. @KatieHill4CA laughs at Trump's introduction of Rush Limbaugh as the 'greatest fighter and winner that you will ever meet," tweeted Touchberry. "Announcement of Presidential Medal of Freedom draws moans and groans from Dems."
"Oh FFS Rush Limbaugh getting the Medal of Honor is a low I sure wasn't expecting," Hill tweeted.
Others were quick to point out Hill's confusing the Medal of Honor, which is a military award, with the Medal of Freedom, which is given to civilians.
"Medal of Freedom," tweeted Dustin Johnson, "but I see what you mean."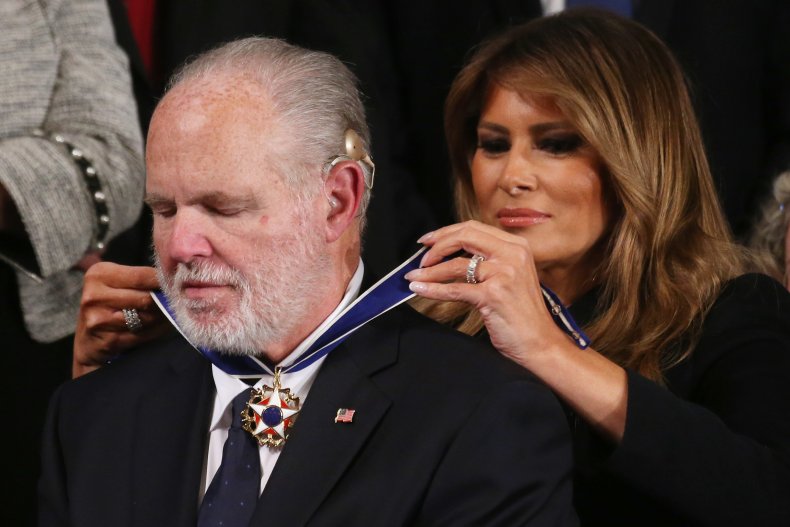 Mother Jones D.C. Bureau Chief David Corn tweeted, ".@realDonaldTrump just gave the nation's highest civilian award to a man who has a long and demonstrable record of misogynistic and racist comments. And he did it during a #SOTU."
"Can't find the words to express my pain and disgust at seeing Rush Limbaugh receive the nation's highest honor in the house that my ancestors built," tweeted New York Times editorial board member Mara Gay. "But in their name, I say that this is not the end. We will overcome this hate and live to see a better day. This too shall pass."
Others like Trump's personal attorney Rudy Giuliani came to the defense of both the president and Limbaugh.
"Pelosi and her corrupt-hate filled Democrats can't even stand for a man fighting stage 4 lung cancer," Giuliani tweeted. "I've known Rush for 30 years and no one deserves the Medal of Freedom more than Rush Limbaugh. He's a 100% patriot. Thank you @realDonaldTrump for honoring him."
With his outspoken politics, many observers had accused Limbaugh of helping Trump with his policies, a claim Limbaugh denied during a February 2019 interview with Chris Wallace on Fox News Sunday.
"If these people in the media, Chris, really thought that I was telling Trump what to do and when, they'd be calling me. They'd be asking me about it. They'd want to get down to the dirty details," Limbaugh said.
"It's just another effort to continue to try to diminish the president, diminish Trump," Limbaugh added, "as somebody who doesn't know what he's doing, can't do it without guidance from the so-called wacko right."