'Trump Baby': Meet the Mind Behind the Inflatable Infant Set to Greet Trump on London Trip
When London activist Leo Murray first came up with the idea to put a 20-foot "Trump Baby" blimp in the sky in time for President Donald Trump's trip to Britain this week, he never could have anticipated just how well the plan would take off.
Within weeks, an online fundraiser aiming to generate £5,000 to help fly the giant balloon reached more than £28,500 in donations. The blimp, which depicts Trump as an angry smartphone-wielding infant, will be floating outside the Palace of Westminster on Friday.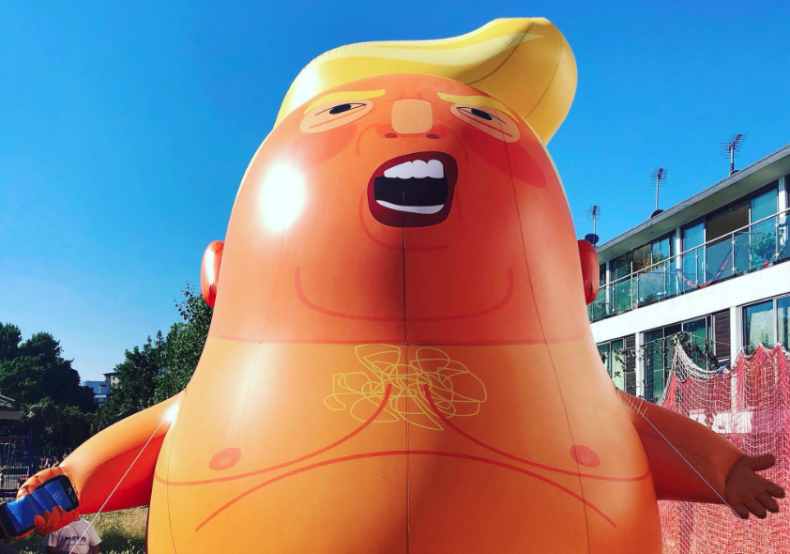 "This has wildly exceeded my expectations," Murray, 41, told Newsweek. The British activist said his Trump Baby balloon has not only "captured something of the essence of the president's character," but has also managed to encapsulate an important moment in Trump's presidency.
A "Moment in History"
"I think there's something important that it's capturing about this moment in Trump's presidency. That we've kind of turned a corner," he said.
The activist said that for the British public, that corner came when Britons learned of Trump's "zero tolerance" immigration practice of separating families at the border. (It has now been rescinded.)
"That was a moment where a line was crossed for most people in this country," Murray said. "And we have managed to articulate that moment in history."
Related: President will avoid "Trump Baby" blimp, London protests during U.K. visit
The activist shrugged off criticism calling the demonstration a "stunt," saying "stunts like this" can be "effective when they are articulating a wider movement. You can't just do a stunt, or a prank, as some are calling it, and expect that to deliver change.
"What they are good at is drawing attention to an issue and allowing you to articulate it and that's what I think we have managed to achieve here. Trump Baby is really just a mascot for a much wider movement that is ready to resist.
"There will be tens, perhaps hundreds of thousands of people on the streets on Friday protesting Trump and his awful politics," Murray said.
Limited Time Only
Murray said the Trump Baby is "subject to some strict conditions from City Hall and the Metropolitan Police," and will only be allowed to fly across from Westminster in Parliament Square Gardens for one day during a short period of time.
"From 9:30 a.m. [4 a.m. EST] on the dot, we have the magic moment of Trump Baby ascending to the heavens, lifting the spirits of the nation as he goes, and then he's going to fly for about two hours."
Murray, who plans to run the initiative as a nonprofit, said he has already put some of the money he has raised toward creating a second, smaller Trump Baby that will be making a "surprise" visit at a "secret" location during the president's trip to Britain.
While the activist would not reveal where the balloon baby would be traveling to, its destination will likely coincide with a location on Trump's own itinerary during his U.K. visit.
"Trolling" Trump Around the World
With much of that itinerary set largely outside of London, Trump may not get a chance to see his inflatable infant counterpart during his visit.
"He's taken one look at Trump Baby and he's wet his pants and has run for the hills," Murray joked about Trump's schedule, which sees the president spending only one night in Britain's capital.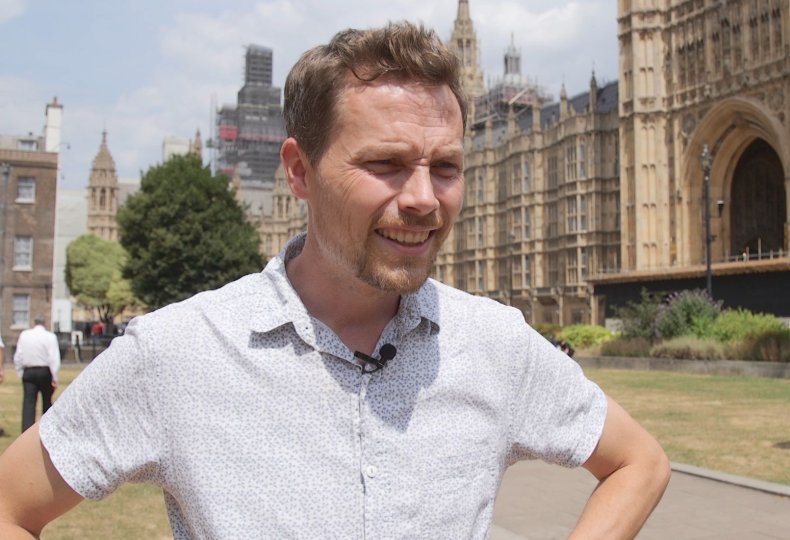 That's why Murray says he and fellow activists plan to use a portion of the large sum of money they have raised to send Trump Baby on a "world tour."
Related: Donald Trump baby balloon to go on world tour after president's U.K. visit
"We have far more money than we needed to run the U.K. protest, so we are going to send Trump Baby on a world tour…to just make sure that he carries on trolling Trump throughout this awful grotesque presidency," Murray said.
The Briton and his fellow Trump Baby organizers will not be taking the blimp on tour themselves.
"We're going to look at Trump's diplomatic itinerary over the next 12 months and we're going to reach out to activist groups and communities that are unfortunate enough to be expecting a visit from the president and see whether they would like to fly Trump Baby over their venue where he's meeting heads of state or whatever it is that he's doing," Murray said. "So, that's pretty exciting."
The activist hopes to see Trump Baby make its way to Australia next, where the U.S. leader is expected to make a trip in November.
Murray would also like to see Trump Baby go on tour in the U.S., but he said he feared Trump supporters would "shoot it out of the air."
"I don't know how long Trump Baby would last in the U.S.," Murray said. "There are certainly enough crazies out there who have access to firearms that would be trying to shoot it out of the air.
"But, we can always make another one, right?" the activist said, adding that he would like to see the inflatable infant "trolling [Trump] from the skies" for as long as possible.
"I think that would make a lot of people very happy, and I think that would really enrage him and those are two fantastic outcomes," Murray said.