'Trump Baby' Blimp Delivered to Washington State, Inflated for a Test Run
A blimp depicting President Donald Trump as an orange baby with a diaper flew across the skies above Vashon Island in Washington state on Monday. The balloon flight a quality "test run" before activist groups aim to air it alongside a demonstration in the upcoming months.
The Backbone Campaign, which specializes in what Solidarity Brigade and Imagery Coordinator Roni Murray told Newsweek was "artful activism that focused on dramatic visuals," blew up a duplicate of the original 'Trump Baby' blimp for a test run. Portable vacuum cleaners and manual air pumps were used to temporarily fill the balloon with oxygen that employees used to check the balloon for holes and leaks upon arrival. The company has raised $1,275 of their $10,000 goal for their "Baby Trump Action Fund." On its site, it said the money would be used to fund "helium and transport to make the most of this incredible gift (the balloon)" which the surrounding community crowdfunded and gifted to them.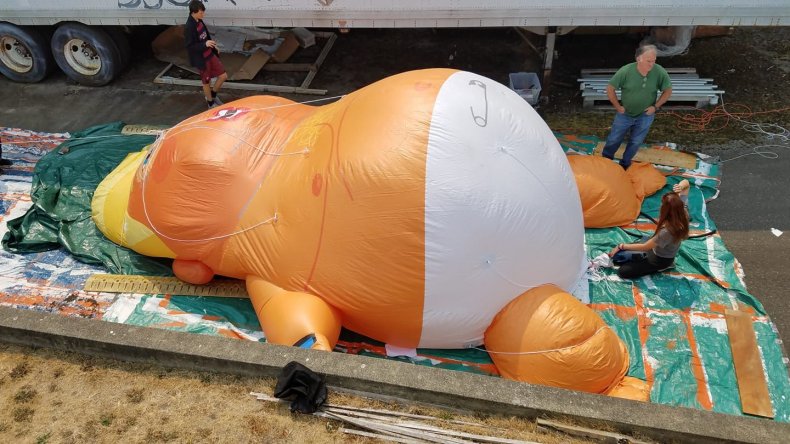 An original form of the balloon was flown in London on July 12. The man behind the crowdfunding for the balloon in Washington state is a man named Bill Pope, according to The Seattle Times.
Newsweek subscription offers >
"To all my most anti-Trump Facebook Friends," Pope wrote in a Facebook post, according to The Seattle Times. "I have contacted the outfit that makes these balloons…and they will sell us a 6 meter Baby Trump Blimp for $4500. I'm not sure who should be the keeper, but I know we NEED one here in WA. I will put in $500 and I am looking for investors."
Pope reportedly gathered the remaining funds from 20 different donations, ranging from $100 to $500 each. Once it was funded, Pope found out about the Backbone Campaign and reportedly agreed to let them be its keepers.
Murray told Newsweek that she believed the Trump-shaped balloon gained notoriety when it aired in London.
"Folks in the UK really raised the attention for it," she said. "I find activism in Europe is more about humor versus here where it can get more serious."
Newsweek subscription offers >
Murray also said "everyone is super excited" about a potential event in the upcoming months, and said the key to getting the balloon to an event was to be "super careful, and make sure people always had their hands on the security lines. It takes a lot of planning."
The balloon is currently the only one of its kind in the state and follows the recent delivery of similar balloons in New Jersey.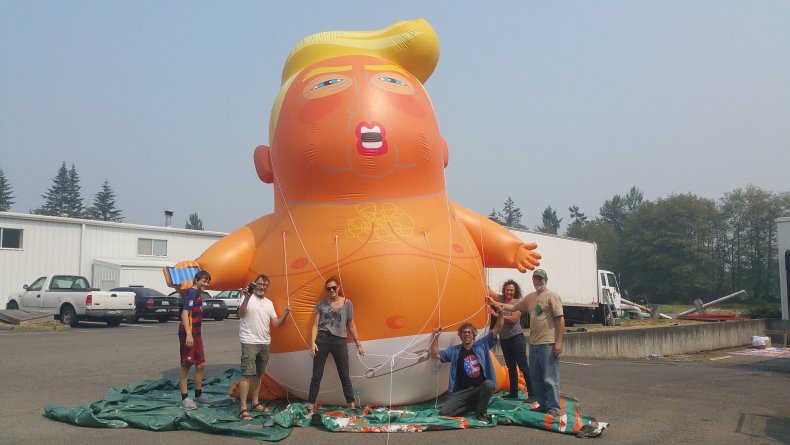 'Trump Baby' Blimp Delivered to Washington State, Inflated for a Test Run | U.S.