'Trump Baby' Blimp Follows President in U.K. as Protesters Try to 'Run Him Out of Scotland'
A 20-foot inflatable blimp depicting President Donald Trump as an orange, angry baby was approved for flight over Edinburgh during a protest on Saturday.
An estimated 10,000 people marched through the Scottish capital to protest U.S. President Donald Trump, a day after protesters gathered in London to speak out against his working visit to the United Kingdom.
The blimp, designed by Leo Murray, flew over Parliament Square in London on Friday when organizers said nearly 250,000 people took to the streets to mark Trump's first visit to the U.K. as president. The blimp depicts the President in a diaper, cellphone in hand, and was guided by activists dressed in bright red hats and jackets that read, "Trump Babysitter."
An Edinburgh City Council spokeswoman said: "The council, Police Scotland and the Civil Aviation Authority were happy to give it the go-ahead as there were no security concerns," The London Evening Standard reported on Saturday.
Trump is in the U.K. for four days and headed to Scotland after meeting with British Prime Minister Theresa May and having tea with Queen Elizabeth II. Activists confirmed that the blimp will fly in the Meadows, a large public park in Scotland, during one of many protests across the U.K.
The Meadows park has been approved for the balloon, after officials from parliament rejected their request to fly it at Holyrood, another park in Edinburgh. Plans to fly it above the Trump Turnberry golf course while the president visits were also denied because of airspace restrictions.
Murray, 41, who organized the blimp, told The Washington Post in an interview on Friday that the protesters will be escorting the blimp to meet the president in Scotland. "People in Scotland have been inviting us. We've had hundreds and hundreds of messages saying, 'Please come.' I think there's a sense that Trump Baby is able to ward off evil, so they've asked us to bring him up there to see if we can run [Trump] out of Scotland as well."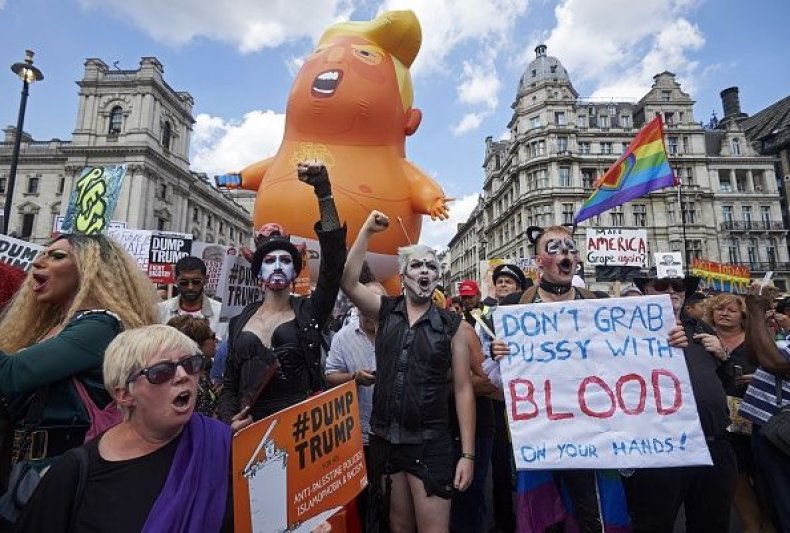 Murray added: "It's hilarious, and that's good—it's good to put a smile on people's faces in these troubling times."
Trump's visit to the U.K. proceeds his scheduled summit with Russian President Vladimir Putin in Helsinki, Finland, on Monday.