Trump-Backed Collins Trails Obama-Endorsed Gideon in Maine Senate Race
Senator Susan Collins faces a tough re-election as polls continue to show challenger Sara Gideon ahead.
Collins, a four-term Republican incumbent, faced heavy criticism for her vote confirming Supreme Court Justice Brett Kavanaugh in 2018. In the toughest re-election race of her Senate career, she's trailed her Democratic opponent in the polls for at least three months.
With three months to go before Election Day, Quinnipiac University said the race is too close to call, and the most recent poll put Gideon's lead just outside the margin of error. A survey of 807 people in Maine found 47 percent planned to vote for Gideon and 43 percent for Collins.
Of the respondents who chose a candidate, 88 percent said their minds were made up, but 11 percent said they were open to possibly changing their mind.
The majority of people polled who are voting for Collins, 51 percent, said they're doing so because they like her. A larger percentage, 69 percent, of people voting for her challenger said they're doing so because they oppose the GOP senator.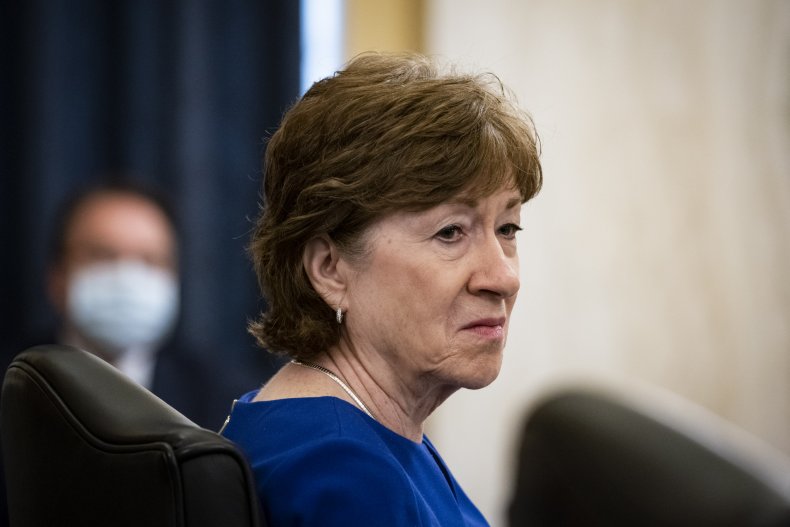 Both Collins and Gideon received presidential endorsements in their campaigns, albeit from different sides of the political aisle. On Monday, former President Barack Obama released his first round of endorsements, and Gideon's name made his list. While he didn't speak to the candidates individually, he wrote in a Medium post that the people he was endorsing would stick up for the working class and fight for the good of all Americans, "not just those at the top."
"They make me optimistic not just about our party's chances in November, but about our country's future long after that," Obama wrote.
Trump hasn't issued a full-out endorsement of Collins, but in December he agreed that she should be supported in her Senate race. Senator Lindsey Graham, who is also up for re-election, tweeted that Collins showed "unbelievable courage" during Kavanaugh's confirmation and that she's needed to ensure a GOP majority in the Senate in 2020.
"I agree 100%," Trump responded.
Collins, in turn, hasn't endorsed the president. She told CNN on July 21 that she endorsed former Florida Governor Jeb Bush during the 2016 GOP primary only because she wasn't campaigning herself.
However, CNN noted that she endorsed Senator John McCain in 2008, the same year she was running for her seat in the Senate. She told the outlet that she and McCain were "very close friends" and that this time around, she's concentrating her efforts on her own "difficult race." Plus, not everyone in Maine sees a connection with Trump as a positive. She told reporters in July that in parts of Maine Trump is "very popular" but in other parts he's "very unpopular."
"She has both defied President Trump and backed him to the hilt. An embattled Republican in a northeastern state, Senator Collins faces the political challenge of her life," Quinnipiac University polling analyst Tim Malloy said.