A Republican candidate who's backed by former President Donald Trump is upset at being called a "neo-Nazi" despite espousing "white replacement theory."
Joe Kent, a congressional candidate in Washington state, has been endorsed by a number of Republican and conservative voices. Most notable was the former president, who said in his endorsement that Kent, a former Green Beret, "is strong on Crime and the Border, loves our Military and our Vets, and will protect our Second Amendment, which is under siege."
Kent has made a number of appearances on conservative media outlets. The latest of these occurred on Friday, when Kent spoke to David Carlson, one of the heads of the conservative group American Populist Union (APU).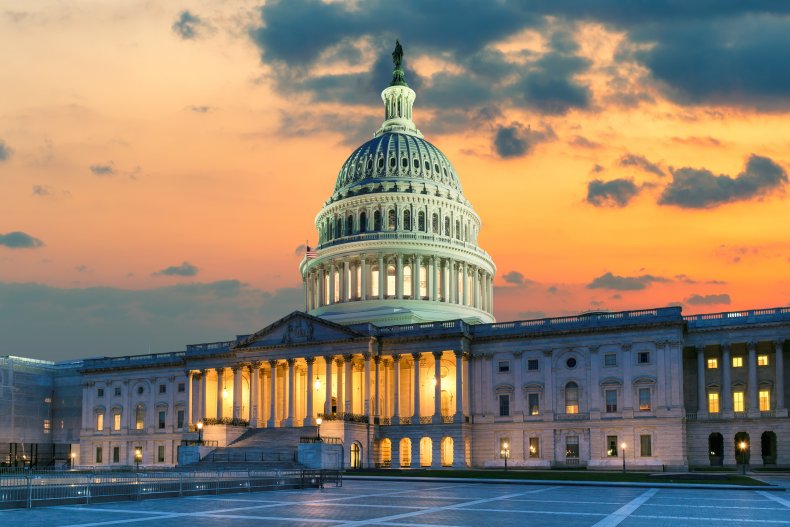 During the appearance, Kent spoke about his anger that people who talk about "replacement theory" are being labeled racist.
"[Democrats] are elite whites who have no issue whatsoever bringing in that unskilled cheap labor from country—you name the country, you name the ethnicity, that's going to displace, a working-class White, a working-class Hispanic, or working-class Black African-American," Kent said. "And you know, they'll say oh if you even mention that, then you're some sort of neo-Nazi, white nationalist. That's the replacement theories."
"Well no, you're literally trying to replace an American—but you're not, you're doing it because you want cheap labor," Kent said.
"White replacement theory," also referred to as the "great replacement," is a conspiracy theory claiming that native white people are being replaced in countries around the world by non-white immigrants. These immigrants, the theory claims, are often from Africa and the Middle East.
Despite Kent's assertions that followers of the theory are being incorrectly labeled as neo-Nazis, "white replacement" is often considered one of the cornerstones of white nationalist rhetoric.
The Anti-Defamation League (ADL) says the theory "was quickly adopted and promoted by the white supremacist movement, as it fit into their conspiracy theory about the impending destruction of the white race, also know as "white genocide," adding that "it is also a strong echo of the white supremacist rallying cry, the 14 words: We must secure the existence of our people and a future for white children."
Social media also pointed out that, while Kent asserted that his statement was not a 'neo-Nazi' stance, "replacement theory" is almost always associated as such.
"People say you're a white nationalist when you use the Great Replacement Theory because it's literally a white nationalist theory and the backbone of the movement for decades," tweeted Fred Wellman, political consultant at a liberal think tank, in response to Kent. "You're literally sharing white supremacist talking points."
"Oh, sure, just because I insist that a global cabal of horned Jewish bankers runs the world and drinks the blood of Christian babies in secret ceremonies to achieve immortality ... that gets me labeled as an 'anti-Semite'? Whatever, woke mob," Kevin M. Kruse, a professor of history at Princeton University, sarcastically tweeted.
Kent has continually said that his views are not racist. His campaign website also notes his stance on immigration.
"We must have strict immigration control and a robust physical border wall to ensure our nation's security," the website says. "Illegal immigration affects our economy and the ability of working-class Americans to obtain jobs."
"I will introduce and support legislation to build a border wall, push back on blanket amnesty, deprive sanctuary cities of federal funding, and enforce strict employer verification requirements for their employees to end non-US citizen labor demand," the website says.
Newsweek has reached out to Kent's campaign and Trump's office for comment.