Trump-Backed Tommy Tuberville Tells 'Liberals' to 'Go to Hell,' 'Get Jobs' in Alabama Senate Acceptance Speech
Former college football coach Tommy Tuberville declared victory in Alabama's senatorial race Tuesday night, after the evening's ballot counts projected him to have won the state's congressional race.
Tuberville, a Trump-endorsed Republican, is now expected to unseat his Democratic opponent, incumbent Senate candidate Doug Jones. Of the 12 Democratic senators whose seats were up for election this year, Jones' was the only one that forecasters anticipated would flip Republican. With twice as many GOP senators finishing their respective terms in Congress, Democrats are looking to secure a majority.
Alabama's presumed next senator delivered celebratory remarks in Montgomery, the state's capital city, around 9:30 p.m. CT on Tuesday, following news of his projected win. The freshman political figure thanked supporters at the speech's opener before segueing into a string of comments that knocked Jones' campaign donors and attempted to reclaim a statement included in one of its critical advertisements.
"This is awesome. Hey, thanks for coming," Tuberville said, addressing an audience who attended his election watch party in Montgomery.
"Tonight, the liberals of California, New York and Washington D.C. learned the hard way that Alabama's Senate seat cannot be bought," he continued, adding, "If you allow me to quote one of my opponent's many campaign ads, they can all go to hell and get a job as far as I'm concerned!"
Tuberville's comments first seemed to reference Jones' campaign fundraising haul, which the Republican previously suggested was backed largely by out-of-state donors, according to the Alabama Political Reporter. Documents filed to the Federal Elections Commission showed Jones outraised Tuberville by as much as 300 percent during the election season's third quarter.
The former football coach's latter remarks cited a quote from Tuberville himself, which Jones' campaign featured in a late September advertisement urging Alabama voters to support the incumbent senatorial candidate's reelection. The ad branded Tuberville a "quitter," chronicling his various coaching jobs at different universities over the past few decades. Since 1995, Tuberville coached football teams at the University of Mississippi, Auburn University, Texas Tech University and the University of Cincinnati. He served his longest tenure as coach at Auburn, from 1999 until 2008.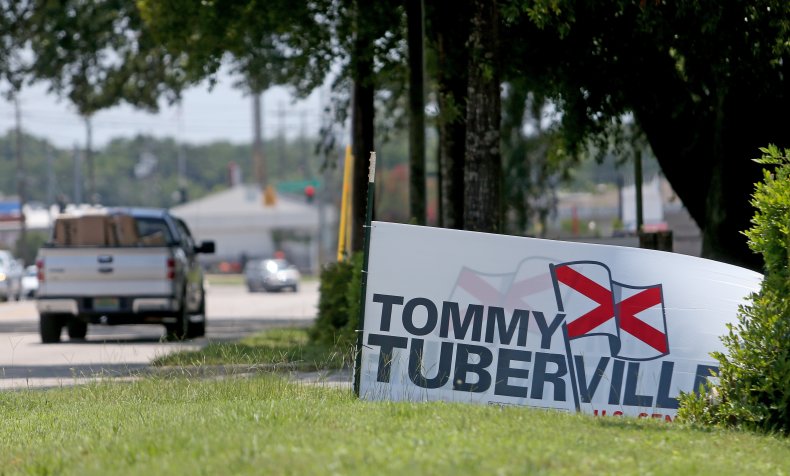 "It's not just that he's a quitter, it's how he quits," the ad's narrator said, going on to list Tuberville's employment history. The minute-long video closed with a clip that showed Jones' challenger shouting at a disappointed fan who yelled to him following the Cincinnati Bearcats' loss to Brigham Young University's football team in November of 2016. "Go to hell! Get a job!" Tuberville calls out in the video.
Tuberville will begin his six-year term as one of Alabama's two senators beginning in January.
Newsweek reached out to Tuberville's campaign for comments but did not receive a reply in time for publication.