Trump Backs 'Fight' For Control Of Iran, Then Deletes His Tweet, A Possible Violation Of Records Law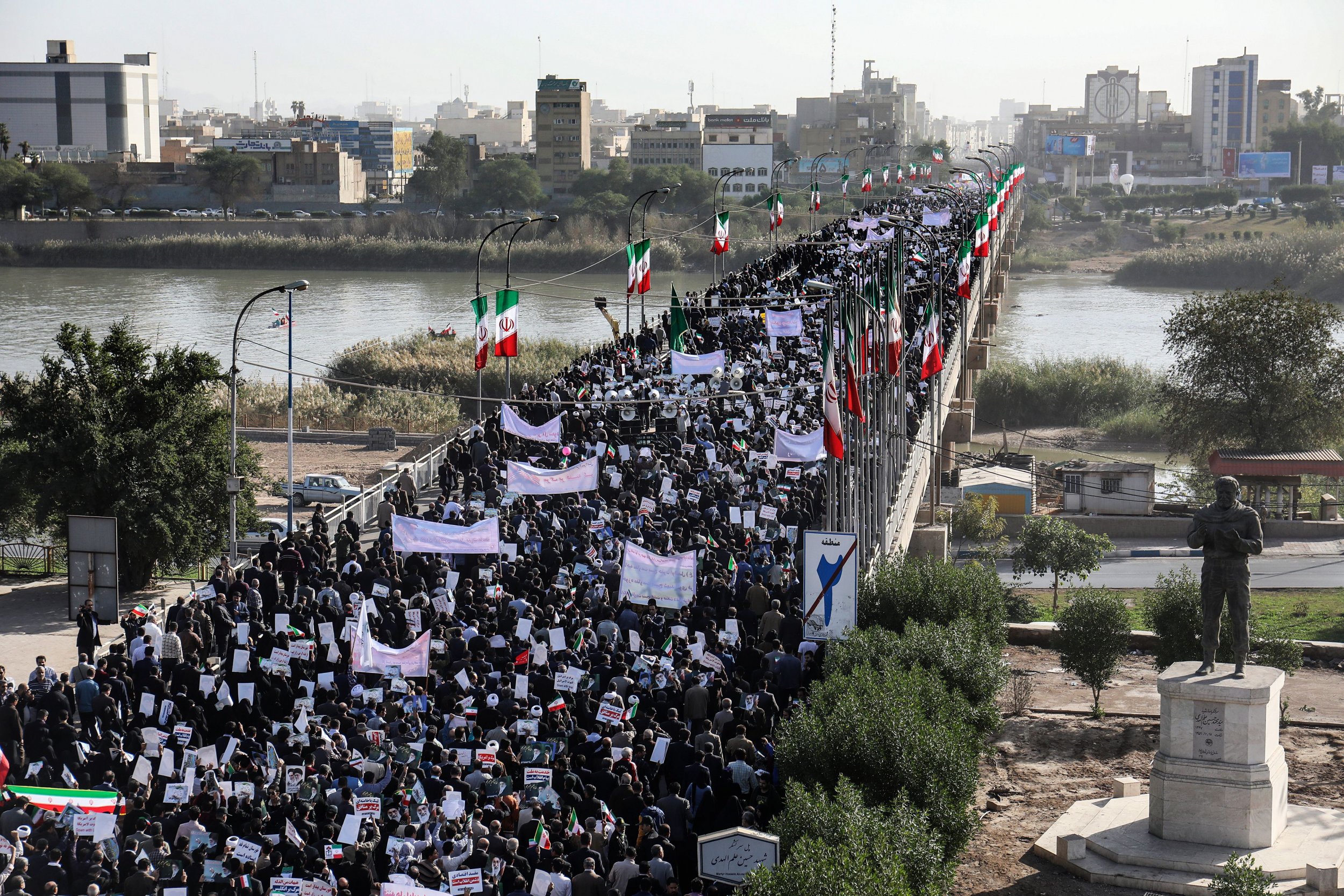 President Donald Trump appeared to back a "fight" to overthrow of Iran's theocracy by the growing ranks of protesters on Wednesday, only to delete the post a minute later and rephrase it using more diplomatic language—the latest controversial deletion for a president accused of violating laws to protect administration records.
Trump replaced the early morning tweet supporting protesters' "fight" with one that praised Iranians as they "try" to combat corruption in Iran. Both tweets had promised that the U.S. would provide support.
It was the second time in the past 24 hours that Trump had deleted a tweet, previously hyping Sean Hannity's television program on Tuesday evening, but deleting that tweet without replacing it the next morning.
And in December, Trump tweeted about a drop in territory held by ISIS during his tenure, but the math was wrong and he deleted the tweet several hours later, replacing it with a retweet from a supporter.
Experts are split over whether deleting tweets is against the law, with the issue depending on whether one considers the tweets part of Trump's statements as president or merely as a private citizen. If they are presidential announcements, then Trump would have to preserve the tweets as part of the Presidential Records Act passed by Congress after President Richard Nixon tried to withhold records during the Watergate investigation.
But if they are personal messages, then Trump would not be obligated to save them.
Even if Trump isn't holding onto the tweets, other groups are.
ProPublica, a not for profit investigative reporting group, tracks deleted tweets on the website Politiwoops. The group has tracked five deleted tweets since the beginning of December including the Hannity tweet and the Iran tweet deleted in the last day.
Trump is facing a lawsuit from Citizens for Responsibility and Ethics in Washington and the National Security Archive over deleting tweets based on the Presidential Records Act requirement. On Wednesday, the organization also quickly criticized Trump for deleting the Hannity tweet, saying it was "an official statement and must be archived."
When the organization first filed its lawsuit in June it used a similar argument, saying that Trump couldn't delete tweets because "the president and his office are legally required to maintain these records for eventual public access."
The tweet about Iran protesters could ignite an already tense situation.
Protests and counter-protests have spread across the country, authorities have blocked social media access to prevent activists from organizing, and Iran's leader Ayatollah Khamenei has blamed the U.S. for the discontent.
"The main U.S. strategy towards Iran is to create division between the united ranks of the revolutionary and devoted Iranian people," Khamenei said in a press release issued on Monday. "In order to foment discord, they are calling one group 'reformists' and some other group 'conservatives.' While claiming to support the first group, they are disseminating negative propaganda against the other group."
The Trump administration has repeatedly applauded the protesters' expression of free speech, but has stopped short of directly backing violence like that implied in Trump's tweet Wednesday.