Trump Backs Florida, Arizona Mail-In Voting But Not Nevada, Says State Will Have Millions of Ballots 'Coming Out of Nowhere'
After making a number of claims that mail-in voting will lead to widespread voter fraud, President Donald Trump has now pivoted to give mail-in voting the green light—but only for certain states.
Trump expressed his approval for mail-in voting in Arizona on Wednesday during a White House meeting with Arizona Governor Doug Ducey.
"Arizona's been doing this for a long time and it has been refined," the president told reporters. "Even if Nevada wanted to do it well, they wouldn't have enough time. I'm sure the post office doesn't have enough time. Millions of ballots all of a sudden coming out of nowhere? You know, voting starts in a very short period of time."
Trump said allowing mail-in voting in Nevada, which he called "an important state and very political state," is a "catastrophe waiting to happen." He also called Nevada's mailing system "defective."
The president's comments follow a bill signed into law Monday by Nevada Governor Steve Sisolak which automatically sends mail ballots to voters in response to the coronavirus pandemic.
"During this global pandemic, I made a commitment that we'd do all we can to allow Nevadans to safely cast a ballot in the upcoming November election," Sisolak said in a statement. "This bill will help prevent Nevadans from experiencing the long lines at polling locations they faced during the Primary election, which will protect their safety, safeguard their right to make their voices heard, and help reduce the spread of COVID-19."
California and Vermont have also moved to adopt automatic mail-in ballot policies.
Newsweek reached out to Sisolak for comment but did not hear back before publication.
While meeting with Trump, Ducey said that the state would "do it right" when it comes to mail-in voting for the November election. "It will be free and fair. It will be difficult, if not impossible, to cheat and it will be easy to vote," he said.
The governor noted that 70 percent of his state votes by mail and that Arizona acts as a model for other states when it comes to mail-in voting, which Ducey said the state has allowed since 1992.
After months of opposition, Trump has given support to mail-in voting, but only in states where GOP governors hold office. On Tuesday, Trump tweeted his encouragement for Floridians -- who elected Republican Governor Ron DeSantis to office in 2018 -- to request a mail-in ballot.
"Whether you call it Vote by Mail or Absentee Voting, in Florida the election system is Safe and Secure, Tried and True. Florida's Voting system has been cleaned up (we defeated Democrats attempts at change), so in Florida I encourage all to request a Ballot & Vote by Mail!," he tweeted.
Trump is also a Florida voter, the president changed his primary residence from New York City to Palm Beach, Florida—the home of his Mar-a-Lago resort—in October 2019.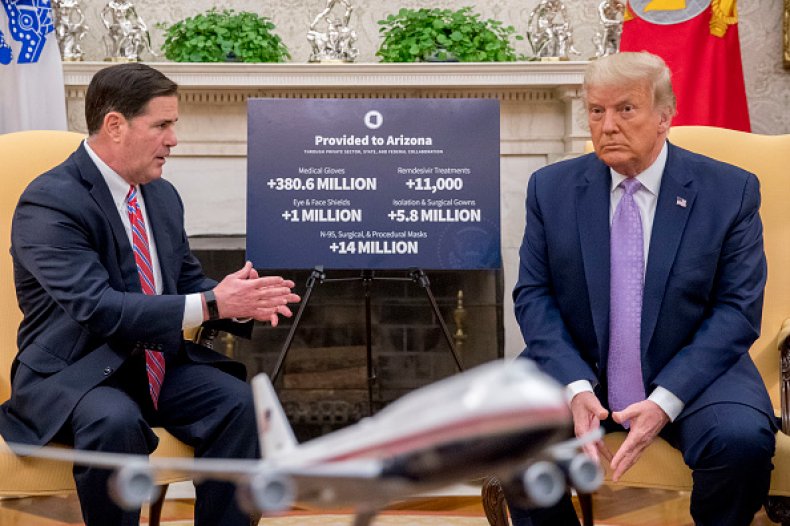 Trump has also previously railed against mail-in ballots in the state of New York. On Monday, he called for a revote in the New York Democratic congressional primary, in which thousands of New Yorkers voted by mail in June.
"I think you probably have to take the Carolyn Maloney race and run it over again," Trump said at a White House briefing. "How can you do this? And this is a small race with literally thousands of people. Small thousands. And it's all messed up."
Speaking to reporters Wednesday, the president said ballots cannot be fairly counted if states like Nevada allow mail-in voting, but he assured he would win come November.
"You'll never know who the winner's going to be, but the winner's going to be me," Trump said.