Trump Backs Second Stimulus Check, Payroll Tax Cut, Chief of Staff Says
President Donald Trump has been "very clear that he's supportive of another stimulus check," White House Chief of Staff Mark Meadows said Monday, reiterating his boss' desire to include a second round of individual payments to Americans in legislation that Congress is expected to pass later this month.
But other "critical components" must also be incorporated in any forthcoming economic aid package to further alleviate the financial strain from the coronavirus pandemic: payroll tax cuts and incentives for manufacturing to return to the United States from overseas.
"We want to make sure that we're addressing things in a real, systemic way, whether that is making sure that the take-home check for every American is greater with a payroll tax deduction, whether it's making sure that we provide incentives for American manufacturing to be brought back from abroad," Meadows, a former Republican congressman, told reporters Monday.
Although Trump has previously suggested a payroll tax cut could be a must-have in another relief bill—an idea that Republicans on Capitol Hill rebuffed—Meadows said he does not think "there's any redlines right now."
Meadows' remarks come as the GOP-controlled Senate is on a two-week July 4 recess but will turn its attention toward negotiating and passing a final economic stimulus package before lawmakers leave town again for a monthlong August recess. But as the recession from the pandemic lingers and some states are being forced to reclose businesses amid a spike in COVID-19 cases, Republicans remain largely undecided whether the federal government should dole out more cash for Americans.
Jobs and unemployment reports showing the economy is recovering have caused some to question whether another round of checks will be necessary.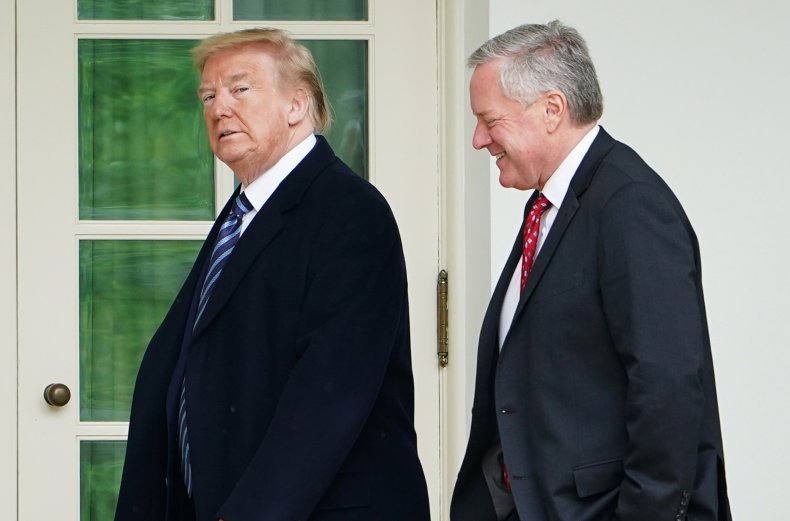 "We just had great unemployment numbers," Senator Bill Cassidy (R-La.) said Thursday, referring to the latest Bureau of Labor Statistics report that showed the unemployment rate declined by 2.2 percent to 11.1 percent in June, and the number of unemployed persons fell by 3.2 million to 17.8 million. "So, if it turns out the economy is recovering, that's a good thing and direct stimulus checks might not be necessary," he said.
As coronavirus cases have spiked in dozens of states since easing social distancing restrictions, some local and state leaders have been forced to once again shutter businesses. The nonpartisan Congressional Budget Office predicts the average unemployment rate will be 6.1 percent through 2030, up from the 4.2 percent it projected in January before the pandemic. And the annual real gross domestic product for the next decade will be 3.4 percent lower on average.
The resistance from some GOP senators to give a full-throated endorsement of a second stimulus check is despite Trump last week going all-in on the concept and claiming he wants a "larger" payment than Democrats. House Democrats in May passed a massive $3 trillion bill that included a second installment of $1,200 for most Americans, but the legislation died in the Senate.
"I do. I support it, but it has to be done properly," Trump told Fox Business on Wednesday. "I support actually larger numbers than the Democrats."
The president's top economic officials, including Treasury Secretary Steven Mnuchin and economic advisor Larry Kudlow, reiterated last week that checks, among other things, continue to be at top of mind for the White House.
The administration is "going to seriously consider whether we need...more payments and direct payments," Mnuchin told reporters, while Kudlow has said "everything is on the table."