Trump Praises Cindy Hyde-Smith Who Faces More Fallout Over 'Public Hanging' Comment
President Donald Trump has reiterated his support for Senator Cindy Hyde-Smith who continues to face the fallout over racially charged comments she made earlier this month.
In a clip referring to cattle rancher Colin Hutchinson who she was standing next to in Tupelo, Mississippi, Hyde-Smith said "if he invited me to a public hanging, I would be on the front row."
Hyde-Smith, a Republican, is will run-off against Democrat Mike Espy on Tuesday for her senate seat. Espy has described the comments, uploaded to Facebook as "reprehensible."
But Trump said that he will be doing two rallies for Hyde-Smith and her praised her in a tweet on Sunday.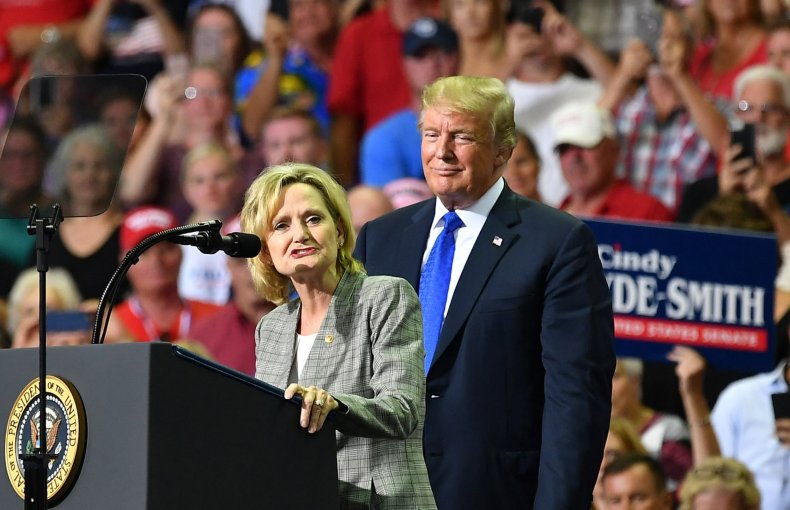 "I will be in Gulfport and Tupelo, Mississippi, on Monday night doing two Rallies for Senator Hyde-Smith, who has a very important Election on Tuesday.
"She is an outstanding person who is strong on the Border, Crime, Military, our great Vets, Healthcare & the 2nd A. Needed in D.C," he wrote.
Hyde-Smith said the comment was an exaggeration, but companies, including Walmart and Union Pacific, have asked for their donations to her campaign be returned.
Meanwhile, Major League Baseball (MLB) is the latest organization to request a return of funds, saying it wants a $5,000 donation to her campaign.
An MLB spokesperson said in a statement Sunday: "The contribution was made in connection with an event that MLB lobbyists were asked to attend.
"MLB has requested that the contribution be returned," ESPN reported.
Reports into Hyde-Smith's past have also revealed a photo of her wearing a Confederate military-style hat in 2014. There have also been questions raised over the white private school she attended in the 1970s.
Yearbook photos from 1975 obtained by the Jackson Free Press show she went to Lawrence County Academy, an all-white school founded in 1970 in Monticello, Mississippi.
Trump had defended her comments by saying they were "said in jest," adding "she is a tremendous woman and it is a shame that she has to go through this."
During a debate with Espy on November 20, Hyde-Smith apologized and accused Espy of using her words for political gain.
"For anyone that was offended by my comments, I certainly apologize. There was no ill will, no intent whatsoever in my statement."
The senate race is the final one of the midterms and if Hyde-Smith wins, she will become the first woman elected to Congress in Mississippi. Espy, if elected, would be the first black man or woman elected by the state to Congress since Reconstruction and the first Democrat since 1982.