'Trump Backtracked On Sending Students Home, But The U.S. Feels Unsafe Now'
On July 6 my husband and I were at home in Jersey City. We'd been planning to organize our closet for some time and we had set four or five hours of the day aside to rearrange our clothes and plan what to give away.
As we were each organizing our side of the closet, my husband saw a news article on his cell phone and said, "Shruti, there is an Immigration and Customs Enforcement (ICE) directive for students like you on F1." I had no idea why ICE would be focusing on me.
I came to the U.S. from India in 2014 to start my Ph.D program at Stony Brook University, New York, so this is my sixth year in the U.S. on the F1 student visa. My husband has been in the U.S. since 2013, and we married in India in 2015.
That day I sat on the floor of our walk-in closet reading what the ICE directive said—that if there was a state lockdown due to the pandemic and my university transitions fully online, students like myself on F1 or M1 visas would have to leave the U.S.
Newsweek subscription offers >
My first thought was that I needed to get rid of the extra boxes we had ordered to help us organize our closet—because I might now have to give those things away. My second thought was, what do I do with my plants and the hundreds of books I have at home for my Ph.D, because I'm in the advanced dissertation writing phase.
My husband and I sat down and planned through all the options and scenarios available to us. There were three choices in front of me: firstly, did I wait to see what happens even though I was being told I would be deported if my university transitions fully online?
Newsweek subscription offers >
We also discussed going to India together to wait things out there, instead of being separated and me potentially being hauled out of our homes by ICE agents. And finally, we wondered if we should just apply for jobs in other immigrant friendly countries—because we don't know if we want to live with this constant threat of uncertainty and the unknown in the long term.
Of course, the Trump administration has now backtracked and rescinded the ICE directive from July 6, and that works in my favour right now, but there is still uncertainty around the future of foreign students.
The Department of Homeland Security has said since that they will have a discussion and come back with more directives for foreign students. Yet to my friends and colleagues who have been impacted by the directive, it feels the damage is already done through ICE threatening us with deportation. The damage is visceral and it is making us feel that we need to leave, if we want to retain our dignity.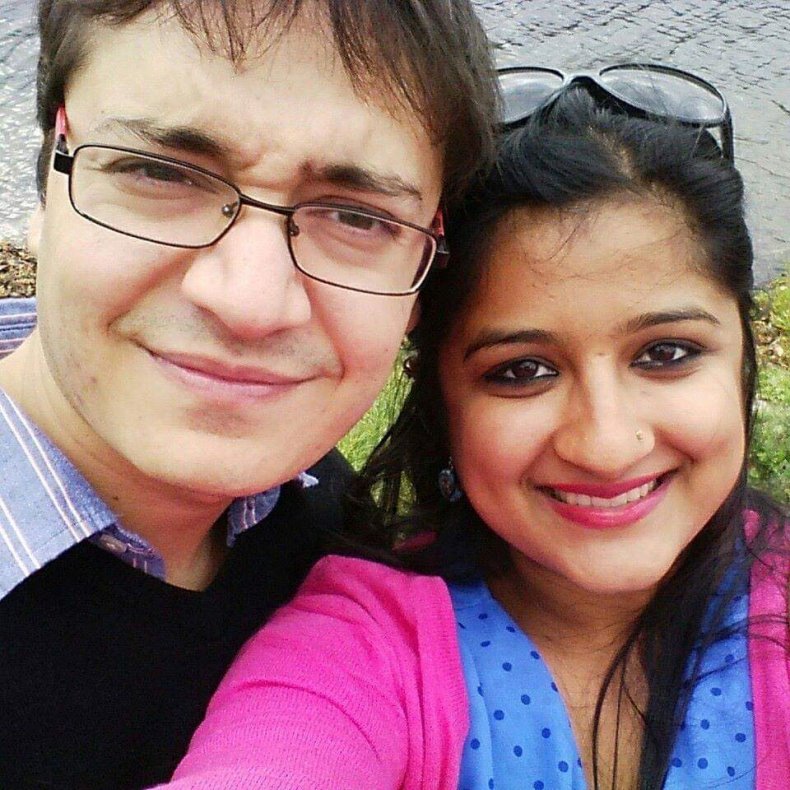 For the past week my husband and I haven't slept properly, we haven't been able to eat properly—we weren't able to function as human beings. I'm in the middle of writing my dissertation, and I haven't been able to do any intellectual labor because I have been facing this existential threat of a potentially forceful removal.
The ICE directive was just not an attack on my sense of safety and wellbeing here, it affects all my friends who have come to the U.S to study from overseas, a group that includes many brown and Asian immigrants like myself. We are all part of this enmeshed network—all facing threat of deportation, and the anxiety and sleeplessness is palpable amongst us. I have been on calls with different friends at universities across the U.S. for hours, discussing what we can do to prepare ourselves for an imminent deportation.
Deportation would mean that doctoral students like me will have to start from scratch in academia somewhere else, having spent five or six years in the U.S. building our networks and scholarships and doing that hard emotional labor to build that community of care.
One of my friends lives alone in Washington D.C. She's had to think about what she would do if ICE comes to deport her. Another friend lives alone in Long Island, New York cut off during this pandemic from all of us who live closer to the city. We have been forced to spend time worrying and planning by reaching out to our American friends who are citizens or have green cards, seeing if they will store or ship items to us should we have to leave.
My husband and I have, unfortunately, been through this uncertainty as a household before, as he is on an H-1B visa—one that has also been under attack from the Trump administration. He's an engineer and faced visa related issues in 2018 when he was trying to transfer between one job and another.
Because of delays to the H-1B visa transfer process, my husband had to leave the U.S. and temporarily go back to India that year. We went through a really tumultuous four months between the end of March and the end of June in 2018, where we were separated, and I wondered if I should plan to move back to India. We have built this sense of home together, and around each other. It's not so much about where we are, but that we are there together, and we feel that issues with visas for foreign workers and students are not going to end.
I knew when I was coming here that American citizenship was not on the cards for me and I was very aware of my choices, I was not under any illusion. The moment I graduate I have 60 days to leave this country if i don't have a job, and I have always known this. Under Obama's administration the ICE, responsible for deporting immigrants, became further militarized, and when Trump became president it became very clear, as restrictions on foreign work visas started being implemented, that people like me would likely have to leave at some point. But I have always wanted to leave on my own terms; with my human dignity intact and not feeling humiliated.
We foreign students are human beings, and this past week has seen many of us feeling our worlds were being torn apart—personally I have had to think about separation from my husband, possibilities of deportation or perhaps even being in a detention center. I want to leave when I finish my studies, but I don't want the U.S. government to take away that agency from me to decide when and how.
Many of my friends who are also PhD students are considering migrating out of the U.S. because it feels simply too volatile to live here as an immigrant.
I have fought, and will continue to fight against this directive if necessary because I want to finish my degree in a humane way, not being humiliated by being told as a Ph.D. student-worker I am "taking away jobs" or could be a "national security concern" if I had to study online full-time during the pandemic. I just want to have peace of mind and be able to finish my degree in the manner I had planned for the past six years.
Shruti Mukherjee is a Ph.D. candidate at Stony Brook University, New York. She is writing her dissertation on anti-militarization movements, and producing this scholarship with grassroots women's collectives such as Extrajudicial Execution Victim Families Association in Manipur, India. Shruti is a feminist scholar and academic who envisions a world without fascism, occupation, and militarization. You can follow her on Twitter @shrutimukherji
All views expressed in this piece are the writer's own.
As told to Jenny Haward.
'Trump Backtracked On Sending Students Home, But The U.S. Feels Unsafe Now' | My Turn