Trump Backtracks on Steve Bannon's Plan to Ditch NAFTA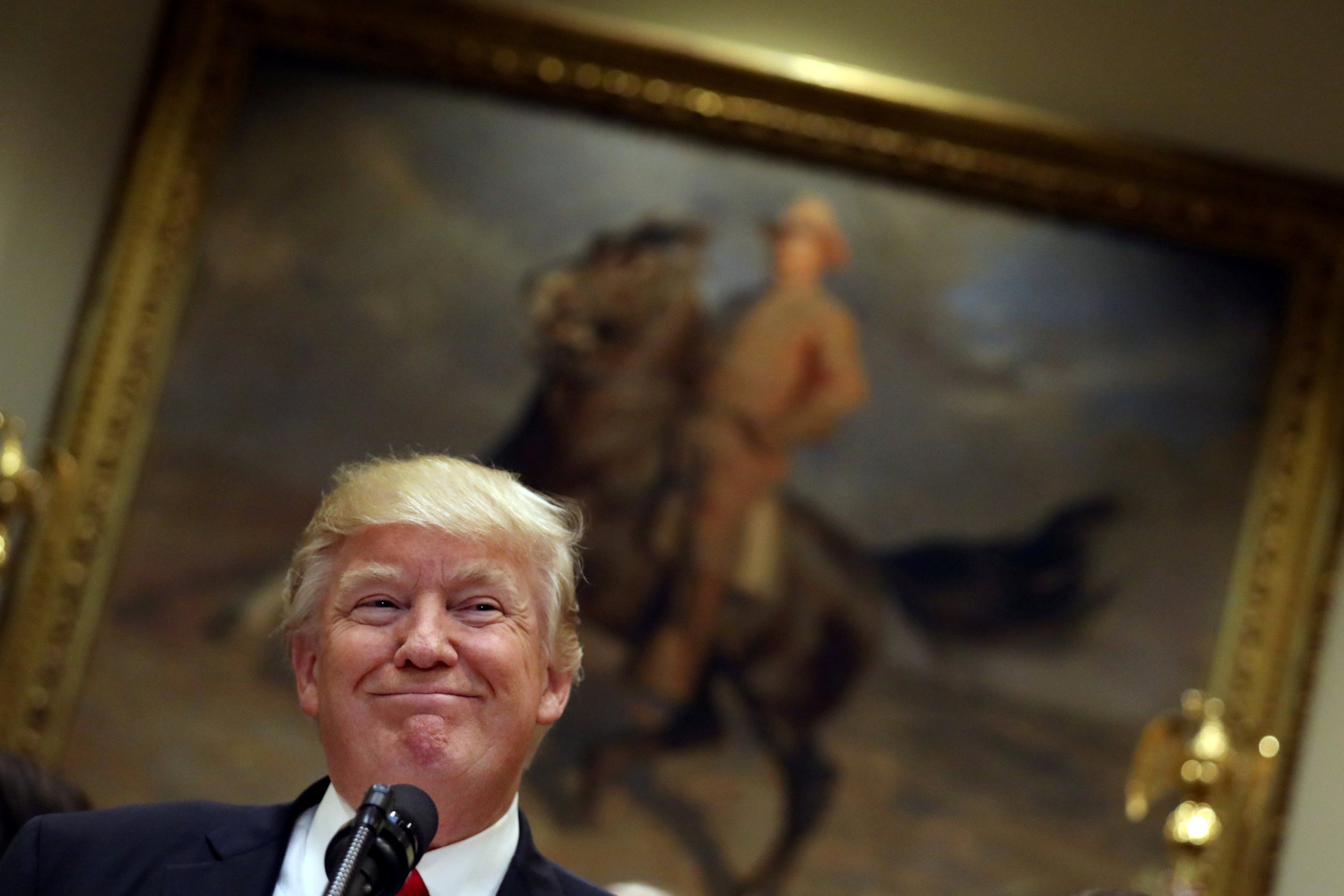 The Trump administration is backtracking on its threats to blow up the North American Free Trade Agreement on Wednesday in favour of "swift" moves to renegotiate the deal with Canada and Mexico.
Early in the day President Donald Trump's chief political strategist, Steve Bannon, and head of the National Trade Council, Pete Navarro, were putting the finishing touches on an executive order to pull the U.S. out of the 23-year-old free-trade pact, White House officials told Politico.
But during a call with Canada and Mexico's leaders late Wednesday "President Trump agreed not to terminate NAFTA," the White House said in a readout of the call. Rather, they all "agreed to proceed swiftly … to enable the renegotiation of the NAFTA deal to the benefit of all three countries."
Early Thursday the president tweeted that he agreed to renegotiate the deal "subject to the fact that if we do not reach a fair deal for all, we will then terminate NAFTA." Reaching an agreement is "very possible," Trump said, because his relationships with Canada's Prime Minister Justin Trudeau and Mexican President Enrique Peña Nieto are "good."
During Trump's first presidential debate against Hillary Clinton, he called the deal forged by former Republican President George H.W. Bush "the single worst trade deal ever approved in this country." He blamed it for killing American jobs—although Congressional Research Service findings show its impact on the American economy has been "relatively modest."
Now, as Trump nears the milestone of his first 100 days in office this Saturday, he's ticking the box of announcing his "intention to renegotiate NAFTA or withdraw from the deal" laid out in a plan for his first 100 days in office.
White House figures like Bannon and Navarro have pushed for Trump to take harder, more protectionist stances on trade and quarreled openly with other staff on the issue. But Republicans quickly criticized the draft executive order.
Senator John McCain chastised Trump on Twitter, writing the whole idea of withdrawing from the trade agreement would be a "disaster" for his state of Arizona's jobs and economy and that Trump shouldn't abandon the "vital" agreement.
Republican Senator Jeff Flake of Arizona also weighed in on Twitter, writing increasing trade barriers with Canada and Mexico "will result in lost jobs and higher consumer costs" in his state, urging Trump to "strengthen" NAFTA instead.
Pulling out of the deal would cost American automakers General Motors and Ford billions of dollars, since they have a cross-border manufacturing system. And other industries would also suffer. Secretary of Commerce, Wilbur Ross, has advocated a renegotiation of NAFTA rather than dismantling the deal.
Trump has talked tough on trade throughout his campaign and into his presidency, comparing the lopsidedness of American trade with countries like China, with its $300 billion deficit. The president has launched an investigation into American trade deficits around the world, and on Thursday he will announce an investigation of American aluminium imports to go along with another on steel imports announced last week. All this is to track down and punish countries that Trump says are treating the U.S. unfairly.
It's unclear yet whether he will punish Canada and Mexico. But his move to ditch the NAFTA deal arrived after he stirred up rumblings of a trade war with Canada early this week when he slapped a 24 percent tariff on softwood lumber imported from Canada Monday—a move that led the Canadian government to threaten sue the U.S. And last week Trump slammed Canada for its high tariffs on American milk during a speech in Wisconsin.
Since November Canada's Prime Minister Justin Trudeau has told Trump that he's "happy" to talk about NAFTA and even renegotiate aspects of the deal. But during a visit to Washington D.C. at the end of March Trudeau said the challenge of renegotiating trade deals "is once you reopen it a little bit, they all tend to unravel."
During his call with Trump late Wednesday Trudeau's office said the Prime Minister reinforced "the importance of stability and job growth in our trade relations."
In the case of NAFTA Trump told Canada and Mexico on Wednesday that he believes renegotiating the deal "will make all three countries stronger and better."