Donald Trump Suggests 'Very Bad' People, Gangs and Drug Dealers in Bahamas Could Be Trying to Enter U.S.
After dozens of evacuees from the Hurricane Dorian-ravaged Bahamas without visas were forced off a ferry to Florida, President Donald Trump said the U.S. needed to be "very careful" with who was allowed in and implied that dangerous people could be trying to enter including "very bad" gang members and drug dealers.
"We have to be very careful. Everybody needs totally proper documentation," Trump told reporters on the White House South Lawn on Monday afternoon.
"Look, the Bahamas had some tremendous problems with people going to the Bahamas that weren't supposed to be there," Trump continued. "I don't want to allow people that weren't supposed to be in the Bahamas to come into the United States, including some very bad people and some very bad gang members and some very, very bad drug dealers."
Trump added that his administration was going to be "very, very strong" on the matter and seemed to share what he envisioned for the "very bad" people.
"Let me explain. Large sections, believe it or not, of the Bahamas were not hit and what we're doing is bringing the people from those sections of the Bahamas that have not been hit," Trump said.
The president added that the U.S. has done a lot of work with the Coast Guard and Federal Emergency Management Agency (FEMA) "who have been phenomenal," and, "so, we'll see what happens."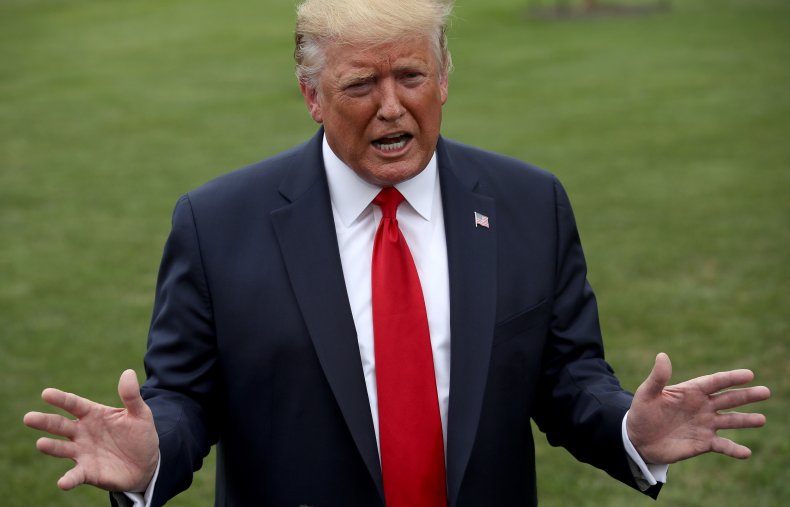 Trump's message came a day after a video on Twitter by WSVN reporter Brian Entin showed an announcement on board a ferry with evacuees stating that they had to have visas to enter the U.S.
In an interview posted on Monday from Florida, Entin interviewed Customs and Border Protection (CBP) officers who said the ferry company was at fault and said they would "have accepted and processed the Bahamians."
Hurricane Dorian as a Category 5 storm struck the Bahamas last week, causing more than 40 deaths. Thousands of people are missing and an estimated 70,000 Bahamians need food, water or medical attention.
Trump referred to "very bad" people potentially trying to come to the U.S. from the Bahamas in a very similar way to people in a Central American caravan.
"Many Gang Members and some very bad people are mixed into the Caravan heading to our Southern Border," Trump tweeted in October 2018. "Please go back, you will not be admitted into the United States unless you go through the legal process. This is an invasion of our Country and our Military is waiting for you!"