Trump Says 'I Try Like Hell to Hide That Bald Spot' After Seeing Himself on Screen During CPAC Speech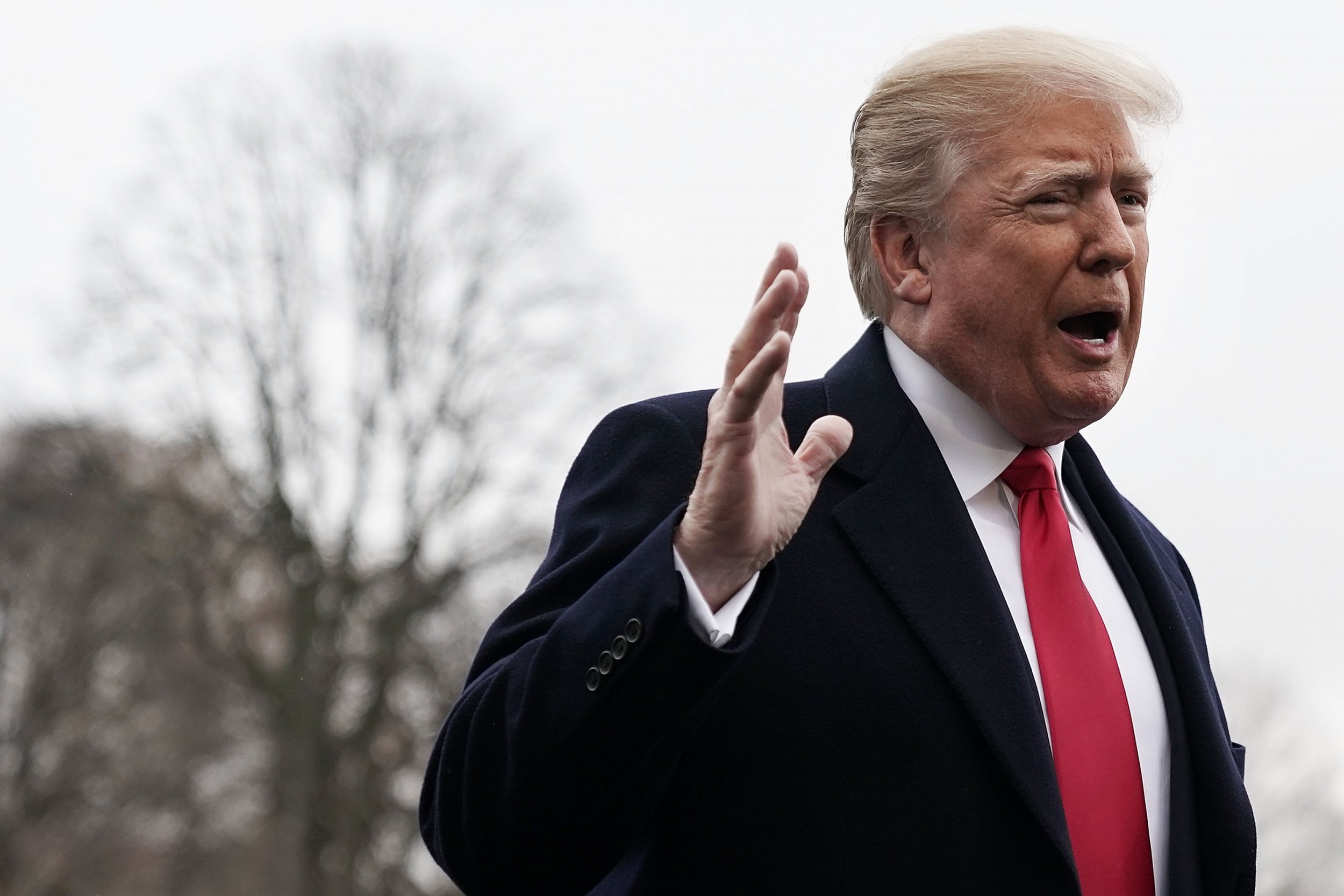 President Donald Trump said he "tries like hell" to hide the bald spot on the back of his head while addressing the Conservative Political Action Conference Friday morning at the Gaylord National Resort and Convention Center in Maryland.
The Republican opened up his speech before the raucous crowd by first admiring himself on the monitors flanking the red-white-and-blue stage. He then turned around to make sure his hair was perfectly coiffed and hiding a bald spot that was exposed while he boarded Air Force One earlier this month.
"I'd love to watch that guy speak," Trump said. "I try like hell to hide that bald spot."
Video of wind picking up and flopping the president's hair around, revealing a noticeable lack of hair, went viral earlier this month. Trump's bare scalp immediately became fodder for late night television hosts like ABC's Jimmy Kimmel.
Kimmel made a comparison to Star Wars character Darth Vader.
"This is why Darth Vader had the good sense to wear a helmet," Kimmel quipped.
Along the campaign trail and well before, Trump's hair has been an easy point of derision. In May 2016, Gawker had one tipster claim much of Trump's hair was the result of a treatment called "microcylinder intervention," though the report was not confirmed.
The president's physical last month also revealed he was still taking the hair-loss drug finasteride, which is usually marketed under the brand name Propecia or Proscar.
Trump touched on a wide-range of on topics during his CPAC speech. He called for Republicans to avoid complacency in the upcoming 2018 elections in order to keep both chambers of Congress in a march towards his own re-election in 2020.
He also praised his work in improving the economy and claimed his administration had removed more regulations than any other in history.
Speaking to a favorable audience, Trump also returned to one of his most-beloved subjects: the 2016 election. He chided former opponent Hillary Clinton and said that it was more difficult to win the Electoral College than the popular vote, while chants of "lock her up" ran through the crowd.