Lawyers: U.S. Segregating Muslims as Part of Trump's Travel Ban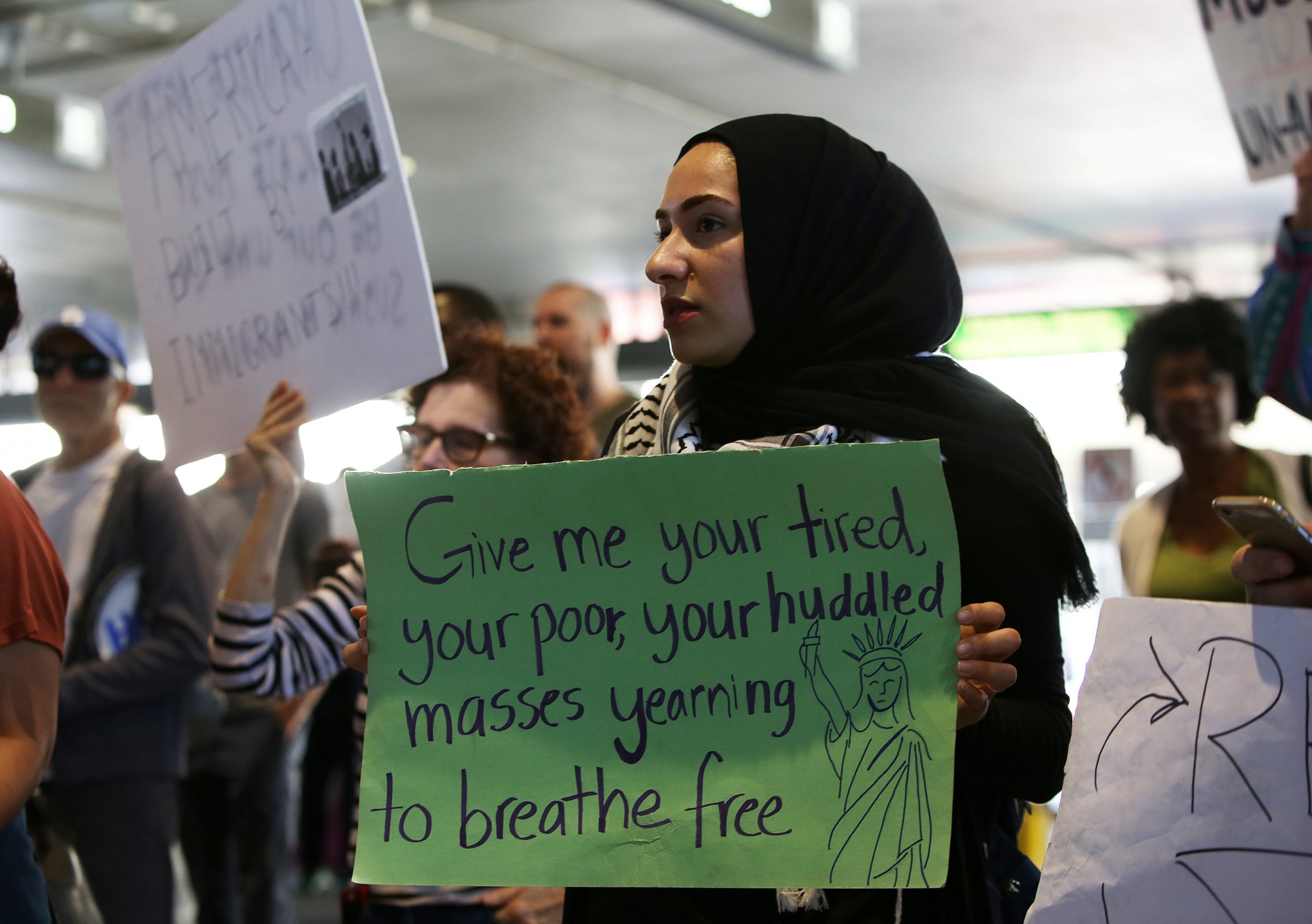 Dozens of lawsuits being filed across the nation against President Donald Trump, the U.S. Department of Homeland Security and its Customs and Border Protection division contend that customs officials are subjecting refugees, immigrants and travelers from seven Muslim-majority countries to flagrant religious and racial discrimination. They also claim that customs officials refuse to provide information in a timely fashion on the numbers and identities of detainees being held, and are aggressively blocking detainees' access to legal advice.
"They are segregating Muslims from the non-Muslims when they're being detained, holding them in separate rooms," Stacy Tolchin, a Los Angeles–based immigration lawyer working on several cases linked to the travel ban, tells Newsweek. "I think it shows what the real intent of the travel ban is."
Related: These Republicans Oppose Trump's Travel Ban
Several other Los Angeles–based lawyers corroborated Tolchin's account, saying those who identified themselves as Christian or Jewish did not seem subject to the same treatment at the border. "They are segregating detainees, but customs is not telling us anything," says Talia Inlender, an immigration lawyer at Public Counsel who's working with a number of detainees at Los Angeles International Airport. "We only know what the detainees can tell us once they're released."
Customs did not return requests for comment from Newsweek. Ameena Mirza Qazi, a Muslim-American civil-rights lawyer and the executive director of the National Lawyers Guild Los Angeles, says one of the most disturbing aspects of the travel ban is the lack of information at border areas. "We don't know who is coming in or who is going out, we don't know how many people are being detained at the airports and Customs won't tell us anything."
So far this week, lawyers estimated around 200 people have been detained at Los Angeles International Airport alone, "but no one knows the exact numbers for sure," Qazi says.
At New York's John F. Kennedy International Airport, the same information blackout is causing enormous frustration at the office of New York State Attorney General Eric Schneiderman, who demanded Sunday a complete list of detainees held at JFK by Monday as protesters engulfed the airport. Customs did not meet the request, according to a spokesperson who told Newsweek, "It's just been total chaos. Customs officials had this dumped on them without much notice, like the rest of us."
In a filing Thursday morning, Schneiderman called Trump's executive order "his attempt to fulfill an oft-repeated campaign promise to ban Muslims from entering the United States," citing serious harm to New Yorkers, many of whom are immigrants. He asked that Trump's order be scuttled on grounds that it violates federal law and is unconstitutional. Schneiderman also acknowledged his office received "alarming reports" throughout the weekend that the Department of Homeland Security and its customs division had continued to deport individuals who were legally allowed to enter the country in defiance of a federal court order.
"Based on what I have seen, I don't think there's any doubt at this point that Trump's order is deliberately targeting Muslims," Tolchin says. "We have just received information that Israelis based in the seven targeted countries are not being treated in this way. And Trump has stated that minority Christian [refugees] in these countries will be given preferential treatment."
The Trump administration has repeatedly stated that the ban has been rolling out smoothly, and White House press secretary Sean Spicer said earlier this week, "It's not a Muslim ban. It's not a travel ban. It's a vetting system to keep Americans safe." The Department of Homeland Security has 30 days from the date of the executive order, January 27, to determine what the "extreme vetting" called for by the Trump order means, DHS Secretary John Kelly told reporters on Tuesday.
Schneiderman's suit is just one of many highlighting the wide range of issues arising from Trump's executive order, which blocks all refugees from entering the U.S. for at least 120 days, and citizens from Iran, Iraq, Yemen, Libya, Sudan and Somalia with immigrant and non-immigrant visas for at least 90 days. Syrian refugees, who are classified separately, are barred indefinitely. Frequent travelers to the U.S. from those seven countries who were previously not subjected to vetting are now subject to interviews. The action prompted massive demonstrations at airports and in cities around the country as hundreds of people were detained or deported—many lawfully settled inside the U.S. with their families. The stated purpose of Trump's executive order is to "protect the American people from terrorist attacks by foreign nationals admitted to the United States." But critics have noted it does not target any of the countries from which radicalized Muslims have killed Americans in the U.S. since the September 11 attacks, raising questions about the whether the order would have the desired effect.
Tolchin tells Newsweek that, as of midday Wednesday, the number of lawsuits naming Trump as a defendant had risen to more than 40, citing court dockets nationwide. Among them, Qazi says, a motion was filed Wednesday by Tolchin on behalf of the National Lawyers Guild Los Angeles and other plaintiffs to compel customs to allow lawyers access to detainees, none of whom have been allowed any legal counsel, she says, and many of whom have reported being pressured into signing documents that nullify their visas or green cards. Both lawyers told Newsweek that detainees have been told by customs they will be barred from the U.S. for years if they do not sign documents waiving their travel and residency privileges. Some of them also have not been allowed to contact their family members until signing such documents, they said.
"We have just filed temporary restraining orders to try to get detainees access to attorneys, since many of them have been coerced into signing away their rights," Tolchin says. "We are also trying to get those who have been deported since Friday the ability to come back."
One of Tolchin's clients, Ali Vayeghan, an Iranian citizen with a valid U.S. visa, was the first to return to the U.S. on Thursday afternoon after being deported Saturday back to Iran after being held overnight in Los Angeles. On Sunday, Tolchin, who is co-counsel with the American Civil Liberties Union Foundation of Southern California, successfully obtained a court order for Vayeghan's return. "We are trying to make sure more people are not forced to withdraw their visa applications," she says, adding that detainees are still being held for four to six hours, often without food or sleep.
One thing that the court orders have accomplished, Tolchin says, is that the deportations appear to have ceased. "It's not completely clear what's actually happening behind closed doors, but I do not have any reason at this time to believe customs is acting in contempt," she says.
That is not the case on the East Coast, where the Commonwealth of Virginia charged just that in a legal brief late Wednesday. The state lodged a request asking a federal judge to force Trump, customs and various high-level government officials to demonstrate why they should not be held in contempt after blocking lawyers' access to legal permanent residents at Dulles International Airport, against a federal court order.
When a federal judge issues a ruling against government officials, even the president, they are supposed to obey, pending further court proceedings. If they don't, a president and his subordinates can be held in contempt of court says Jamal Greene, a constitutional law expert and professor at Columbia University. "But it's unprecedented; it's never happened before."
Greene, whose wife is helping to represent two Iraqis who were detained over the weekend, says it remains to be seen if the tumult following Trump's executive order stems from his inexperience in managing large, complex government bureaucracies, or if he simply doesn't feel like recognizing the legitimacy of the courts. "If a president is disobedient, that's a crisis," he says. "But I don't think we're there quite yet."
On the other hand, "if a court orders the president and his officials to do something, and the president orders his officials to do something else," he says, "that's when Congress may have to step in. Unless Congress decides to ignore it. Then that would be a breakdown of democracy."