Donald Trump Is Succeeding Where Hillary Clinton Failed—In Uniting Democrats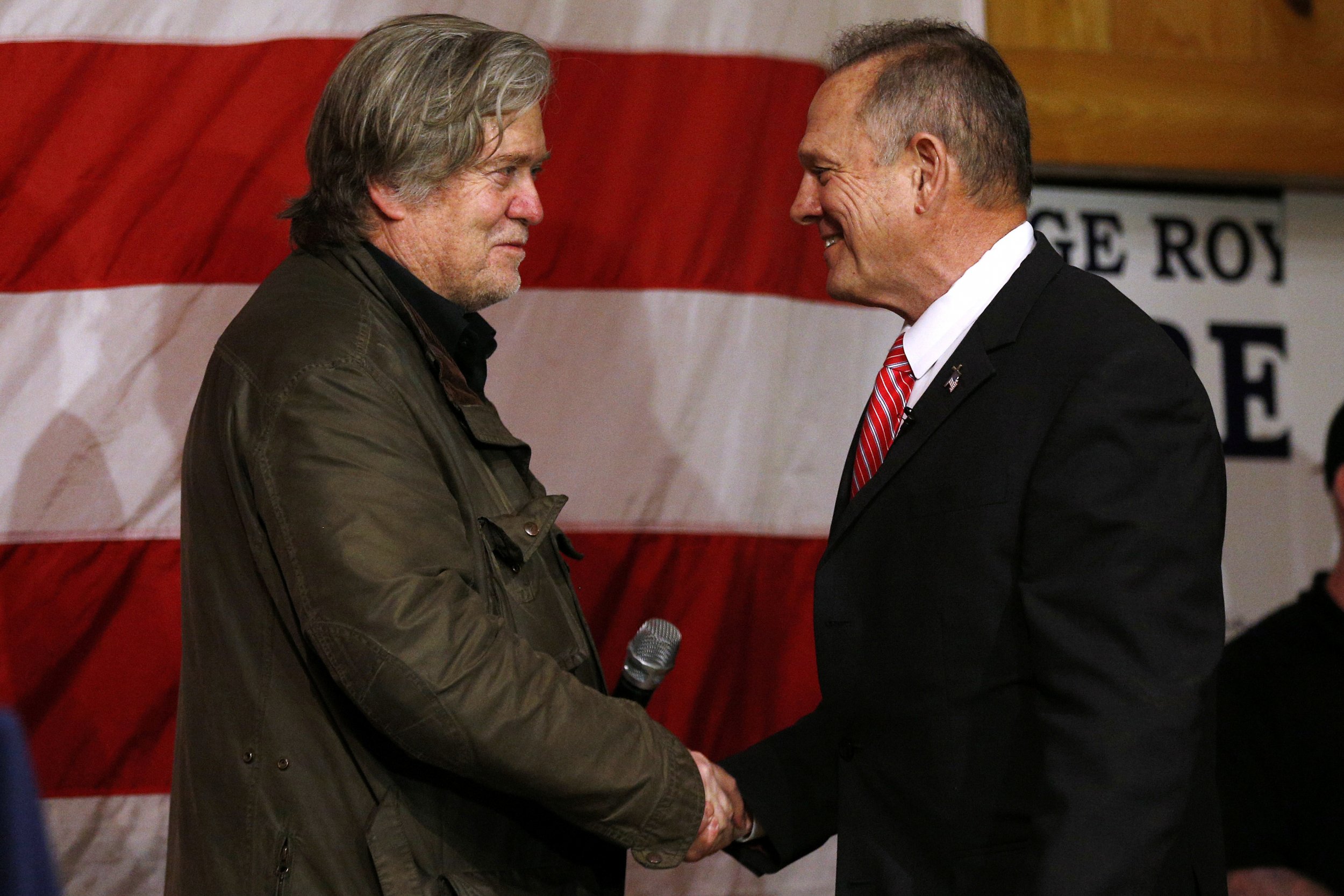 It's been a good year for Democrats, and they have one man to thank for their success: President Donald J. Trump.
Even as activists fight over the direction of the party and relitigate the 2016 election, the left is riding high on its first Senate win in ruby-red Alabama in a quarter-century as well as two gubernatorial victories in New Jersey and Virginia. Democrats say single-digit losses in Republican strongholds like Georgia and Kansas also bode well for the strength of their party as it heads into next year's midterm elections.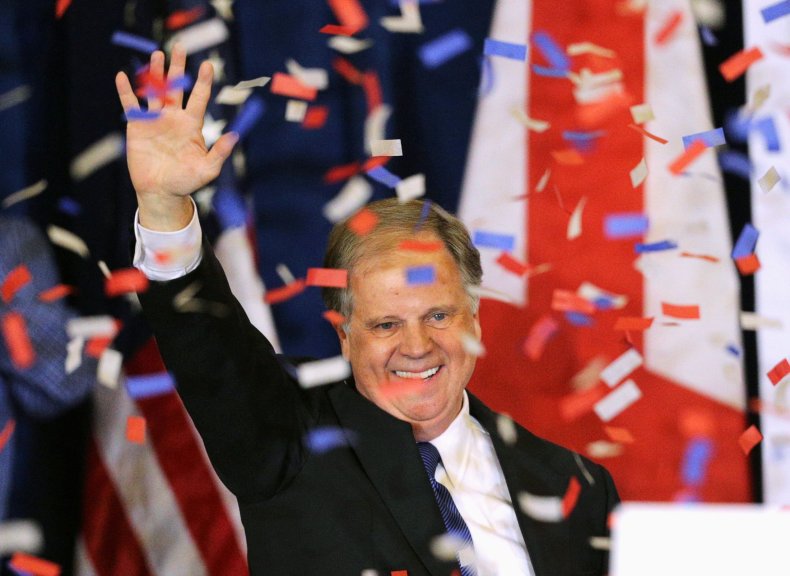 "President Trump is the big uniter for Democrats," said Joe Trippi, a veteran Democratic strategist who most recently advised Democratic victor Doug Jones on the Alabama Senate race. "He helps the Democratic Party stay unified while the candidates running under his 'Make America Great Again' agenda divide Republicans."
Most striking is the turnout among African-Americans, a key pillar of the Democratic base. On Tuesday, black voters accounted for 30 percent of the electorate in Alabama, with nearly all of them supporting Jones. The share of black voters surpasses not just their share of the population—26 percent of Alabamians are black—but their share of the electorate when Barack Obama was on the ballot in 2008 and 2012.
In the New Jersey race to replace Trump ally Governor Chris Christie, Democrat Phil Murphy received a higher percentage of the black vote than Hillary Clinton in 2016 or President Barack Obama in 2012. In Virginia, a swing state, Ralph Northam beat a moderate Republican with the largest margins seen by a Democrat in a generation. Northam won with 87 percent of the black vote and 61 percent of the female vote. Eighty-seven percent of his voters disapproved of President Trump.
"The trend that we have seen throughout all of 2017 is an energized Democratic base that is turning out and overperforming what it usually does," said Mo Elleithee, a former Hillary Clinton adviser and the executive director of Georgetown's Institute of Politics & Public Services. "That's absolutely in response to Trump and what he stands for."
The numbers are remarkable, given that Obama tried and failed to boost turnout in off-year elections during his presidency. The lackluster voting cost Democrats control of the Senate, 12 governor offices and nearly 1,000 state legislative seats. Moreover, Hillary Clinton, after emerging from a divisive primary, underperfomed with black and Latino voters just last year in the presidential election.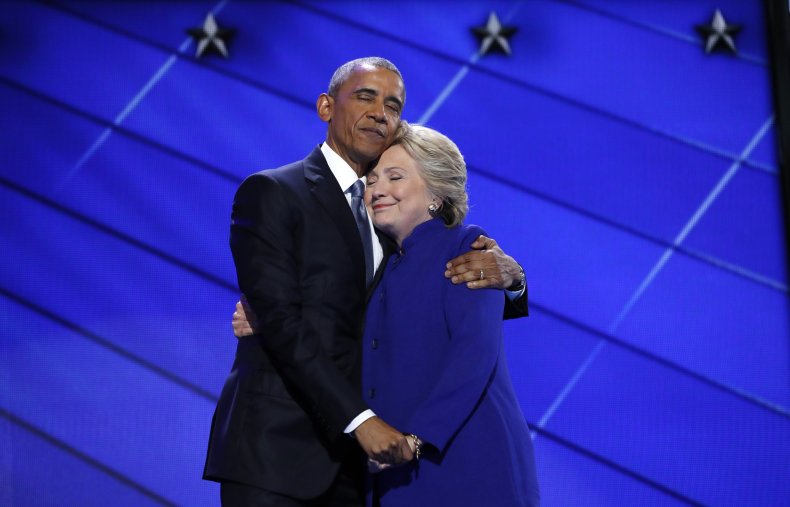 Trump's victory reminded Democrats that elections matter, Trippi said. "There were a lot of people who didn't vote in 2016 and regret it big time," he said. "They're not going to let this happen again."
This dynamic isn't unique. In 2009 and 2010, Republicans capitalized on the Tea Party movement and unified against President Obama, retaking the House of Representatives, and later, the Senate. But Obama, Trippi noted, also worked to bring Democrats together as a voting bloc during that time. President Trump, on the other hand, is actively dividing the GOP, needling moderate members of his own party and encouraging primary challenges.
"The Republican Party is a hot mess," Elleithee said.
Indeed, Steve Bannon, former White House chief strategist and close confidant of Trump, has threatened to recruit and support primary challengers for almost every Republican senator running for re-election in 2018. Bannon aims to challenge Senate Majority Leader Mitch McConnell's power and reshape the GOP as the party of the far-right.
At the same time, Trump must tread lightly because he needs establishment Republicans in the House and Senate to push his agenda through Congress.
Democrats, Trippi said, will be the beneficiaries of the ongoing warfare. "What happens when you primary members of your own party is that somebody wins and the other half of the party hates them," he said. This will make it easier for Democrats to get moderate Republicans to vote for their candidates, or prompt far-right Republicans to stay home. In the Alabama Senate race, Luther Strange, the establishment Republican senator, lost the GOP primary to conservative firebrand Roy Moore, and his supporters ultimately voted for Jones in large numbers," Trippi claimed.
"The tension between the Bannon wing and the establishment wing makes it impossible for Republicans to unite early," Elleithee said. "They'll only further amplify fissures that exist over there."
The key question is whether Democrats can make the most of these Republican fissures and keep their energy up into next year's midterms. This was the year of the Democrat, but "we've seen how quickly trends can change in a year," Elleithee said.
Republicans say Democrats' reading of the recent results are overly optimistic. In the Alabama Senate race, Roy Moore was an especially flawed candidate who was accused of sexual misconduct with multiple underage girls and denounced by prominent Republican figures like Alabama Senator Richard Shelby.
"Democrats would be making a mistake to think that they're all set because they won in Alabama," said Ford O'Connell, a Republican strategist and George Washington University professor who worked on the McCain-Palin 2008 presidential campaign. "This was an absurd election, against an alleged child molester."
Yes, the Republican Party is fractured, he said, but Democrats are also reconciling between the Bernie Sanders and Hillary Clinton camps. "Both sides are having trouble finding good candidates," O'Connell said.
Even Republicans found a silver lining in the Moore loss. "The Democrats would have used his views to wrap a noose around Republicans' necks," O'Connell said. The Senate looks good for Republicans in 2018, but only if they can avoid running candidates like Moore. "The only question is if Republicans can actually stop their own dumbness," he said.
Democrats will have to defend 25 Senate seats next year, including 10 in states that Trump won in 2016. In order to take control, they'll need to flip at least two of the eight Republican-held seats up for election.
In a conference call with reporters Wednesday, Democratic National Committee chairman Tom Perez outlined how he planned to apply lessons learned from Jones's victory to 2018 elections. In past races, "the Democratic Party took voters for granted in communities of color and rural pockets and we suffered the consequences," he said. But in Alabama this year, progressives courted black voters and won in one of the most Republican states in the country.
"Alabama was not a fluke," he said. "A new age of Democratic leadership is emerging...This shows Democrats can win anywhere."