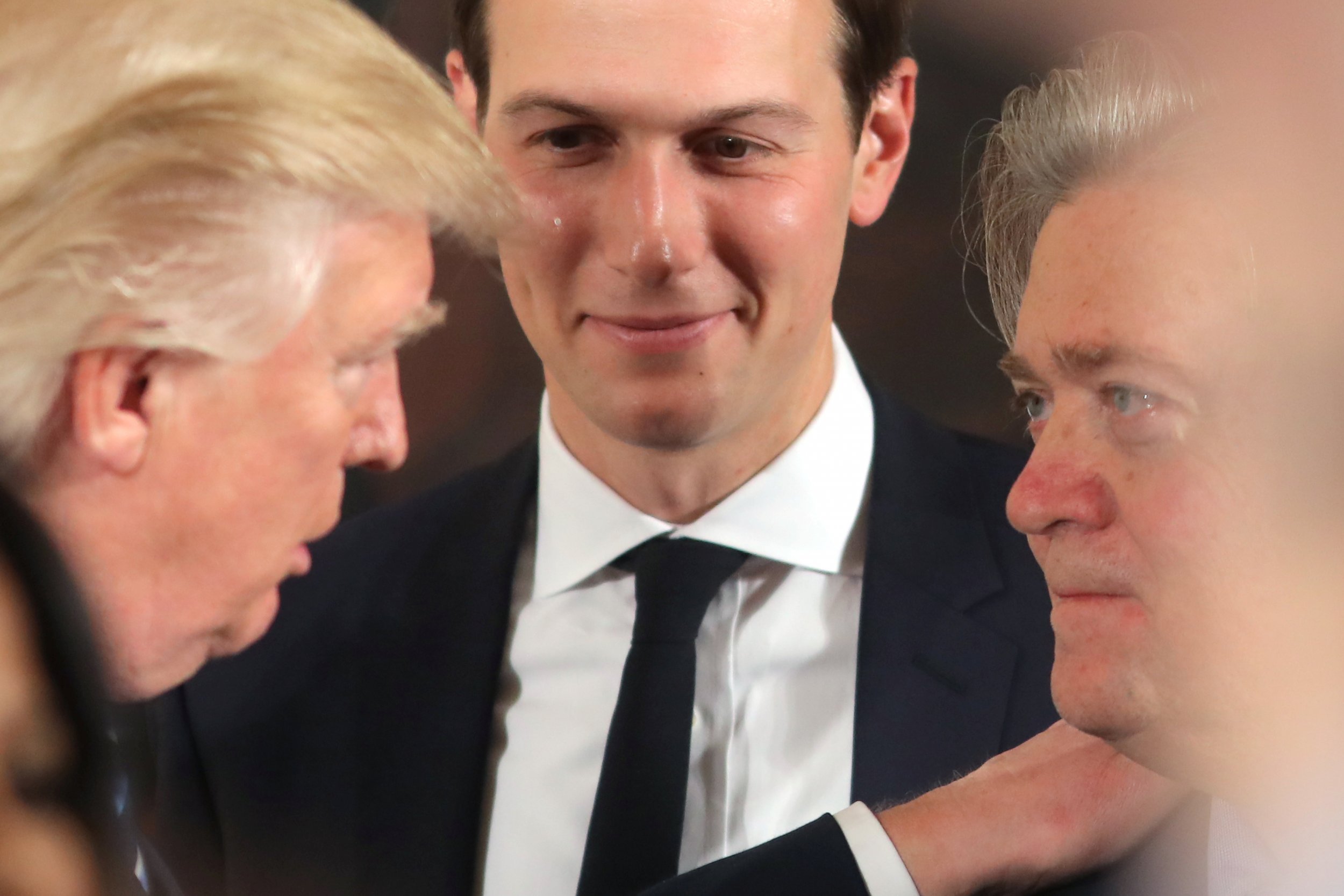 The most important question about Steve Bannon and Jared Kushner isn't whether they can find peace, or whether Bannon can somehow be forced out of his role in the White House. It's why they are in jobs for which they are utterly unprepared and completely under qualified.
Presidents are, of course, free to hire who they want. And Bannon and Kushner might well be right for some West Wing positions—just not the enormous, ill-defined roles they have been given. By giving outsized power to Bannon, a 65-year-old who had never worked in government (save for a stint in the Navy) and who knows little about policy making or Congressional negotiation, and Kushner, a 36-year-old millionaire whose only qualification is marrying the boss's influential daughter, Trump has made a serious but repairable mistake that has unquestionably stymied him.
For one, White House jobs are impossibly demanding in terms of hours and stress. It's like being in a bunker with incoming mortars exploding overhead, and requires a kind of temperament and collegiality, as well as real specialized knowledge. Both Bannon, the nationalist, and Kushner, the establishmentarian, came to the job with neither the humility nor the skill set to do their jobs.
Consider Kushner, who brings almost nothing to his comically large portfolio, one that now includes everything from Middle East peace to the opioid crisis to reinventing government. These are issues that require expertise and gravity, that the New Jersey-born and Harvard-learned scion of a real estate empire does not possess. To be clear, it's not that young people can't do a big job. But if you think about the individuals who have been given jobs comparable to Kushner's at a comparable age, they came to the table with far more experience.
At 33, Dick Cheney was a top aide to Donald Rumsfeld, the White House Chief of Staff. When Rumsfeld became Secretary of Defense the following year, Cheney graduated to White House chief of staff at 34, the youngest ever to fill the role. By the time he was Kushner's age, he'd also managed Ford's 1976 presidential campaign and been elected to Congress.
Robert Kennedy became Attorney General at 35 when his brother, then-President John F. Kennedy, appointed him to the post. But he'd had extensive experience in government as counsel to two powerful Senate investigative committees, in addition to having managed his brother's campaign.
When Al Gore took on the Reinventing Government portfolio at 45, he'd gone from being a Vietnam War veteran to a much-praised member of the House and Senate with a deep reputation for understanding technology. Oh, and he was also the vice president. For Bannon, it's about #8 on his agenda
George Stephanopoulos was only 32 when he served as a White House adviser under Bill Clinton, but he was a political veteran who had been the "floor man" for House Majority Leader Richard Gephardt.
It's not that you have to be old to do a good job in the White House, but you absolutely do need some germane experience under your belt. And to be clear, that experience need doesn't even need to be in government.
Robert Rubin, Bill Clinton's Treasury Secretary and head of the National Economic Council, and Gary Cohn, the current head of the NEC, were both huge players at Goldman Sachs but had never served in government. Kushner's role in his family real estate business and managing a smallish newspaper just isn't in the same league.
Bannon, on the other hand, may be loathed and loved with equal passion on both sides, but there's no denying that he's had an intriguing series of life experiences. In past lives he was a naval officer, in charge of a media company, headed up Breitbart News, took on a Goldman Sachs gig, even made money off the rights to "Seinfeld." His nationalist ideology—anti-immigration, European Union and free trade—may be odious to some, but there's nothing wrong on an official level with him having a place in the White House, especially since he echoes so much of what his boss believes.
The crazy part then is not in Bannon's lack of experience, but in the fact that Trump gave him a giant, free-roaming job for which he was clearly unqualified. The results have not been impressive. The inaugural speech he oversaw was a hellscape, a dystopian vision that got the Trump presidency off to a much-criticized start. The ban on travel from seven majority-Muslim nations was a legal, P.R. and policy disaster—and it came directly from Bannon's mind. When Bannon went to negotiate with the conservative Republican Freedom Caucus in the House, he was laughed at. Let's be honest—he shouldn't have been dispatched to negotiate with them in the first place.
Had Bannon been made communications director or had a clearly-defined policy lane, then the man would match the job. But putting him on a par with some of the White House svengalis of the past—Karl Rove, Dick Morris—is too great of a portfolio for him. And Rove or Morris, who brought far bigger political and policy chops to their roles, never tried to gain a seat on the National Security Council—something that Bannon managed to lose this month just as he could lose his job entirely in the coming days, weeks, or months. Both Kushner and Bannon could have seen the wisdom of limiting their portfolios and power, but they both chose outsized roles that they couldn't fill.
Again, there are White House jobs that would have suited Bannon and Kushner. Most presidents have needed a kind of Linus Blanket—the thumbsucking symbol of security carried around by the Peanuts comic character. John Kennedy had Kenny O'Donnell and Bill Clinton had Bruce Lindsey, friends and confidantes who had the sense not to overplay their access to the president but who were always available if the president needed a gut check. They weighed in on everything, but they weren't expressly given everything like Kushner or supplied with a "war room" like Bannon.
What it all comes down to is that the Bannon-Kushner overreach might matter less if there was a strong White House Chief of Staff who dominated the decision-making process and acting as gatekeeper for the president. But Reince Priebus just doesn't have that kind of juice. He's just one of a few power centers—the others being Kushner, Bannon (though waning), H.R. McMaster, the National Security Adviser, and the economic adviser Cohn. A diffuse power structure has worked for some presidents. During Ronald Reagan's first term, a famed "troika" of Ed Meese, James Baker and Michael Deaver led the White House. In the hands of less adroit officials, it might have been a disaster. But it worked, mainly because each had considerable strengths and knew the strengths of the others as well as their own weaknesses. Baker was the crisp decision maker, Meese, the ideological flame keeper, Deaver, the image man. But that was a symphony, when compared to the cacophony of the Trump White House in which the president has yet to find a structure that works.
A structure that gives Kushner and Bannon too much power isn't going to work very well. And one that chastens Bannon and allows Kushner unfettered reign won't work either. Both men need a job that suits them.