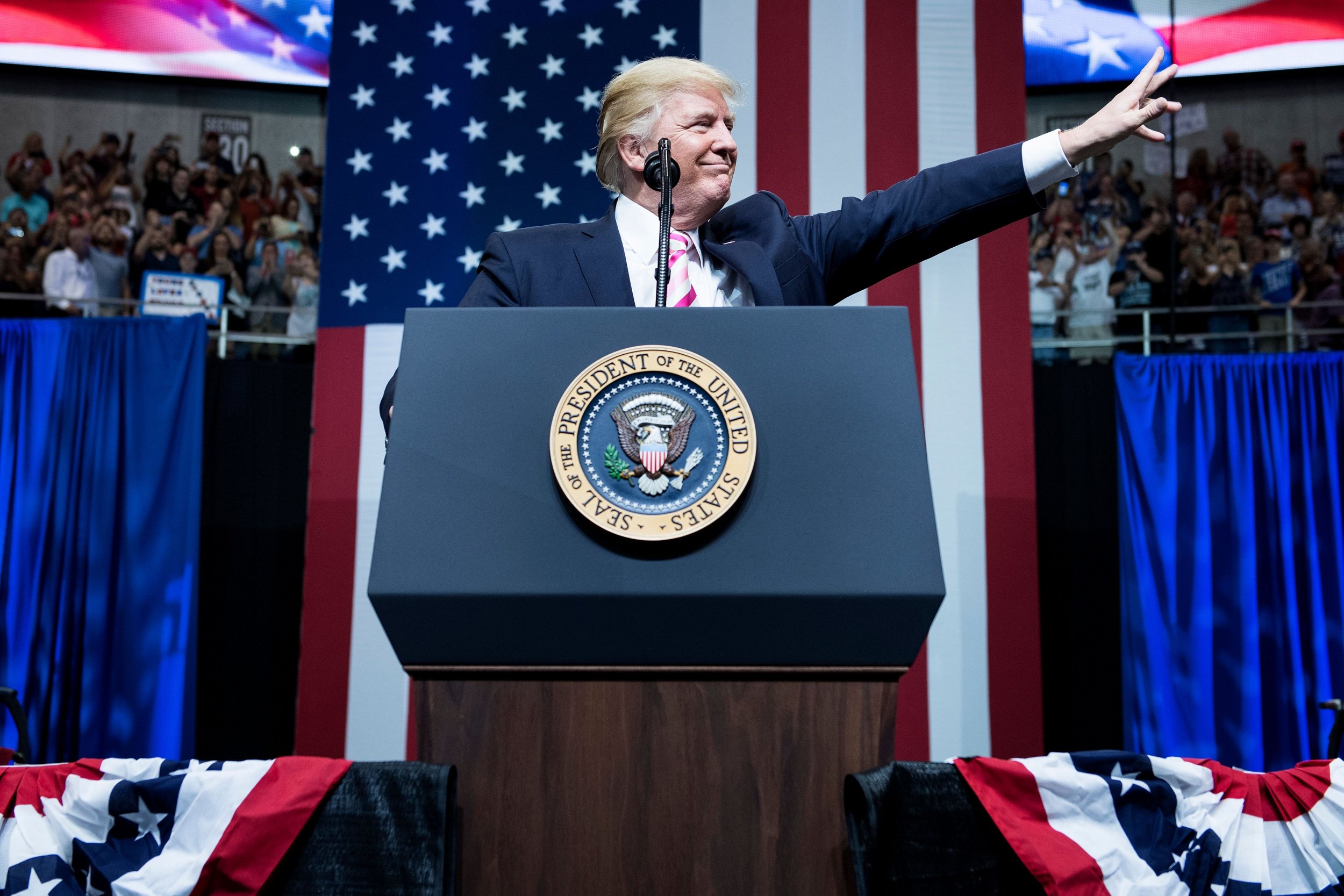 Maintaining a safe distance from President Donald Trump and his historic levels of unpopularity even while embracing his controversial rhetoric could be a blueprint for Republicans moving forward, according to his former chief strategist, Steve Bannon.
Related: Donald Trump Is Toxic and Inspiring a Democratic Surge in Virginia Governor's Race
Such a scenario is currently playing out in Virginia, which will vote for a new governor Tuesday in an election that is widely considered the most important of 2017 and as an early referendum on the president. Trump has become the first sitting president since Richard Nixon during the Watergate scandal not to visit the state to campaign in its governor's race. Yet Republican candidate Ed Gillespie has adopted many of Trump's hard-line positions, particularly on immigration.
While Gillespie's Democrat rival, Ralph Northam, leads in the polls going into election day, it appears to be a closer race than many anticipated in a state that Hillary Clinton won by more than five points last November.
"He's closed an enthusiasm gap by rallying around the Trump agenda," Bannon, who was ousted from his White House role and has since gone on to support a slew of anti-establishment candidates, told The New York Times about Gillespie on Sunday. "And I think the big lesson for Tuesday is that, in Gillespie's case, Trumpism without Trump can show the way forward. If that's the case, Democrats better be very, very worried."
Gillespie has attempted to keep Trump at a distance, instead having Vice President Mike Pence rally for him. In a state that Trump not only lost in 2016 but in which his approval rating is mired at around 35 percent, it is an understandable strategy. Yet at the same time, Gillespie has embraced many of the president's headline-grabbing positions.
The most striking has been a series of ads linking Northam's vote to kill a bill that would ban sanctuary cities to the presence of the Latino gang MS-13 in the state. One such ad featured a stark on-screen warning: "kill, rape, control." The ads were slammed by many as being racial dog whistles, but they appear to have had some effect. Last week, Northam seemed to alter his position on the issue when stating that he would sign a bill to ban sanctuary cities in Virginia.
Gillespie has parroted Trump's culture-war mindset, too, on issues such as Confederate monuments and NFL players kneeling in protest during the playing of the national anthem.
Perhaps most notable about Gillespie's campaign is that he was previously the embodiment of the type of establishment Republican Trump and Bannon have railed against. As a lobbyist, he backed a pathway to citizenship for undocumented immigrants, and as chairman of the Republican National Committee, he even talked of the need for a "big-tent GOP."
The type of strategy Bannon is advocating for has already paid dividends for one Republican. In Alabama's Republican runoff for the state's special Senate election, Judge Roy Moore, who echoed much of Trump's anti-establishment rhetoric, scored a victory over the candidate who actually enjoyed Trump's support on the campaign trail, Luther Strange.
When Trump did rally for Strange, his message was overshadowed by his use of the term "son of a bitch" when discussing NFL players who protested during the national anthem. If Gillespie can win, or even lose narrowly, in Trump's absence, it would be further evidence that, at least in some states, Trump is better heard and not seen.