Trump on Barbara and George H.W. Bush 73-Year Marriage: 'I'll Never Beat That Record'
President Donald Trump saluted Barbara Bush during remarks alongside Japanese Prime Minister Shinzo Abe Wednesday, going off script to state that he would never beat the length of her marriage to former President George H.W. Bush.
"Melania and I send our prayers to Barbara's husband of 73 years," he said in tribute to the former first lady who died at the age of 92 Tuesday, before adding, "I'll never beat that record."
Trump is currently on his third marriage, having wed current wife Melania in 2005. His longest marriage, to first wife Ivana, lasted 15 years before he left her for Marla Maples.
The current first lady announced Wednesday that she planned to attend Bush's funeral in Houston on Saturday. Former presidents and first ladies, Barack and Michelle Obama and Bill and Hillary Clinton will also be present in honor of Bush, who was in the White House for four years and was also the mother of President George W. Bush. It is not yet known whether the president will attend.
"For decades Barbara was a titan in American life," Trump added of Bush. "Her strength and toughness really embodied the spirit of our country, and her warmth and devotion earned the admiration of an entire nation and indeed the entire world."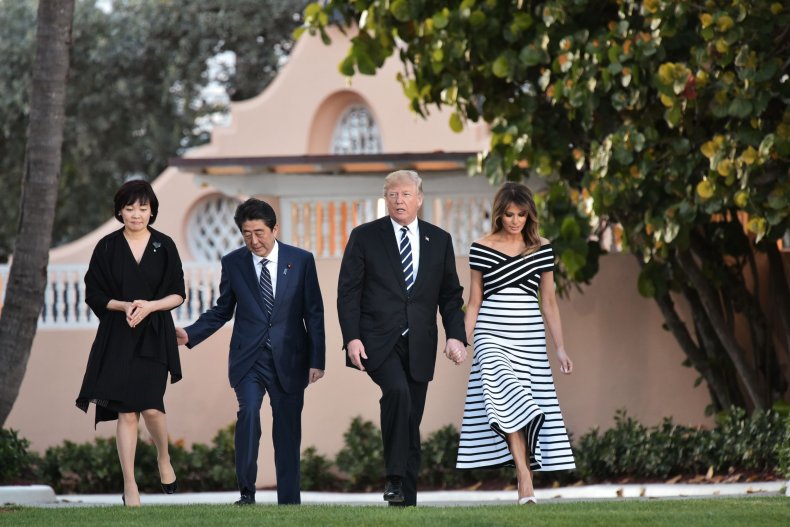 George H.W. Bush released a statement Wednesday, praising the woman he married in 1945 as well as the public reaction to her death.
"I always knew Barbara was the most beloved woman in the world," he said, "and in fact I used to tease her that I had a complex about that fact. But the truth is the outpouring of love and friendship being directed at The Enforcer is lifting us all up. We have faith she is in heaven, and we know life will go on—as she would have it. So cross the Bushes off your worry list."
Barbara Bush was far less positive about Trump during the 2016 election campaign, when he was running against her son Jeb, once stating that she was "sick of him."
"He doesn't give many answers to how he would solve problems," she told CNN at the time. "He sort of makes faces and says insulting things," she said about Trump when defending her son Jeb during a bruising Republican primary slog. "He's said terrible things about women, terrible things about the military. I don't understand why people are for him, for that reason."