New Poll Shows Majority of Trump's 2016 Base Says Asking a Foreign Government for Election Help Is Wrong
According to a new poll, about four out of five U.S. voters think that it is not permissible for an American political candidate to ask a foreign government for assistance in an election—an opinion shared by demographics that comprised President Donald Trump's 2016 voter base.
The results of the Grinnell College National Poll conducted by Selzer & Company were released on October 29 with the headline "An Overwhelming Majority Are Against Foreign Interference."
The survey found that much of the president's base—that is, demographics that lent him the overwhelming majority of their support in the 2016 presidential election—did not sanction actions such as Trump's alleged pressure campaign to get the president of Ukraine to investigate former Vice President Joe Biden and his son Hunter. The former vice president is a front-runner for the Democratic nomination for president in the election of 2020.
According to the poll, 81 percent of Republicans, 85 percent of evangelical Christians and 87 percent of voters living in rural areas agreed that it was unjust for a U.S. politician to ask other countries' governments for help to win an election.
A total of 81 percent of all respondents to the poll said that it was inappropriate for an American politician to ask foreign governments for help in an election.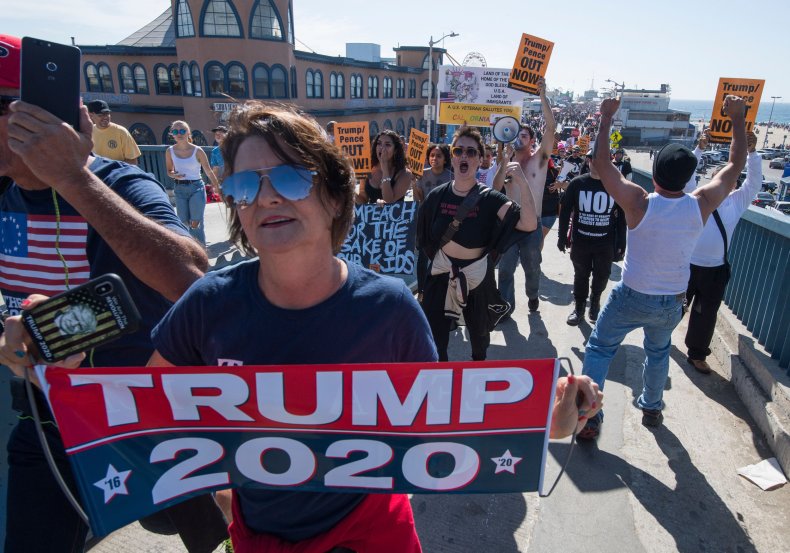 The poll was conducted among 1,003 adults between October 17 and 23, during an ongoing impeachment inquiry by the House of Representatives into whether or not the president should be impeached for his phone call with the president of Ukraine in which he allegedly asked for "dirt" on the Bidens.
Shareblue Media reported that the poll's results are also in line with those of several other surveys in the past few months. A University of Maryland poll from earlier in October found that 68 percent of Americans said that asking a foreign leader to interfere in an American election was an act worthy of impeachment. Further, in a Quinnipiac poll conducted in July, just over three-fourths of respondents agreed that "it is never acceptable for a presidential campaign to obtain information on a political opponent from a hostile foreign power."
Other results from the Grinnell College poll may further indicate faltering confidence for the president's administration.
The poll found that if the general election were held immediately, only 38 percent of likely voters said they would definitely vote to elect Trump for a second term. In contrast, 47 percent said they would definitely vote for someone else.
Speaking to the Sioux City Journal about the findings, Peter Hanson, a Grinnell College political science professor and national poll director cautioned: "The warning lights should be blinking red inside the Trump campaign."