Republican Strategist Ana Navarro Says 'Lock Him Up' Jeers at Trump Were Justified: 'You Reap What You Sow'
President Donald Trump only has himself to blame for the jeers and shouts of "lock him up" at a baseball game on the weekend, according to Republican strategist and CNN contributor Ana Navarro.
The catchphrase, originally by Trump against his Democratic rival Hillary Clinton on the 2016 campaign trail, was reimagined by fans at game 5 of the World Series.
In the build-up to the clash between the Washington Nationals and Houston Astros at the Nationals Park stadium in D.C. cheers turned sour when Trump appeared on screen and a large section of fans were filmed chanting "lock him up" sparking the trending hashtag "#LockHimUp".
The incident sparked soul searching among media outlets with even MSNBC Morning Joe hosts Joe Scarborough and Mika Brzezinski, who frequently criticize the president, calling the chants "sickening."
Navarro was asked by CNN Tonight host Don Lemon whether such a chant denigrated the office of the president.
She said: "You reap what you sow. This is a chant that was championed and started by his supporters. It is something that he has been doing consistently for four years.
"He beat Hillary Clinton. Hillary Clinton is selling books in Costco and he is still leading 'Lock her up' chants against her. It came back to bite him, it came back to haunt him," she added.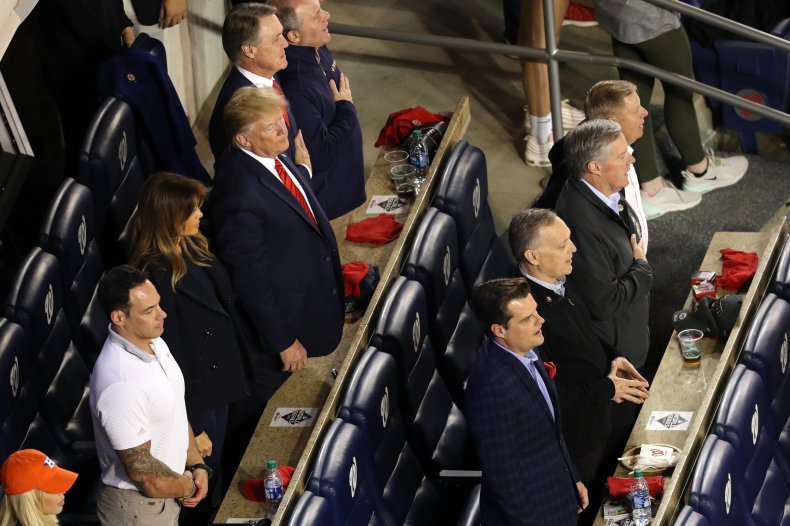 Among other displays of antipathy towards Trump was a sign held up by some fans which read "Veterans for Impeachment" behind the home plate. U.S. Army veteran Alan Pitts told Newsweek that the message was an effort to show the president that "vets are not on his side."
Navarro told Lemon that the anger directed at the president during the World Series match should not be criticized and simply be seen as an example of freedom of speech.
"I think what you saw yesterday was democracy in action...American freedom and the freedom to express yourself. There are so many countries, North Korea, Cuba, Venezuela, where something like that will get you in jail at best, or killed.
"It is a sign of the times. As unpopular as other presidents have been at times—George W. Bush during the [Iraq] war for example—I don't remember these kinds of chants at baseball games."
However a baseball arena can be a tricky one for a president. Bush did get booed by Washington Nationals fans when he threw a pitch at a game in 2008 and people booed at Barack Obama making the same ceremonial pitch in 2014.