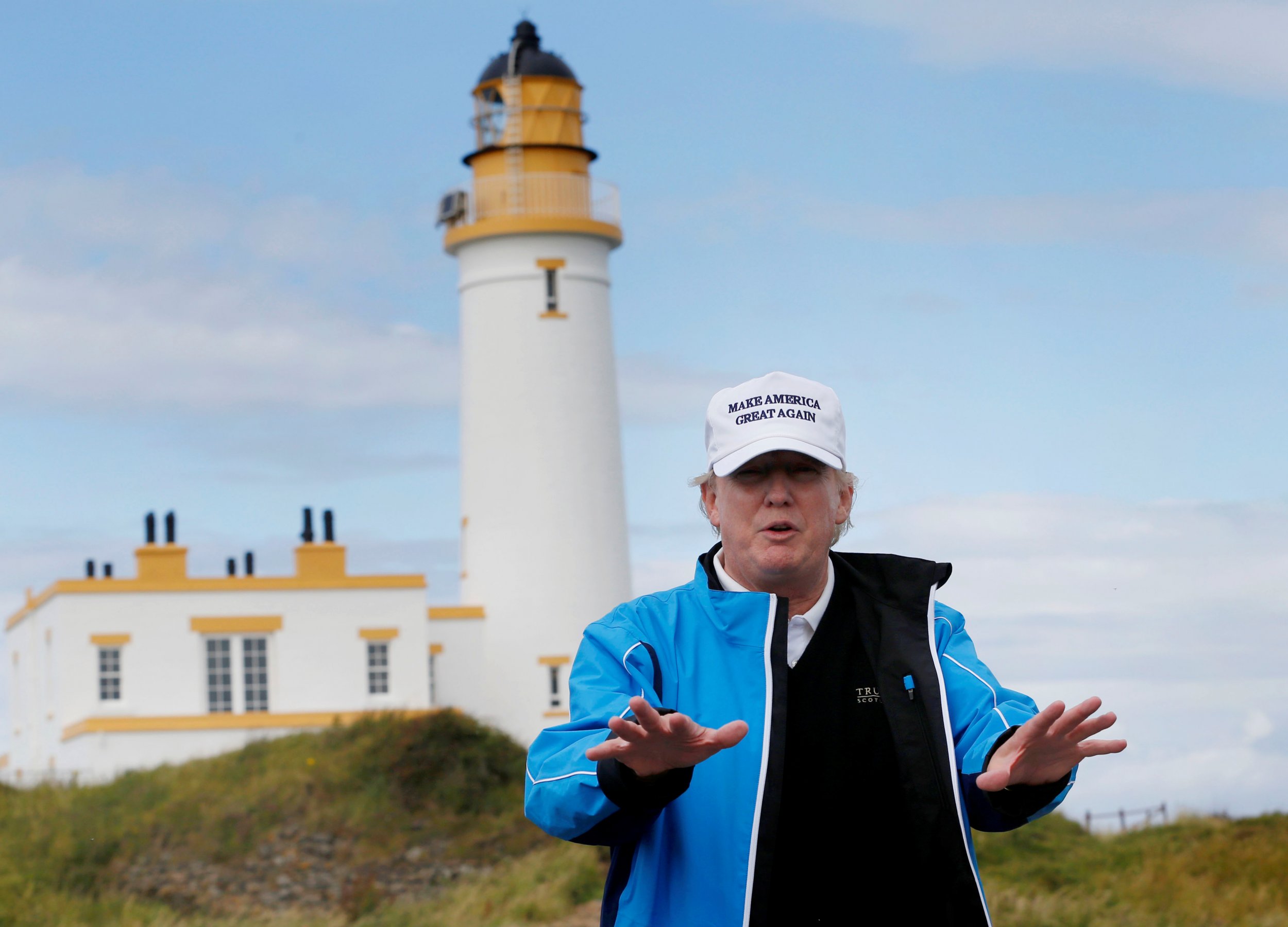 Republican presidential candidate Donald Trump flew into Scotland on Thursday, seemingly unflustered by the ongoing campaign battle with Democrat frontrunner Hillary Clinton back home in the U.S.
The construction magnate traveled to Britian not for any political commitments, no meetings with political leaders and not for the landmark EU referendum taking place across Britain on Thursday.
No, in a remarkable departure from campaign trail tradition, the Donald traveled across the Atlantic to preside over one of his company's latest investments: the $296 million reopening of one of his golf resorts.
He has launched a two-day visit to Scotland, landing at Prestwick on Thursday night, in a bid to promote his second golf course at Turnberry in the Ayrshire region. He is to be met by hundreds of protesters on Friday at the resort, coming just days after protesters planted a large Mexican flag off of the fairways of his premier Scottish golf course.
He is to fly on to Aberdeen on Saturday and then to Balmedie further north, but not after being greeted by hundreds of anti-racism campaigners who oppose his comments on Muslims, Mexicans and women. The Stand Up To Trump campaign is organizing the protest at Turnberry, and is supported by a number of other anti-racism organizations in Scotland.
Keir McKechnie, spokesman for Stand Up to Racism Scotland, one of the organizations backing the anti-Trump rally, told The Scotsman: "His message of hate is one that we'll challenge and we would not encourage anyone to support him in his presidency.
"Although this protest happens to be taking place in Scotland, we want to represent people across the whole of the UK and beyond who reject Trump's racism and Islamophobia."
The protesters are not the only ones backing his visit to the U.K. Nicola Sturgeon, leader of the Scottish National Party (SNP) snubbed an invitation to the reopening event at Turnberry on Friday.
The country's other top political figures balked at meeting Trump, including Scottish Tory leader Ruth Davidson, the Labour Party's Kezia Dugdale and Willie Rennie of the Scottish Liberal Democrats.
The controversial entrepreneur-turned-politician may not have even reached the shores of Scotland this week after more than half a million British people signed a petition calling for him to receive a lifetime ban from the islands.