Donald Trump Will Beat Any Democrat, Except Maybe Tom Hanks or The Rock-in 2020, says Former Hillary Clinton Adviser
No Democrat will beat President Donald Trump in 2020, unless that person happens to be actors Tom Hanks or Dwayne "The Rock" Johnson, according to a former top advisor to Hillary Clinton.
Philippe Reines, who served under Clinton when she was secretary of state and as an aide during her 2016 campaign, told The National Review for a podcast released Monday that he had a "hard time" seeing any of the potential Democratic contenders both taking on and beating the incumbent commander-in-chief two years from now.
"I always think of it this way, that if the election were held tomorrow, stick in a name, would Trump win," Reines said. "I think Tom Hanks would win, I think The Rock would win. I have a hard time seeing how a lot of the people who are running would win. Just as comparison."
Taking a slight jab at the president's intelligence, Reines still praised Trump's power and ability to run a successful campaign.
"He is a freak of nature and it doesn't matter if he's dumb or not. It doesn't matter what I think. He is a bulldozer," Reines said.
The current establishment Democrats linked to a 2020 run has included Senators Kamala Harris, Kristen Gillibrand, Cory Booker and Elizabeth Warren. Independent Senator Bernie Sanders is viewed as the potential frontrunner given his challenge to Clinton in 2016.
Reines was also asked if he would bet on a second Trump victory in 2020, and confirmed he thought the Republican would win out. But he also noted the history of incumbent president's losing when up for re-election.
"Net-net, yeah," Reines said. "For a lot of reasons, also because moments in history like this tend to not get resolved. The only two presidents in the last 85 years that have been denied a second term: Jimmy Carter and George H. W. Bush. And both because they had, as a sign of trouble, they had serious primary challengers."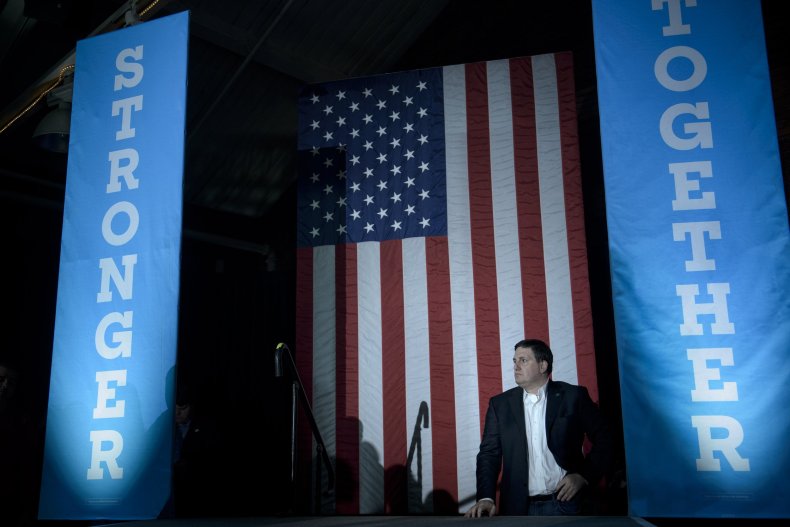 Given Trump's takeover of the Republican Party from its establishment, speculation has pegged several possible contenders to take on the president during the primary season. Outgoing Ohio Governor John Kasich, who lost to Trump during the 2016 primaries, and retiring Senator Jeff Flake of Arizona were each floated in reports this year about challenging Trump for the GOP ticket.
Other than Johnson and Hanks, major celebrities and business tycoons have been mentioned as possible candidates. While Hanks has not, Johnson has publicly stated that he was considering a run.
Television icon Oprah Winfrey has denied she was contemplating a run after her spirited speech at the Golden Globes this year, while former Starbucks chief executive Howard Schultz could also reportedly be a candidate in the likely crowded Democratic field.