Donald Trump Beats Democratic 2020 Front-runners Joe Biden and Elizabeth Warren in Key Swing State: Poll
Donald Trump is polling better than Democratic primary front-runners Joe Biden and Elizabeth Warren in Nevada, a key swing state for the upcoming 2020 election.
A new poll by Emerson found the president would beat both the former Vice President and the Massachusetts senator by 51 percent of support among Nevadans to 49 percent in a head-to-head.
The survey conducted between October 31 and November 2 also found that Trump and Bernie Sanders were running neck-and-neck, with both candidates hitting 50 percent of popular support in the state.
But his marginally greater potential to beat Trump in Nevada was not reflected in his standing among local Democrats.
When asked who they were most likely to support in the upcoming caucus, 30 percent of the 451 Democrats polled said they would support Joe Biden, a four percentage point lead on his standing in March, while Sanders was only found to have the backing of 19 percent.
Massachusetts Sen. Warren polled in second place on 22 percent. None of the other candidates in the crowded primary field reached double figures.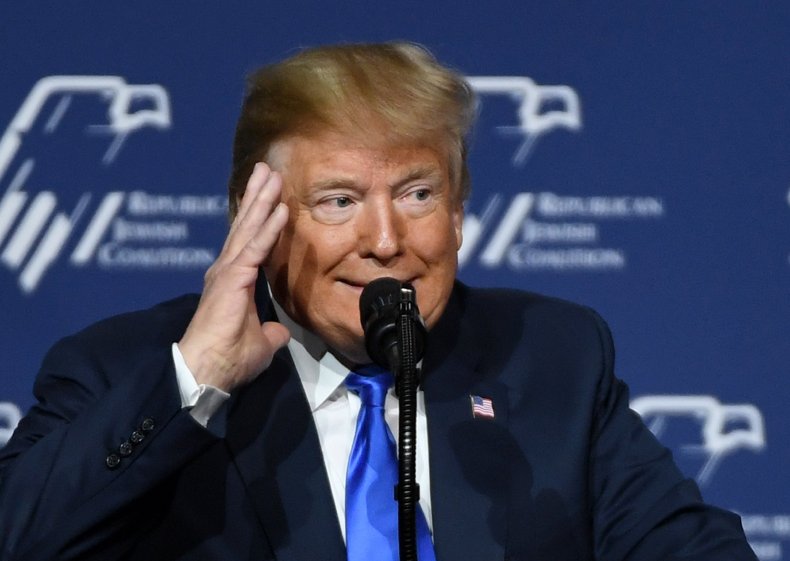 The Silver State may also have put the boot in to any talk of a Clinton re-run in 2020, with more than two-thirds of local Democrats saying they were opposed to the former Secretary of State standing again next year.
Although Democrats held all of their House seats in Nevada and flipped a formerly Republican Senate seat in the mid-terms last year, the new polling numbers may raise alarm bells given the party's recent presidential election performances in the state.
At the 2012 presidential run-off between Barack Obama and Mitt Romney, the incumbent Democrat polled 7 percentage points ahead of his Republican rival—a 2.9 point fall on his 2008 lead.
That lead became even narrower under Hillary Clinton.
Speaking to Newsweek, Emerson Assistant Professor Spencer Kimball said: "It is important to remember that Clinton won Nevada in 2016 by less than 3 points and it looks to be a very competitive race again in 2020.
"I think this is one of the best pick up opportunities for Trump."
"The Nevada caucus has been a firewall recently for establishment candidates like Hillary Clinton who won in 2008 and 2016," the professor added. "It could also be a firewall for Biden in 2020 if he struggles in Iowa and New Hampshire."
A "firewall state" is one where a candidate should win, and could mark the end of someone's race if they fail to take pole position.
Michael Gordon, a Democratic strategist and principal at strategic communications firm Group Gordon, said he was not worried about the new polling data.
The former Clinton administration staffer said: "Most polls in swing states that Democrats need have Trump losing to Biden and Warren. Nevada has been moving blue, and Trump tends to alienate swing voters every time he opens his mouth or sends out a tweet."
Asked how Biden and Warren could beat Trump in Nevada, were either to become the 2020 Democratic nominee, Kimball said: "In a close race like this, turnout will be very important and organization in the state might make the difference.
"Also, healthcare will be a big issue in 2020 and the difference between Biden's Public Option v. Warren's Medicare for All might make the difference in the state come the general election."
The Emerson poll, conducted between Thursday and Saturday last week, found that Medicare for All was the most popular health care policy in the state, picking up 28 percent of public backing as a public option won 23 percent support.
Where overall state priorities were concerned, a plurality (32 percent) put the economy ahead of all other issues dictating their choice of 2020 candidate. By comparison, 16 percent of Nevadans prioritized health care, while immigration and social issues both polled at 12 percent.
The margin of error for the Emerson poll of 1,089 cross-party voters in Nevada is 2.9 percent, while the sub-survey of Democrats has a 4.6 percent margin of error.