Trump Believes Texas Election 'Audit' Bill Will 'Quickly Pass Through the Senate'
Former President Donald Trump has expressed that a bill demanding a 2020 election audit in Texas, a state that he already won, will "quickly" pass through the state Senate.
Trump defeated President Joe Biden in Texas by a more than 5 percent margin. Regardless, the former president and some of his allies have baselessly claimed that massive fraud kept his margin of victory from being larger in Texas and other states that he won, while also claiming that he was robbed of victory in states that Biden won. The Texas Secretary of State's office announced an audit of the election last week, shortly after Trump pressure Republican Governor Greg Abbott to conduct an audit of the state.
Trump and his loyalists have expressed dissatisfaction with the scope of the announced audit, prompting Republican Texas state Senator Paul Bettencourt to file a bill that would force a larger audit. Trump praised Bettencourt on Friday, touting the bill for providing a "real Forensic Audit of the 2020 Presidential Election Scam" and insisting that the existing "weak risk-limited audit" is being "slow-walked" by Texas officials.
"Lt. Gov. Dan Patrick, a great guy, sent the bill to the State Affairs Committee the very same day [that Bettencourt filed it], and it should quickly pass through the Senate," Trump said in a statement. "There is still time for the House to take up the issue in the Third Special session with House Bill 16. I'd like to thank Dan and Paul for their bold leadership, and for listening to Texans who are demanding answers about Nov. 3."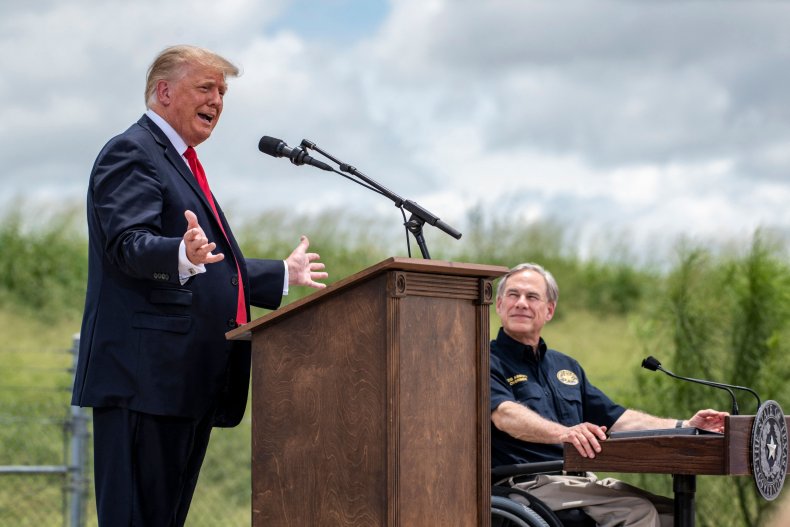 "Everyone feels certain Governor Abbott will follow suit," Trump added. "This will have a big impact on the upcoming 2022 and 2024 elections in Texas. Texas will always be red, but we must stop the cheating. Keep it up and get this bill over the finish line. Passing the audit bill will be a Big Win for Texas! Let's make sure the great people of Texas believe and trust their elections."
Newsweek reached out to Abbott's office for comment but did not hear back before publication time.
Although Texas has voted solidly Republican for decades, Democrats have been making inroads in recent years. Trump's margin of victory in 2020 was the slimmest for a GOP presidential candidate since 1996, while Biden won the largest share of votes for a Democrat in the state since former President Jimmy Carter in 1976.
Despite suggestions to the contrary, no credible evidence of massive fraud in the 2020 election has been found in Texas or any other state. The Texas audit follows the completion of a controversial Republican-led audit in Arizona, which last week found that Trump lost by a slightly larger margin than in the official vote count.
Meanwhile, investigations of alleged fraud in other states have also come up short. Idaho Secretary of State Lawerence Denney announced this week that his office had launched an investigation and quickly disproved claims from MyPillow CEO Mike Lindell, who insisted that Trump was cheated out of a larger win than the over 30 point victory that was officially recorded.