Trump Bible Teacher Spoke at Nicaragua Marxist Celebration, Said Ukrainian President 'Cut From the Same Cloth as Trump'
The leader of a White House Bible Study group spoke at a Marxist anniversary celebration as part of an exchange with Nicaraguan President Daniel Ortega, a report from The New York Times Magazine says.
According to the piece, published online Tuesday, Ralph Drollinger flew to the South American country earlier this year to convince Ortega to approve the leader of a Bible study in Managua.
"In a spirit of reciprocity, Drollinger had agreed to deliver a public speech at the anniversary celebration of the Marxist revolution that Ortega led 40 years ago," the article states.
Drollinger told the magazine that he might shake Ortega's hand during the event and that he had to "think about how [Ortega] is going to play this visit in state-controlled media."
Newsweek subscription offers >
Drollinger also said he thought Ortega could be similar to Trump, "who runs his mouth."
Ortega and Trump were not the only politicians Drollinger gave his opinion on. The former professional basketball player also spoke of Ukrainian President Volodymyr Zelensky.
"He is very much cut from the same cloth as Trump. Intent on cleaning things up," Drollinger said of Zelensky.
A July 25 phone call between Zelensky and Trump, where the U.S. president encouraged his Ukrainian counterpart to open an investigation into former Vice President Joe Biden and his son Hunter, has led to an impeachment inquiry against Trump.
Newsweek subscription offers >
Weeks prior to Trump's call, Drollinger assisted via phone in opening a Bible study in Kiev with Ukrainian Parliament member Pavlo Unguryan and outgoing U.S. Secretary of Energy Rick Perry.
Drollinger has had a hand in establishing bible study groups at the capitals of 32 states and 24 countries outside of the United States, many of them during Trump's tenure. His nonprofit, Capitol Ministries, aims to establish 200 ministries in 200 capitals. As part of that work, Drollinger held a training and leadership conference in Washington, D.C., in 2017 that was attended by three Trump cabinet members. On trips like the one to Nicaragua, Drollinger is in communication with U.S. officials and obtains connections from them. He functions as a shadow diplomat of sorts.
The White House did not immediately respond to a request for comment from Newsweek on Tuesday.
Drollinger said that Michael McKinley—who resigned as a top aide to Secretary of State Mike Pompeo over the administration's handling of Ukraine—tried to stop him from going to Nicaragua. The Bible teacher said some senators also tried to curb him from going out of worry that Ortega would try to "curry favor" with Trump.
Ortega's police and vigilantes aligned with his politics killed hundreds of protestors last year. The killings were considered crimes against humanity by the Organization of American States.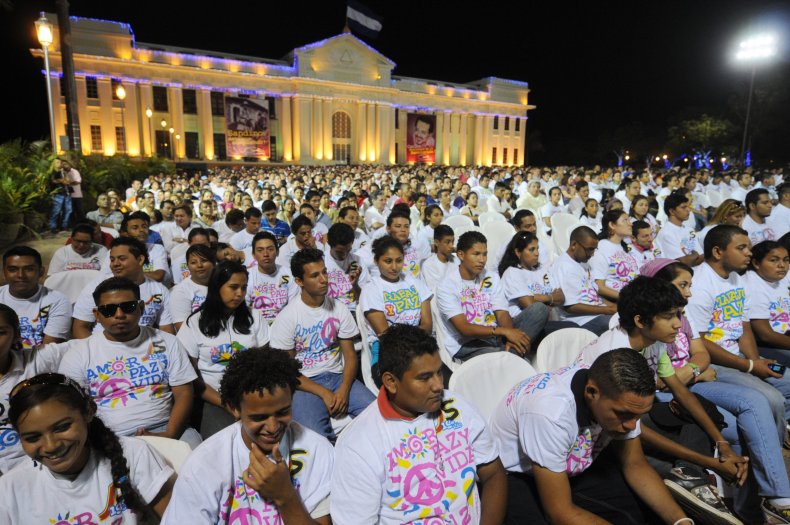 Drollinger's Bible study group meets on Wednesday mornings and has sponsors including Pompeo, Vice President Mike Pence, Secretary of Housing and Urban Development Ben Carson, Secretary of Education Betsy DeVos, Secretary of Agriculture Perdue, and until recently, Perry.
Drollinger defended the Trump administration as it was widely criticized for policies that led to immigrant family separations at the border.
According to Capitol Ministries, Drollinger spoke at a festival in Kiev as part of a recent 10-day Europe trip and pointed out Trump cabinet members' involvement in his weekly Bible studies.
"One of the things that make America such a wonderful country is that we have leaders who are steeped in the Scriptures," Drollinger said. "In fact, we have 11 U.S. Cabinet members from the White House every week who study the Bible together. We view the Scriptures as the authority in our decision making."
Trump Bible Teacher Spoke at Nicaragua Marxist Celebration, Said Ukrainian President 'Cut From the Same Cloth as Trump' | World