Trump, Biden 2024? How Their Supporters Feel About Potential Presidential Runs
Amid dropping approval ratings, President Joe Biden's supporters aren't jazzed about him making another bid for office in 2024.
Biden said he plans to run again, but drops in his polling numbers have raised concerns about whether he'll be a viable candidate. With the election three years away and voters often having short memories, the administration has time to turn public opinion around, but a new poll shows there's significant work to be done.
Nearly 40 percent of Biden voters hope he doesn't run for another term, according to a USA Today/Suffolk University poll released Monday. That number is higher among voters in general, with nearly 64 percent of the 1,000 people polled hoping Biden doesn't seek office again.
It's possible the 2024 race could be a rematch between Biden and former President Donald Trump, who's been teasing another bid for office since he left the White House.
Trump commands more loyalty from his supporters than Biden does, according to the poll. About 26 percent of Trump's supporters hope he doesn't run again, while 65 percent hope he will launch another presidential campaign.
"I thought he did a great job then, and I know he'll do a great job in the future," Lynda Ensenat, a Trump voter, told USA Today. "There's a whole lot going wrong in this society right now, and all the Democrat liberals — that's what they're 100% for."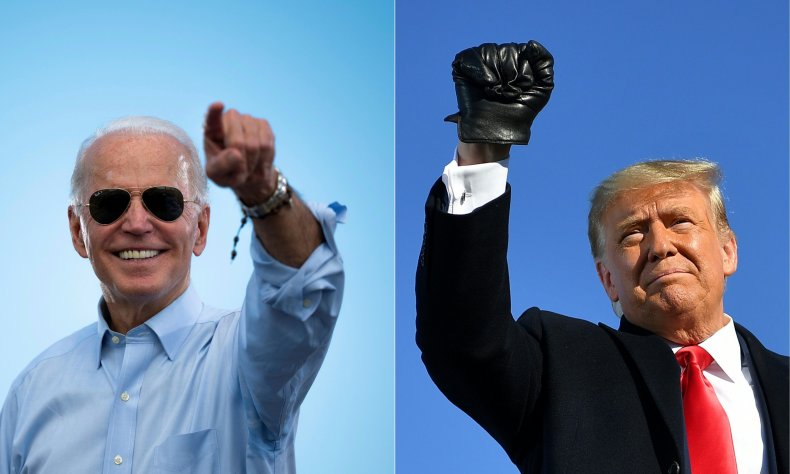 Biden won the presidential election with 51 percent of the vote, compared with Trump's 47 percent. However, the USA Today/Suffolk University poll found that the tide may be turning in Trump's favor, although it would still be a close race.
Asked who voters would cast a ballot for if the presidential election were held on the day they were surveyed, 44 percent said they would vote for Trump. A smaller percentage, 40 percent, said they would cast a ballot for Biden, and 11 percent would go for an unnamed third-party candidate. The survey has a margin of error of plus or minus 3.1 percentage points.
Biden's approval rating sank to 38 percent in the poll, and nearly half of those polled, 46 percent, said he's done a worse job as president than they expected. That includes 16 percent of those who voted for him in 2020. Independents in particular have soured on the president, with 44 percent saying he's done a worse, not better, job than expected.
Tony Emmi, who voted for Biden, told USA Today she sees Trump as "deceitful" and "malicious" but criticized the president for not doing enough to enact meaningful legislation.
The passage of Biden's infrastructure bill this past Friday is likely to improve his standing among his supporters and is backed by one-third of Republicans. The legislation had been stalled in the House for months as progressive Democrats pushed for passage of the Build Back Better Act, a social and climate spending bill, in the Senate.
Biden celebrated the infrastructure bill's passage on Saturday, which came days after Republicans flipped Virginia's gubernatorial seat. The president said last week's election made "one overwhelmingly thing" clear: "They want us to deliver." He added that the passage of the infrastructure bill showed voters that Democrats can deliver on his legislative agenda.