Trump, Biden Avoid Campaign Clashes to Remember 9/11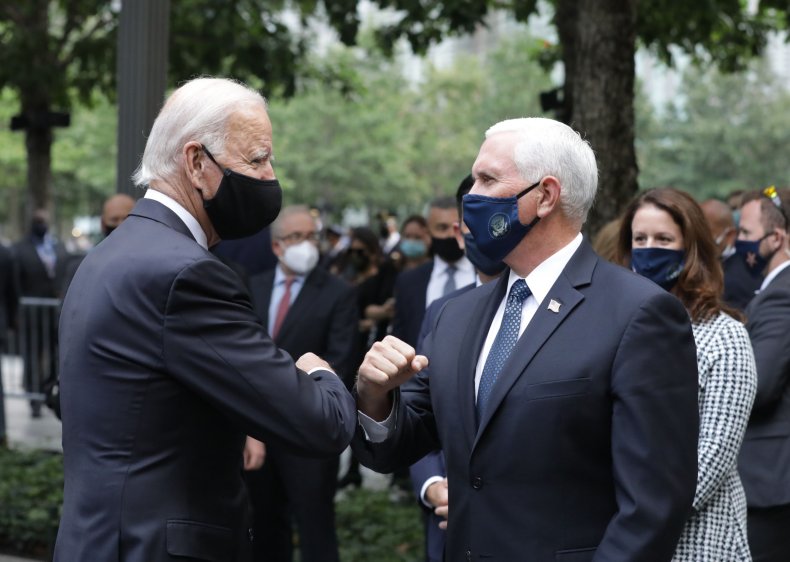 Setting aside their bitter political feud, President Donald Trump and former Vice President Joe Biden each took part in solemn ceremonies Friday to mark the 19th anniversary of the deadliest terrorist attack in the nation's history.
Nearly 3,000 people perished in the September 11, 2001 terrorist attacks.
"In the days and weeks after 9/11, citizens of all faiths, backgrounds, colors and creeds came together, prayed together, mourned together and rebuilt together," Trump said during a ceremony at the site of the crash of United Flight 93 in Shanksville, Pennsylvania. "America will never relent in pursuing terrorists that threaten our people."
In a stark departure for the normally bombastic president, Trump didn't mention his Democratic rival or policies with which he disagrees—choosing instead to stick to the memory of the passengers who died after they forced hijackers to crash the plane before it could reach its intended target, the U.S. Capitol, some 170 miles away.
Biden is also scheduled to travel to Shanksville Friday to mark 9/11. With just 53 days left until the November 3 election, Biden and Trump's trips to the Flight 93 memorial site were timed so they wouldn't overlap.
But in New York City, where terrorists flew hijacked planes into the World Trade Center, Biden had a cordial exchange with Vice President Mike Pence near Ground Zero. Wearing masks because of the coronavirus pandemic, Biden and Pence greeted each other with an elbow-bump and short exchange before the memorial service began.
Biden told reporters he decided he would skip campaigning for the day and had pulled ads from television.
"I'm not going to talk about anything other than 9/11," he said. "We took all our advertising down. It's a solemn day. That's how we're going to keep it."
Biden, in a statement released by his campaign, did touch on the continued coronavirus crisis that has killed more than 190,000 people in the United States. He's frequently criticized Trump's response to the pandemic. Though he didn't mention Trump by name in his 9/11 statement, he called COVID-19 "another crisis that compels us to summon the best of the American people."
Biden called for the nation to come together once more as it did after 9/11.
"Now, as then, our heroes are ordinary people doing extraordinary things: nurses and doctors; delivery drivers and grocery clerks; public transit workers and educators; regular Americans thrust into courageous acts of sacrifice and service," Biden said in the statement. "Now, as then, we owe it to them to come together as a nation — so that Americans can once again do what we did so bravely nineteen years ago: turn from tragedy to purpose, rebuild our lives, and begin, in time, to heal."
Meanwhile, Trump's campaign continued to run ads and solicit donations via text messages and emails. He began the morning with a tweet praising JPMorgan Chase's decision to reopen its offices, after having been shuttered because of the coronavirus pandemic. Trump, who has been on an aggressive campaign tour schedule most recently traveling to Michigan for a rally attended by thousands Thursday night, has advocated for reopening schools and businesses closed to curb the spread of COVID-19.
During his uncharacteristically somber speech in Pennsylvania, Trump reflected on the unity in the United States in the aftermath of the 9/11 attacks, which also included an attack on the Pentagon.
"We were united by our conviction that America was the world's most exceptional country, blessed with the most incredible heroes, and that this was a land worth defending with our very last breath," Trump said. "It was a unity based on love for our families, care for our neighbors, loyalty to our fellow citizens, pride in our flag, gratitude for our police and first responders, faith in God—and a refusal to bend our will to the depraved forces of violence, intimidation, oppression and evil."