Trump, Biden Both Treat Minnesota as New Battleground; Polls Suggest Otherwise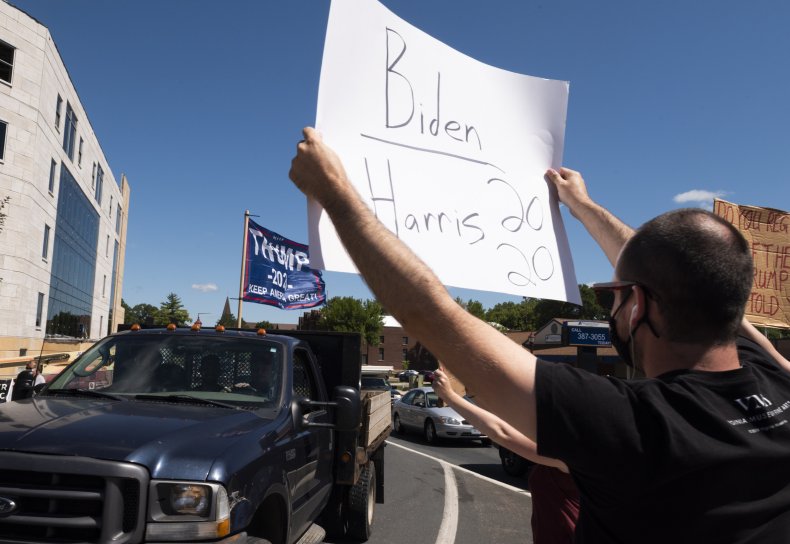 With fewer than 50 days until Election Day, President Donald Trump and former Vice President Joe Biden will each travel Friday to hold campaign events in ... Minnesota?
Trump is planning to hold a mass rally for supporters in Bemidji, while Biden will tour a union training center and deliver a limited-capacity speech in Duluth.
The rare occasion of having rival presidential candidates campaign in the same state—just 150 miles apart, on the same day—marks a stark reversal from four years ago, when Trump and Hillary Clinton's campaigns largely ignored the "Land of 10,000 Lakes."
Both Biden and Trump's campaigns are running ads in the state, highlighting it among their "battleground" lists and sending in key surrogates, in addition to Trump and Biden's own multiple in-person or virtual appearances.
All are typical indicators of a tight race in a must-win swing state in presidential election season.
But Biden is currently leading Trump in Minnesota by an average of nearly 9 points, according to FiveThirtyEight's analysis of polls conducted there as recently as Wednesday.
In fact, Minnesota, which has 10 electoral college votes, has voted for the Democratic candidate in every presidential election since 1972. Four years ago, Hillary Clinton bested Trump 46.4 percent to 44.9 percent.
Biden's campaign didn't immediately respond to Newsweek's request Thursday about why its devoting time and resources to a state that, under normal circumstances, would fall in the "win" category so close to November 3.
In an interview with Greta Van Susteren that is set to air Thursday on Gray Television stations, U.S. Sen. Amy Klobuchar, a Minnesota Democrat who sought the party's presidential nomination before dropping out and endorsing Biden, seemed to indicate that she doesn't see her state as the battleground it's being treated as, and instead believes that, as polls show, Biden has a strong lead there.
"I think one of the reasons that Republicans keep saying this, despite the polls, I get why they said it," Klobuchar told Van Susteren, according to excerpts shared with Newsweek before the interview was set to air. "I would too if I were them early on, is they want to play offense somewhere, so they're like, 'Oh, look at the bright, shiny objects of Minnesota and New Hampshire.'"
Klobuchar said the state shouldn't be getting this level of attention from the candidates.
"But in fact, the polls keep telling the truth," she said, "and I think by the end, you're going to see the focus on some other states."
The unusual focus doesn't necessarily mean the Trump campaign is banking on a win there. Biden is figured in as the winner of Minnesota in four of the Trump campaign's top six strategic pathways to victory in November, per a presentation Trump advisers recently shared with Newsweek and other media outlets.
But top campaign aides are quick to note that Trump lost the state by less than two points in 2016.
Trump campaign manager Bill Stepien recently told Newsweek and other reporters on a campaign briefing call that he "found it curious" that Biden's camp has begun focusing on Minnesota after the Trump campaign started investing there this year.
Trump's campaign didn't invest in Minnesota "at all" in 2016, Stepien noted, but narrowly lost after Clinton's campaign also largely ignored the Midwestern state.
"The fact that Biden is spending one of his above-ground excursions to Minnesota tells you the defense game he's playing," Stepien said. "It shows how the president's changed the map."
Minnesota has been in the news for much of the summer, following the May 24 death of George Floyd, a Black man who died after Minneapolis police officers pinned him to the ground and an officer pressed his knee into Floyd's neck for nearly nine minutes.
Video of Floyd's final moments alive went viral, sparking a wave of anti-police brutality and anti-racism protests. Trump, who has closely aligned himself with law enforcement groups, called Floyd's death "terrible" and said he struggled to watch the video. He went on to sign an executive order aimed at police reform through funding incentives for departments that adopt new oversight measures.
Meanwhile, Biden gave a public address from Philadelphia on Floyd's death, calling it a "wake-up call for our nation" and promising that, if elected, he would create a police oversight commission within 100 days of his inauguration.