Trump and Biden Bring '60 Minutes' Its Highest Viewership Since Stormy Daniels
President Donald Trump's latest interview with 60 Minutes aired on Sunday night, and it brought the newsmagazine program its highest viewership in two and a half years.
The CBS series apparently hit 16.8 million viewers on Sunday, according to Nielsen, and that isn't even counting DVR views. The last time 60 Minutes did better than that figure was in 2018, when the program featured an interview with Stormy Daniels that drew 22 million viewers, according to the New York Times. A normal episode of 60 minutes averages 10.5 million viewers per episode, CBS reported in September.
Because of the after-air-time viewing for some Americans, who may not have tuned into their recordings yet, the number has the potential to increase around another million viewers, The Wrap explained.
Trump's appearance was highly anticipated, though some potential viewers may have been lost because the President actually released the interview footage himself, ahead of the airing. On Thursday, Trump uploaded the unedited 60 Minutes interview to his Facebook account. It's unknown how much of an impact the footage being available online had on viewership.
There was intrigue around the segment because it was widely reported that Trump actually walked out of the interview before the formal 45-minute conversation was officially over.
On Sunday night, 60 Minutes tweeted out a clip of Trump leaving the conversation with interviewer Lesley Stahl. As seen in that footage, their interview took a negative turn when Trump brought up the "fake-news media" and Stahl mentioned old remarks that Trump allegedly made to Stahl.
She claimed that Trump once told her he uses the term "fake news" so he can "discredit [the media] so that when you say negative things about me, no one will believe you." Trump didn't engage with Stahl as to whether or not he made that remark; instead, he described Stahl's interview techniques as unfair, particularly when compared to how 60 Minutes interviews former Vice President Joe Biden.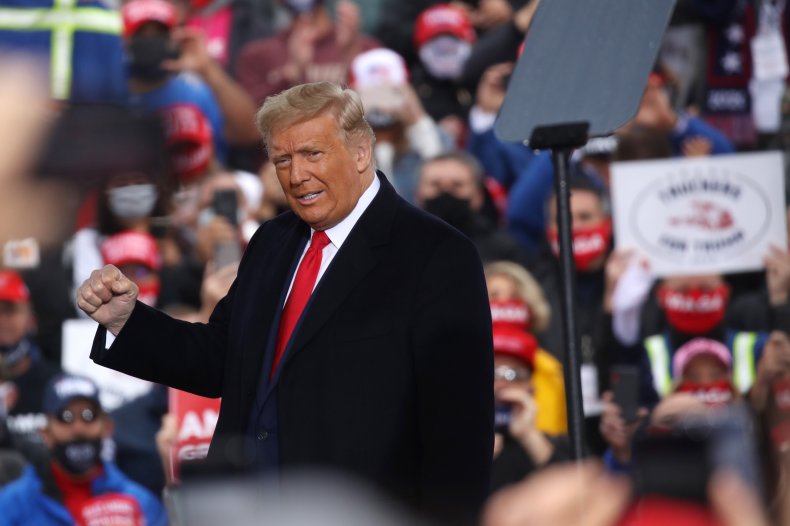 Biden was also interviewed in the same, special episode of 60 Minutes, which debuted a little more than a week before Election Day 2020. While the interviews aired in the same broadcast, Biden was interviewed by Norah O'Donnell, not Stahl.
In recent weeks, the two presidential candidates have been trying to get their respective messages out to voters and TV viewers. The final 2020 presidential debate aired on Thursday to an audience of 63 million viewers, per NBC. This was significantly lower than the first presidential debate, though, which drew 73.1 million viewers.
Trump and Biden also hosted individual "town hall" style conversations. Trump's brought in 13.5 million viewers, while Biden won the viewership war with 14.1 million.
Updated 10/26/2020, 3:09 p.m. ET: This article has been updated with additional context.