Second Trump vs Biden Debate Left People More Optimistic, Less Annoyed: Polls
Viewers were left feeling more optimistic and less annoyed by the second debate between President Donald Trump and Democratic presidential candidate Joe Biden than the first, according to polls.
After the first clash between the pair, which was widely criticized for issues such as interruptions over answers, the majority of those people asked by pollster YouGov took a negative view on how the debate made them feel.
Of 1,039 respondents for the CBS News/YouGov snap poll conducted after the last debate on September 29, 83 percent said its tone was negative and 69 percent said they were annoyed by the debate.
More people said they felt pessimistic, 19 percent, than optimistic, 18 percent. The poll had a margin of error of plus or minus 3.4 percent.
Fresh polling by YouGov of 491 registered voters who watched Thursday's debate showed a stark contrast in how people felt. More said they felt positive after it, at 46 percent, than negative, at 43 percent.
Thirty-seven percent said the latest debate made them optimistic and 33 percent said annoyed. The poll has a 5.2 percent margin of error.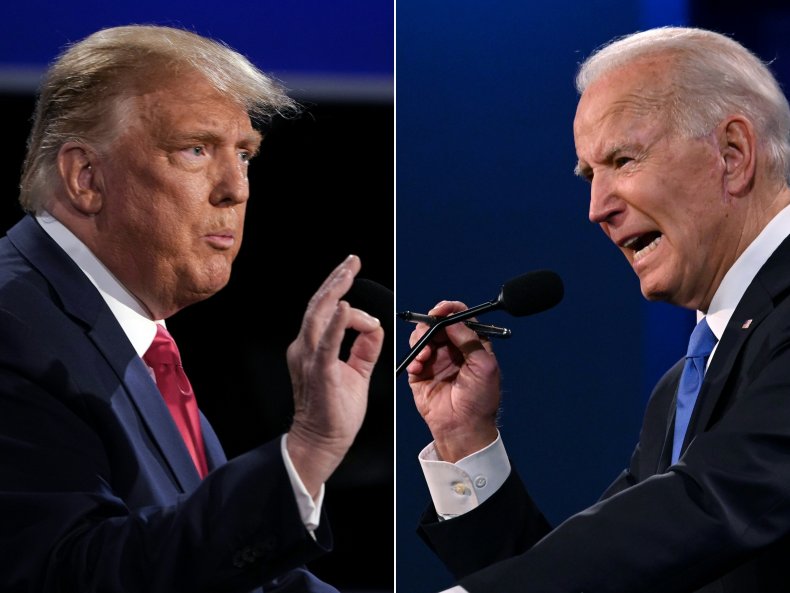 In both sets of polling, Biden was deemed the debate's winner, with 48 percent saying so in the first and 54 percent in the second, more than Trump either time.
Most traditional snap polls had Biden as the winner last night. Trump promoted several unscientific Twitter polls claiming he was victorious in the clash.
Newsweek has contacted the Trump and Biden campaigns for comment.
While the tone was seen as more positive than the last debate, Trump and Biden still wrangled over several topics including the coronavirus pandemic and accusations made against the Democrat's son Hunter.
Biden has held focus on the Republican incumbent's response to the health crisis in interviews and at campaign events. The president has seized on allegations around the business dealings of his rival's son to attack Biden in recent days.
Trump and Biden continued to clash by sharing messages on social media following the head-to-head.
The debate comes with Trump trailing Biden in national polls ahead of Election Day, and he is also behind in several key states. Trump has long hit out against his bad polling, claiming the polls are "fake."
The below graphic, from Statista, shows survey results of how helpful voters found debates in making their choice in previous elections.