Biden Four Times More Popular With Republicans Than Trump Is With Democrats: Poll
Joe Biden's favorability rating among Republicans is four times that of President Donald Trump's with Democrats, according to recent polling. Following the election, Biden's favorability rating has risen overall—going from 49 percent to 55 percent in Gallup survey results.
Trump's has dipped to 42 percent in the latest polling, conducted November 5 to 19 among a random sample of 1,018 adults across the United States. This is down from 45 percent in Gallup's last comparable poll conducted October 16 to 27.
Looking at the partisan split in the latest results, Biden fares far better among Republicans than Trump does with Democrats.
Just over one in ten Republicans have a favorable opinion of Biden, 12 percent, according to the latest polling. This boosted from six percent in the October results. In contrast, three percent of Democrats have a favorable opinion of Trump.
Biden also fared better with independents than Trump, with 55 percent having a favorable opinion of him compared to 36 percent for the president.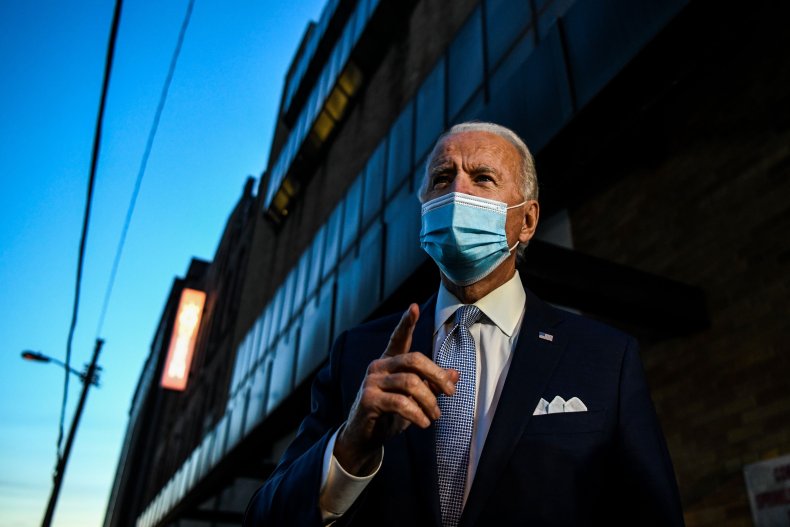 The ratings come with Trump continuing to rail against the election outcome, insisting Biden's success was facilitated by foul play despite failing to provide evidence of widespread election fraud.
Biden has branded Trump's refusal to concede "an embarrassment" and moved his focus to his transition, beginning to craft the team for his administration.
Ahead of his boost among Republicans, Biden spoke of looking to represent both those who voted for and against him after the election was called his way.
"I ran as a proud Democrat. I will now be an American president," he said. "I will work as hard for those who didn't vote for me as those who did. Let this grim era of demonization in America begin to end—here and now.
"The refusal of Democrats and Republicans to cooperate with one another is not due to some mysterious force beyond our control. It's a decision. It's a choice we make.
"And if we can decide not to cooperate, then we can decide to cooperate. And I believe that this is part of the mandate from the American people. They want us to cooperate."
He insisted he would "seek not to divide, but to unify," and see "not red states and blue states, but the United States."
Newsweek has contacted the Biden transition team and the Trump campaign for comment.