Trump, Biden Have Nearly Same Favorability Rating, New Poll Finds
U.S. adults aren't particularly fond of either President Joe Biden or former President Donald Trump, with the favorability ratings for both men hovering around 40 percent.
Americans' opinion of Biden have been taking a negative turn for months amid the continuation of the coronavirus pandemic, the military withdrawal from Afghanistan and stalled legislation in Congress. His job approval rating now sits at 42 percent, lower than that for every one of his predecessors over the past 70 years, except for Trump, but his rating isn't far behind Biden's.
A poll from NBC News, released Sunday, found that 40 percent of those surveyed had a positive view of Biden, down from the 43 percent he had in August. This favorability rating was only 2 points higher than Trump's October number, also down from 43 percent in August.
"Democrats face a country whose opinion of President Biden has turned sharply to the negative since April," Democratic pollster Jeff Horwitt of Hart Research Associates, who conducted the survey with Republican pollster Bill McInturff of Public Opinion Strategies, told NBC News.
Biden saw a 10 point drop in his favorability rating since April and a 7-point drop in his job approval rating. At the same point in Trump's presidency, he had a 37 percent job approval rating, the only president since Dwight Eisenhower to have a lower job approval rating than Biden, according to Gallup.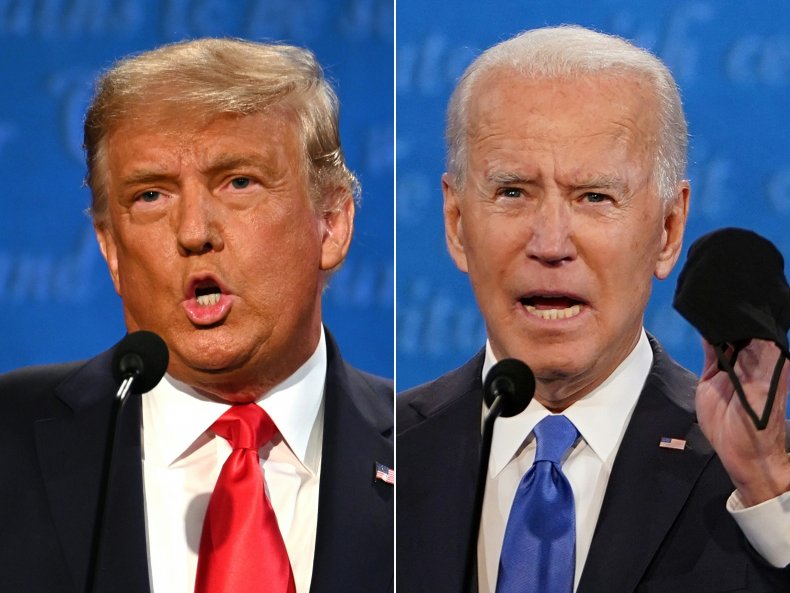 Negative views of Biden could be problematic for Democrats in next year's midterm elections, when Republicans are looking to retake control of Congress. History bodes well for GOP victories in 2022, as it's common for the president's party to lose seats.
Voters aren't largely confident in Democrats' ability to handle the economy, which is known to be a driving force in how ballots are cast. Biden's job approval rating has been particularly hurt by the lingering pandemic and the withdrawal from Afghanistan.
"What people voted for was stability and calm," Democratic pollster Peter Hart told NBC News. "And what they got was instability and chaos.
Only 22 percent of the 1,000 people surveyed in the NBC News poll felt the country was headed in the right direction, and 71 percent thought it was on the wrong track. While Republicans are significantly more likely to consider the country on the wrong track, 70 percent of independents also felt that way, as well as 48 percent of Democrats.
"When you see a wrong track of 71 percent, it is a flashing red light," Bill McInturff, a Republican pollster with Public Opinion Strategies, told NBC News. "These folks are telling us that this is not going well."