Trump and Biden Nearly Tied for Presidency in New Emerson Poll
Data released Monday by Emerson Polling shows that only two percentage points separate President Donald Trump and Democratic presidential candidate Joe Biden in the 2020 presidential election.
With the election only weeks away, Trump's campaign has focused on civil unrest in the U.S. which it claims is the responsibility of "radical left" Democrats. Biden's campaign has denied those claims and pointed at Trump's alleged lack of integrity as reasons to vote for the Democratic Party.
Voters who responded to the poll gave Biden 49 percent of their support, with President Trump two percentage points behind with 47 percent of voter support. When the same question was asked by Emerson Polling in July, Biden received 50 percent of voter support with President Trump garnering 46 percent.
Voters who indicated they would vote by mail supported Biden with 67 percent over Trump's 28 percent. Conversely, voters who plan on voting in person on Election Day gave the nod to Trump with 57 percent. Biden received 37 percent of support from voters who plan to cast their ballots in person on Election Day.
The gap between the two candidates is closer among individuals who plan on voting in-person early. President Trump received 50 percent of support for that demographic while Biden received 48 percent.
Nearly half of those surveyed said they approved of President Trump's job performance. While 48.5 percent of those polled gave Trump's performance the thumbs up, 46.9 percent said they disapproved.
According to Emerson Polling, the poll was conducted Sunday and Monday. It carries a margin of error of plus- or minus-2.4 percentage points.
Newsweek reached out to the Trump and Biden campaigns for comment.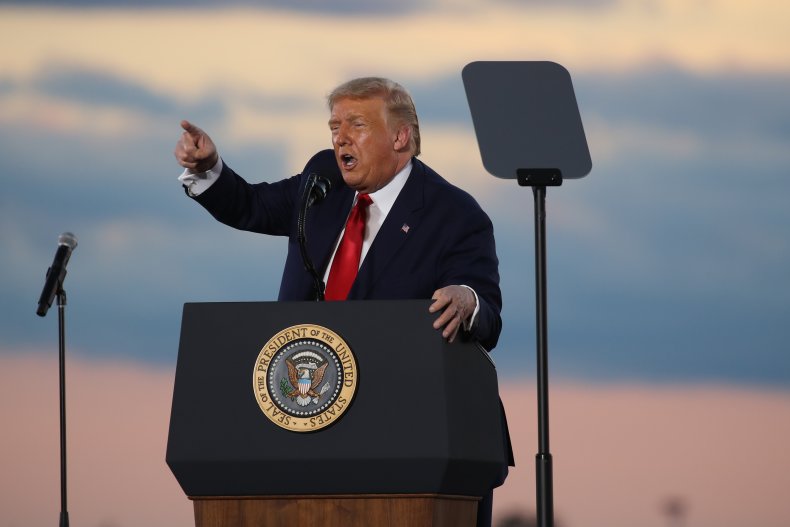 Trump has pointed to U.S. protests against racism and police culture that have turned violent as one reason why voters should cast their ballots for him.
On Friday, Trump told a rally crowd in New Hampshire that Biden was "weak as hell."
"A weak guy like Joe Biden didn't even bring law and order up as a subject for discussion in the entire Democratic National Convention," Trump said. "Now they realized because they've gone down like a rock in water, they've gone down in the polls and now all of a sudden they're talking all, 'Well, we have to talk about crime.'"
During a Monday speech, Biden drew a line between protesting and looting.
"I want to be very clear about all of this," Biden said. "Rioting is not protesting. Looting is not protesting. Setting fires is not protesting. None of this is protesting. It's lawlessness plain and simple. And those who do it should be prosecuted. Violence will not bring change, it will only bring destruction. It's wrong in every way. It divides instead of unites."
Biden also swatted back allegations from the Trump campaign that he would bring about a period of U.S. lawlessness by supporting violent protesters.
"Do I look like a radical socialist with a soft spot for rioters?" Biden asked. "Really?"