Trump and Biden Neck and Neck in Iowa After Trump Won Decisively in 2016
New polling out of Iowa shows President Donald Trump neck and neck with Democratic presidential candidate Joe Biden, despite the incumbent Republican carrying the state with a margin of nearly 10 points in 2016.
The poll, conducted by Des Moines Register/Mediacom Iowa Poll from June 7 to 10, showed Trump with the backing of 44 percent of Iowa voters while Biden was supported by 43 percent. In 2016, Trump won 51.2 percent of the vote in the Midwestern state, while former Democratic presidential candidate Hillary Clinton was backed by just 41.7 percent of voters – a difference of 9.5 percent. Clinton's loss in Iowa came after former President Barack Obama won the swing-state in 2008 and 2012 by comfortable margins.
Newsweek reached out to the Biden campaigns for comment on the polling, but they did not respond by the time of publication.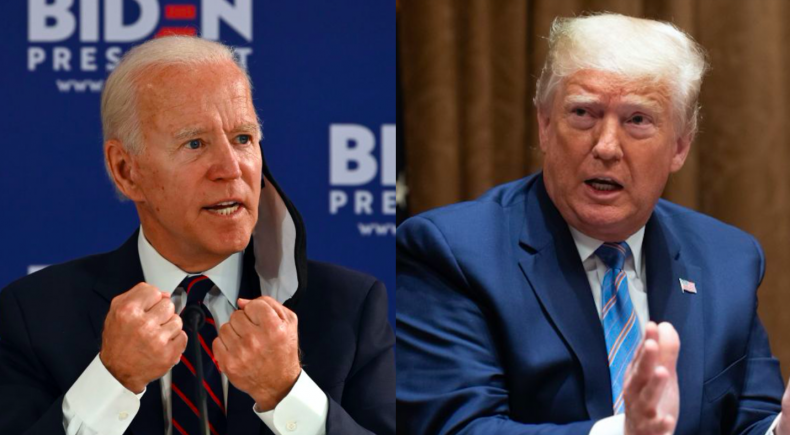 "President Trump won Iowa by over 150,000 votes in 2016, flipping Iowa by 9 percent after Obama won the state twice. After an unprecedented turnout at the Republican caucuses this year, we could not be more confident about the Hawkeye State in 2020. President Trump's America First agenda ushered in an economic renaissance for Iowans," Ken Farnaso, deputy national press secretary for the Trump campaign, said in a statement emailed to Newsweek.
The polling, which was published Tuesday morning, came as Vice President Mike Pence has been dispatched to Iowa and plans to have lunch with the governor before visiting local Winnebago Industries. Biden's campaign in a press release took aim at the visit, describing it as "damage control."
"No amount of damage control can cover up the simple truth that Donald Trump's inability to prepare and forcefully respond to the coronavirus pandemic – a pandemic that has killed more than 650 Iowans – is one of the most consequential failures of government in American history," Biden's deputy campaign manager and communications director Kate Bedingfield said in the press release emailed to Newsweek.
"As Mike Pence desperately tries to rewrite history today, Iowans are grappling with the basic fact that the Trump Administration's corrupt recovery is leaving Iowans in the dust," Bedingfield said.
Pollster J. Ann Selzer told Des Moines Register that Biden shouldn't feel comfortable about the polling in Iowa, but suggested it was a good sign for the Democratic candidate's campaign.
"I think it's obviously nothing that Joe Biden should take for granted, because he's not leading," Selzer said. "But if the election were held today, Biden has a far better shot than anybody thought."
Trump's polling numbers have declined significantly nationally and in multiple states, including several he won in 2016, amid the ongoing novel coronavirus pandemic. The current Real Clear Politics average of national polls shows Biden with an average lead of just over 8 points. A recent CNN poll showed Biden ahead by 14 points, with the support of 55 percent of voters compared to Trump's 41 percent.
But the Trump campaign has been dismissive of polling in previous comments to Newsweek and other media outlets. Campaign representatives have pointed to the 2016 election, when numerous polls showed Clinton significantly ahead of Trump. Although Clinton won nearly 3 million more individual votes than Trump, the president pulled off a series of wins in key swing states which propelled him to a big win in the Electoral College.
This article has been updated with comment from the Trump campaign.