The Supreme Court issued a landmark ruling on abortion on Monday—a 5-4 decision that was the justices' first weighing in on the issue since President Donald Trump appointed two justices to the bench, giving the Court a conservative majority.
The Court ruled that Louisiana's law requiring abortion doctors to have admitting privileges at a local hospital was unconstitutional and went too far in limiting access to abortion. The law's main sponsor, Louisiana state Senator Katrina Jackson, a Democrat, told reporters she was "deeply saddened" by the decision.
"They ruled against women's health care," she said.
But Kathaleen Pittman, the woman who runs the Shreveport clinic that challenged the law, said that people there were elated by the ruling.
"They claim these restrictions are meant to protect women...yet Louisiana has the highest maternal mortality rate in the U.S.," she told reporters. "I'm celebrating today, but I'm still worried about our future."
The White House called the ruling "unfortunate."
"States have legitimate interests in regulating any medical procedure—including abortions—to protect patient safety," press secretary Kayleigh McEnany said in a statement. "Instead of valuing fundamental democratic principles, unelected justices have intruded on the sovereign prerogatives of State governments by imposing their own policy preference in favor of abortion to override legitimate abortion safety regulations."
Trump's campaign also released a statement to reporters, signaling that the decision could become a campaign issue.
"States should have the ability to regulate medical procedures, including abortions, to protect the health and safety of their citizens. Instead, five unelected Supreme Court Justices decided to insert their political agenda in place of democratically determined policies," Trump campaign spokeswoman Ali Pardo said.
"This case underscores the importance of re-electing President Trump, who has a record of appointing conservative judges, rather than Joe Biden, who will appoint radical, activist judges who will legislate from the courts," the statement said.
Meanwhile, former Vice President Joe Biden, the presumptive Democratic nominee, accused GOP-led legislatures of trying to undermine the Supreme Court's landmark Roe v. Wade decision that legalized abortion. He promised to codify Roe and fight state laws that restrict access to abortion.
"Women's health care rights have been under attack as states across the country have passed extreme laws restricting women's constitutional right to choice under any circumstance. Today, the U.S. Supreme Court reaffirmed that states cannot put in place laws that unduly burden a women's right to make her own health care decisions with her doctor," Biden said in a statement.
"But let's be clear: Republicans in state legislatures will stop at nothing to get rid of Roe—and we have to be just as strong in our defense of it. They are trying to get these laws appealed to the Supreme Court in the hope that Trump's justices will vote to overturn Roe v. Wade, Biden continued.
"It's wrong. It's pernicious. And, we have to stop it. As president, I will codify Roe v. Wade and my Justice Department will do everything in its power to stop the rash of state laws that so blatantly violate a woman's protected, constitutional right to choose," he said.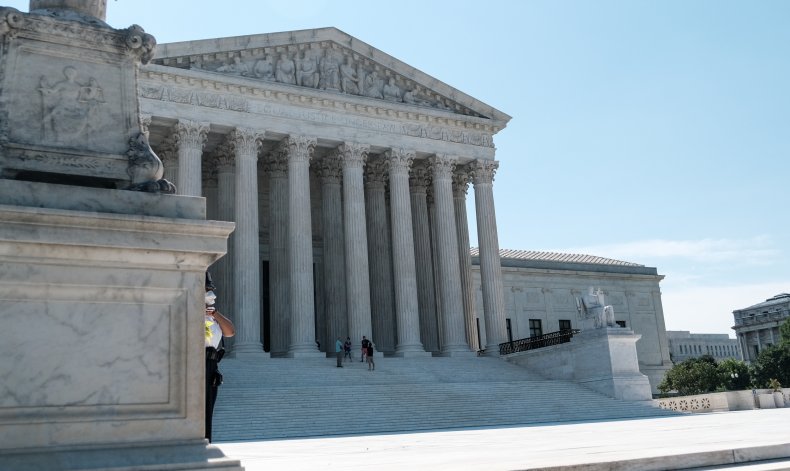 The case was seen as a bellwether for the Court under its new conservative majority since Trump appointed Justices Neil Gorsuch and Brett Kavanaugh, who both voted in favor of the Louisiana law. But Chief Justice John Roberts, who was appointed by President George W. Bush, sided with the more liberal wing.
Jackson said she felt that the law, even if struck down, had raised awareness about abortion providers' qualifications. "The Supreme Court, that is not elected, decided we can't protect women," she said. "They dealt a blow to women's health care."
Louisiana has some of the nation's strictest abortion restrictions, including banning abortions after 20 weeks of pregnancy.
Julie Rikelman, an attorney for the Center for Reproductive Rights, said the case served as a big win for abortion rights but noted that there are at least 30 other abortion laws that the abortion rights group is challenging.
"Louisiana continues to try to restrict access to abortion in any way that it can," she said.