With Trump, Biden Tight in Electoral College Race, Election Looks Headed for Pennsylvania Courts
If neither President Donald Trump nor Democratic presidential candidate Joe Biden can confirm 270 Electoral College votes without Pennsylvania, all eyes will turn to the state, focusing sights upon court clashes over its counting of mail-in ballots.
Pennsylvania, with its 20 Electoral College votes, has previously been deemed a potential tipping point and was considered a likely kingmaker ahead of Election Day.
President Trump insisted he is winning the state in the early hours of Wednesday, during a defiant press conference in which he prematurely claimed victory amid ongoing vote counts.
Criticizing the potential for votes to be counted later than he would like, Trump said: "We want the law to be used in a proper manner so we'll be going to the U.S. Supreme Court.
"We want all voting to stop. We don't want them to find any ballots at four o'clock in the morning and add them to the list. This is a very sad moment."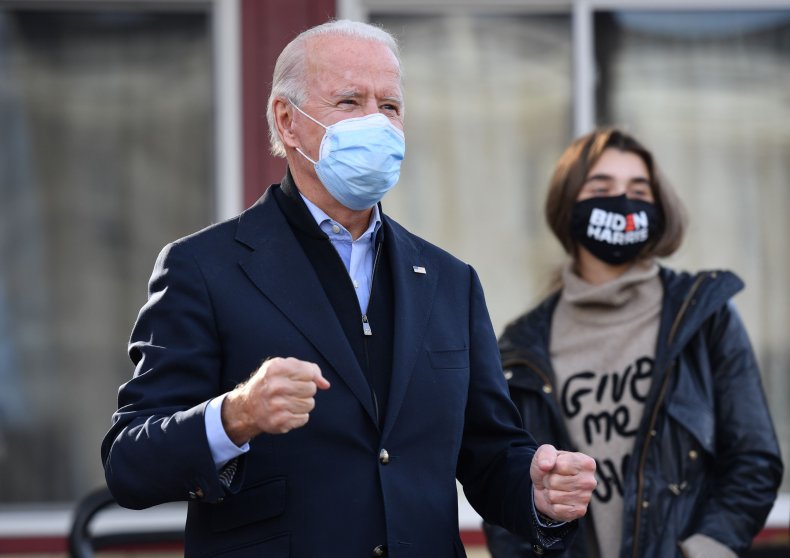 In Pennsylvania, there have already been legal challenges over the timings in which mail-in ballots can arrive and be counted—a point likely to be further disputed should the state become the key to victory.
In a tight race such moves could prove crucial in determining the outcome in the state, then the overall victory due to the Electoral College vote impact.
The state's governor, Democrat Tom Wolf, has already rejected criticism of the counting of certain mail-in ballots, insisting all votes in the state will be counted.
"We still have over 1 million mail ballots to count in Pennsylvania," he said, in a statement shared on Twitter.
"I promised Pennsylvanians that we would count every vote and that's what we're going to do. Let's be clear: This is a partisan attack on Pennsylvania's elections, our votes, and democracy. Our counties are working tirelessly to process votes as quickly AND as accurately as possible. Pennsylvania will have a fair election and we will count every vote."
A three-day extension for the receipt of mail-in ballots has been in place in Pennsylvania, with those arriving within those days but marked by Election Day due to be counted.
This has already been pushed back against by Republicans, though the U.S. Supreme Court previously ruled there was not enough time pre-election to rule on the constitutionality of the matter—thus allowing the extension to remain.
However, it was noted that only the move to expedite the review was rejected by the high court, leaving open the possibility of the case being revisited.
Justice Samuel Alito wrote in the decision: "I reluctantly conclude that there is simply not enough time at this late date to decide the question before the election.
"That does not mean, however, that the state court decision must escape our review. Although the Court denies the motion to expedite, the petition for certiorari remains before us, and if it is granted, the case can then be decided under a shortened schedule.
"Nothing in the Court's order today precludes Petitioner from applying to this Court for relief if, for some reason, it is not satisfied with the Secretary's guidance."
Trump previously indicated he could pursue further legal action, branding the move for the decision to be upheld "terrible." He doubled down on this in the early hours of Wednesday.
Derek Muller, a law professor at the University of Iowa who teaches courses on election law and federal cours, told The Pittsburgh Gazette the Supreme Court move against expedition did not mean they could not revisit the matter.
"Just because they denied doesn't mean they can't still move on it at a slower pace or at some point after Election Day," he said.
It comes amid separate Republican challenges to throw out certain ballots in the state.
The Pennsylvania Secretary of State was sued Tuesday night with Republicans arguing that voters whose mail-in ballots were rejected should not be able to cast provisional ballots instead.
A case was filed in federal court against election officials in Montgomery County, calling for the rejection of "cured" mail-in ballots on which voters had been allowed to fix clear problems.
Newsweek has contacted the Trump and Biden campaigns as well as Pennsylvania's Secretary of State for comment.