Trump Follows Biden to Pennsylvania in Hopes of Bolstering Lagging Support in Key State
President Donald Trump is due to visit Pennsylvania after Democratic presidential candidate Joe Biden's recent trip to the state, which has been touted as a potential tipping point in determining the election's outcome.
The Republican incumbent will address three rallies on Monday, starting in Allentown and followed by Lititz and Martinsburg.
Ahead of Trump's visit, Former Governor of South Carolina and UN ambassador Nikki Haley will tout the president's cause in the state on Sunday at a "Make America Great Again!" rally, while Tiffany Trump will speak at a "Jewish Voices for Trump" event on the same day.
This push in Pennsylvania comes after a recent visit by Biden, originally from the state, in which he addressed the state's importance which his campaign has identified as a key focus.
Speaking at an event Saturday, he said: "It may come down to Pennsylvania.
"I believe in you, I believe in my state. The choice has never been clearer and the stakes have never been higher."
Former President Barack Obama has also recently campaigned for Biden in the state, hitting out at Trump for "treating the presidency like a reality show he can use to get attention" in a speech delivered last week.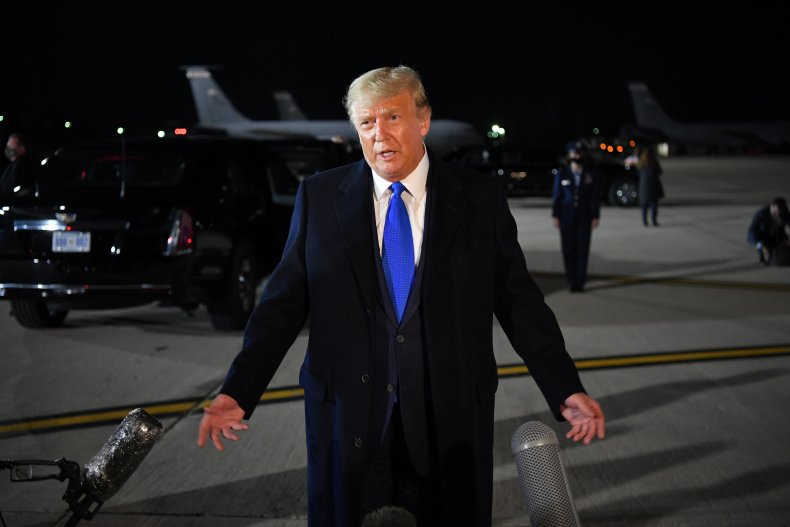 Trump narrowly won Pennsylvania last time out, receiving less than one percent more of the vote than then Democratic presidential candidate Hillary Clinton.
His win bucked a recent trend of Democrat victories in presidential elections in the state, with such victories in every election since 1992 up until 2016.
Polling in the state has put Biden in the lead, with Real Clear Politics' tracker putting him 5.1 points ahead of Trump.
While maintaining this poll advantage across the board, results of a recent Reuters/Ipsos poll appeared to show Trump having somewhat narrowed the Democrat's lead.
The poll, conducted among 653 likely voters October 13 to 19, showed Biden taking 49 percent of backing compared to 45 percent for Trump. The poll had a credibility interval of four points.
In similar polling the week before, Biden was ahead by seven points at 51 percent to 44 percent.
Fox News polling, conducted among 1,045 likely voters in Pennsylvania from October 17 to 20 also gave Biden a lead, with 50 percent backing the Democratic ticket compared to 45 percent for Trump and Pence. The polling had a margin of error of plus or minus three percent.
With Trump looking to gain ground in Pennsylvania, he also looks to be behind in several other potentially key states, with Biden also holding a lead in national polls.
Newsweek has contacted the Trump and Biden campaigns for comment on their efforts in Pennsylvania and the polling situation in the state.