Trump, Biden, Sanders and Warren: Who's Gaining, Losing Traction With 2020 College Voters?
In a crowded field for the Democratic nomination, Senators Bernie Sanders and Elizabeth Warren, South Bend, Indiana, Mayor Pete Buttigieg and former Vice President Joe Biden are top competitors to challenge President Donald Trump for the White House.
College-aged voters are expected to be a significant force during the 2020 presidential election, marking the first time many in Generation Z, those born after 1995, can cast a ballot. An election that comes at a time when over 45 million people in America collectively have an estimated $1.6 trillion in student loans, the cost of education has already emerged as a key issue.
Leading among students who identify as Democrats are Sanders and Warren, both of whom have released plans to forgive student debt and create a free college system.
A July 16 poll conducted by Chegg and College Pulse found Sanders had 27 percent of respondents' support and Warren was a close second at 22 percent. This represented a one percent decrease for Sanders and a one percent increase for Warren since the July 9 poll.
When broken down by political leaning, weak democrats and independents favored Sanders, but Warren had the edge with strong democrats.
Warren announced her plan for tackling the cost of higher education in April. It would cancel up to $50,000 in student loan debt on a household income-based scale. After helping to clear out some of the debt, every American would have the opportunity to attend a two-year or four-year public college free of tuition or fees.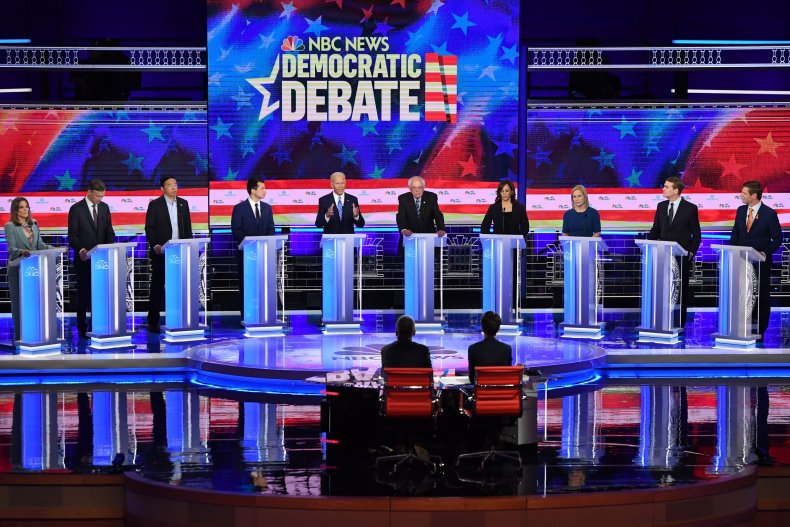 In June, Sanders revealed his plan, which took student debt forgiveness a step further than Warren's. Sanders' plan would eliminate all $1.6 trillion in debt regardless of a person's income. It would also make community colleges free for all, as well as, trade schools and apprenticeships.
Buttigieg was previously in fourth place but moved into third place during the most recent poll with a one percent increase, bringing his support to 10 percent. This knocked Biden into fourth place with eight percent of support, making him tied with Senator Kamala Harris.
While Biden's support steadily dropped since a June 4 poll, Harris' support jumped from three percent to seven percent between the June 25 and June 2 polls and has held at seven or eight percent since.
When given a choice between an unnamed Democratic candidate, Trump and not voting at all, 70 percent of those polled selected the Democratic candidate and 22 percent picked Trump. Eight percent said they wouldn't vote.
The percentage of students who would pick a Democratic candidate over Trump has been 70 percent since July 2. Support for Trump dropped from the July 9 poll, when he had 23 percent.
Since the poll was conducted with students who identified as Democrats, it could be expected that support for Trump would be lower than that of a Democratic candidate. When College Reaction polled students across both parties between July 1 and July 4, Trump came in second after Biden with 16.3 percent of support.
To compile their results, Chegg and College Pulse surveyed over 1,500 full-time and part-time students who attended two and four-year colleges or universities in the United States.