Trump, Biden Set Conditions for Potential 2024 Presidential Election Face Off
Former President Donald Trump and President Joe Biden are both using their health as a reason why they may not run for president in 2024 and while the strategy could work for Biden, experts don't see Trump using his health to pull out of the race.
Trump hasn't officially entered the race but he has been teasing another presidential run since he left office, gearing up for a re-match with Biden, who said he planned to run for reelection. At 78 and nearly 82 years old, Trump and Biden would be among the oldest presidential candidates in history, raising speculation that both men may opt to stay out of the race and let a younger generation take over.
Political strategists told Newsweek that they'd be surprised if Trump actually cited his health as the reason he chose not to run for president in 2024, even if that were the truth. Trump's portrayed himself as someone who is largely invincible, so Michael Gordon, a Democratic strategist, said it would "go against every fiber of his being" to cry poor health.
After months of comments that he's considering a presidential run and that his supporters would be "very happy" with his decision, Trump made one of the most definitive statements about a potential run in September. During an episode of The Water Cooler, Trump said a "bad call from a doctor or something" would keep him from running.
"You get that call, they say ... 'Come on down here and see us because we had a bad report,'" Trump said. "Things happen, through God, they happen. But I feel so good."
If Trump were to be the GOP nominee in 2024, it would help him stay in the spotlight and solidify his position as the leader of the party. Not running could call that position into question unless Trump backed a winning candidate.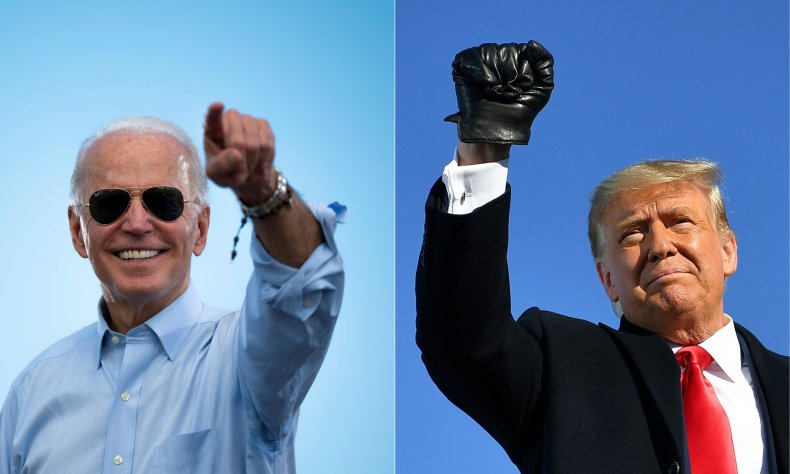 Gordon said Trump's best strategy for pulling out of the presidential race would be to get behind a candidate that's likely to be successful and then "claim credit for that." However, Michael Starr Hopkins, a political strategist, doesn't think it's enough to just bank a successful candidate–he has to create his own."
Hopkins said Trump could lose his grip on the GOP if he just picks the candidate who's polling the best. Instead, he needs to bring his own candidate along and make them an emissary. While Florida Governor Ron DeSantis has been floated as a potential contender for the nomination, Hopkins believes he's "too big to be Trump's guy."
"There's a string of candidates that are good examples," Hopkins said. "Representatives Marjorie Taylor Greene and Matt Gaetz, who are in the mold of Trump and beholden to Trump and do the bidding of Trump. His biggest thing is a power broker."
Hypothetical matchups between Trump and Biden put the two men neck and neck and Biden said in a recent ABC News interview that Trump running would make it even more tempting. He told ABC's David Muir in an interview that aired on Wednesday that if he is in the health he's in now, he would run again.
While Hopkins doesn't foresee a world where Biden uses his health as an excuse not to run either, he said the president could create a narrative that paves the way for a new candidate. Given that there are so many attacks on his health already, Biden would need to focus on the potential for his health to deteriorate over the course of his second term.
"I think that's a respectable argument to make, that there's just no way of knowing what his health holds when he gets to that age," Hopkins said. "That, at least, is a hedge against the attacks people have made on him."
Gordon noted that Biden could also frame pulling out of the race if he can't guarantee he'll be in good health as a patriotic move. Both strategists agreed that if Biden were to not run, he should promote it as a way of passing the torch to the next generation.
Aside from how health could play a role in the future, Mark Weaver, a Republican strategist, doesn't think it's a winning strategy for either candidate right now. He said making bold re-election announcements without qualifiers can scare off potential challengers and show decisiveness in a candidate.
"When officeholders insert any sort of qualifier–especially one as subjective as health–it's either a poorly thought out aside or a careful attempt to allow others in their party to begin preparing a campaign," Weaver said.