Trump, Biden Spar Over COVID-19 Vaccine Development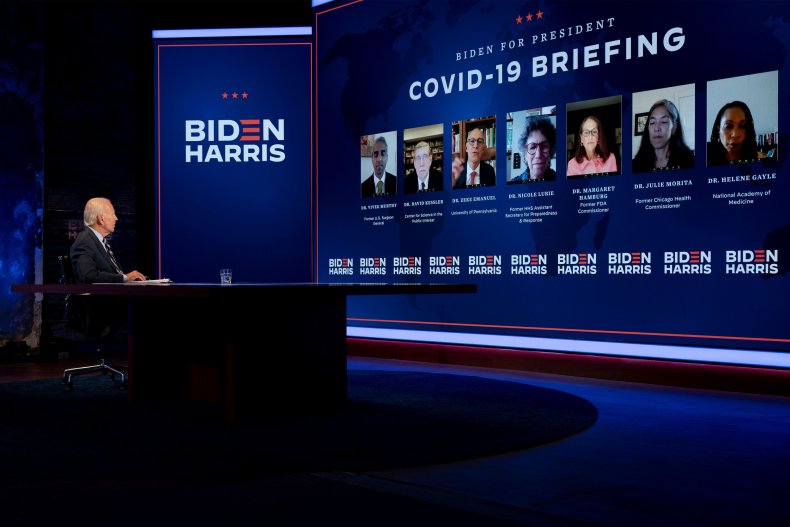 Democratic presidential candidate Joe Biden claims President Donald Trump could be rushing the development of a COVID-19 vaccine to score political points in the November election, while Trump's allies are accusing Biden of promoting "anti-vaccine conspiracy theories."
The fight over the monumental scientific undertaking is one of many between Trump and Biden related to the nation's coronavirus response, but new polls suggest that public confidence in vaccines may be taking the biggest blow as the two political rivals brawl.
More than three dozen vaccine candidates have entered the human testing stage around the world, and at least 90 more are in pre-clinical animal testing stages, according to the New York Times' coronavirus vaccine tracker.
The United States has had more than 6.6 million positive COVID-19 cases and nearly 200,000 deaths from the disease.
During a town hall discussion hosted by ABC News Tuesday, Trump said he believes a vaccine could be ready for distribution in a matter of weeks.
"We're very close to having a vaccine," he told ABC's George Stephanopoulos. "Could be three weeks, four weeks."
Trump declined to elaborate on which vaccine candidate is on track to meet that timeline, but the quick turnaround runs contrary to an assessment from Centers for Disease Control and Prevention director Dr. Robert Redfield, who told a U.S. Senate panel Wednesday he doesn't think a vaccine will be generally available to the American public for another year.
Trump repeatedly has said he wants a vaccine approved by the November 3 election, even though vaccines in the past have taken years to develop. He launched a program called "Operation Warp Speed" to fast-track vaccine production while trials are on-going to expedite any possible distribution. The U.S. already has spent nearly $10 billion on the effort.
"We're still of the belief that we will have a vaccine by the end of the year," White House press secretary Kayleigh McEnany told reporters Wednesday. "Operation Warp Speed has made it clear that their goal is to have more than 100 million doses. We're manufacturing in advance to make that a possibility."
But Biden accused Trump's administration of rejecting scientific standards, potentially putting Americans at risk to boost his own political standing.
"Scientific breakthroughs don't care about calendars any more than the calendar does," Biden told reporters Wednesday after meeting with a panel of medical and scientific experts. "They certainly don't adhere to election cycles."
Two recent polls suggest that the American people have grown more skeptical about any potential quickly-developed COVID-19 vaccine as the two candidates bicker.
In a Morning Consult poll released Friday, 51 percent of U.S. adults surveyed said they would get a vaccine shot if one became available—down from 72 percent of respondents in early April who said they would. The drop was seen across Republicans and Democrats. The poll was conducted nationally September 2-6 and had a margin of error of 2 percent.
Meanwhile, the Kaiser Family Foundation's monthly health tracking poll for September found that 62 percent of respondents said they are worried political pressure from Trump could hasten a coronavirus vaccine that may not be safe or effective. Kaiser's survey took place August 28-September 3 and had a margin of error of 3 percent.
Michael Urban, a senior lecturer at the University of New Haven's School of Health Sciences, told Newsweek that the appearance of politics at play in a public health issue is troubling.
"When you look at the efforts, I think the scientists have been doing incredible work," Urban said. "There's still quite a bit of concern because of how it's being rushed."
He said it raises issues of trust in the vaccine.
"I would personally still be a little concerned because there is a political component," Urban added.
But Urban said the drug makers taking part in the vaccine development will be held to independent standards that could help insulate the process from some of the politics.
"The companies do have an onus to provide that level of care and do their due diligence of developing a vaccine," he said.
He said ultimately, people should be careful to research potential side effects and the testing rigor that any potential vaccine has undergone.
"Before you get a vaccine, you may want to look into it more, ask questions and make sure you're not becoming a guinea pig," Urban said.
Trump's campaign and allies have painted skeptics as ascribing to extremist "anti-vaxxer" views.
Dr. Robin Armstrong, a Texas physician and prominent Trump supporter, accused Biden of "actively trying to undermine public confidence in the vaccine."
And he added a racial overtone to the accusation.
"They're trying to scare people, in particular minorities, knowing these people are most at risk," Armstrong told reporters during a call arranged by the Trump campaign on Wednesday.
Armstrong is one of the physicians who has supported the use of the Trump-backed Hydroxychloroquine to treat or prevent COVID-19, despite questions about its effectiveness and warnings from scientists that the anti-mylaria drug could be dangerous to some patients.
Biden insists that he is not against vaccines, and that his concerns are about the science and any possible political influence.
"I trust vaccines. I trust the scientists," Biden told reporters. "But I don't trust Donald Trump."