Trump, Biden Tout $2,000 Stimulus Checks in Last Ditch Effort to Georgia Voters
President Donald Trump and President-elect Joe Biden spent part of Monday in Georgia making a final plea to voters ahead of Tuesday's runoff elections and both leaders touted their candidates' support of $2,000 stimulus checks.
All eyes are on the two Georgia Senate runoff elections because control of the Senate hangs in the balance. If Democrats win both seats, Biden will enter office with his party in control of both chambers of Congress, an advantageous position to be in for a president, but if one of the Republican incumbents win, Biden may have to temper his policies to appease the GOP.
One item on his agenda that Biden said is in the hands of the Georgia elections are $2,000 stimulus checks.
"By electing Jon and the Reverend, you can make an immediate difference in your own lives," Biden said. "Their election will put an end to the block in Washington for that $2,000 stimulus check. That money will go out the door immediately and help people who are in trouble."
President Donald Trump pushed for $2,000 stimulus checks on December 22 when he criticized the bipartisan, bicameral legislation for only offering $600 direct payments. Ossoff, who has been advocating for another round of stimulus checks for months, quickly offered his support to the upgraded amount, telling CNN that $600 was a "joke."
Warnock also jumped on board with the idea, saying in a statement that Trump is "right" and Congress should "swiftly" increase payments to $2,000.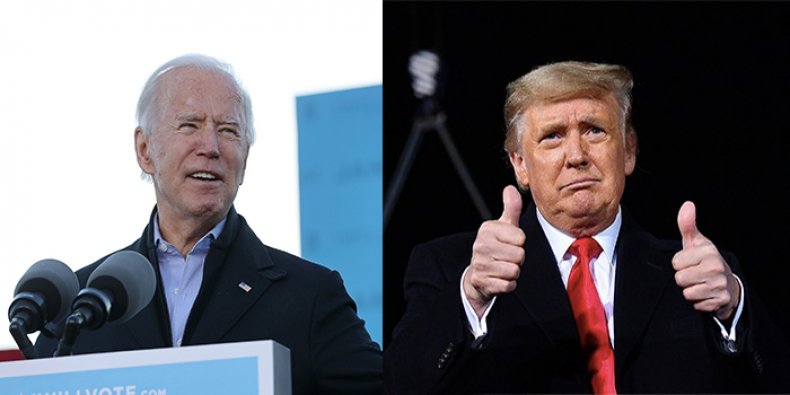 About 90 miles away from where Biden spoke, at his own rally, Trump also touted his candidates' support for the increase in direct payments. He said Senators David Perdue and Kelly Loeffler share attendees' values "like nobody shares your values" and will put America first.
"Kelly and David also both strongly support my efforts to provide $2,000 stimulus checks to hardworking Americans across Georgia and across the nation," Trump said. "My reasoning is simple: I mean we're conservative with money, but my reasoning is simple: you didn't cause this problem."
Perdue and Loeffler voted in favor of the Coronavirus Aid, Relief and Economic Security (CARES) Act, which included $1,200 direct payments, and both voted for the most recent relief package. Loeffler told Fox News on December 29 she supported Trump's efforts to increase payments. Later that day, Perdue, who said he "personally" opposed direct payments after the CARES Act passed, posted on Twitter that Trump was "right" about the $2,000 payments.
Warnock and Ossoff criticized their Republican Senate opponents for changing their position to benefit them politically.
During their speeches in Georgia, both Trump and Biden took the onus away from Americans for why they may be out of work or struggling to pay their bills. Biden told voters it was "no fault of their own" and Trump put the blame on China.
Tuesday's runoff elections are shaping up to be a hard-fought race and polls have shown that it's any candidates' for the taking. However, with most voters not wavering from their position in November, it's unclear how much a candidates' support for the increased stimulus check will impact the race.