Trump and Biden's Final Presidential Debate Drew More Viewers than Both of Obama's
Millions of television viewers tuned in to watch the final presidential debate between President Donald Trump and Democratic presidential nominee Joe Biden on Thursday, attracting more watchers than either of former President Barack Obama's final presidential debates.
The first debate between Trump and Biden in September was contentious and controversial. Both candidates spoke simultaneously and insulted each other. Moderator Chris Wallace struggled to keep the candidates focused. Some viewers complained that they were unable to hear the points being made by Trump and Biden. Thursday's final debate was more subdued.
According to the Nielsen ratings firm, an estimated 63 million people watched the second Trump/Biden debate across 15 networks. Most people watched the debate on Fox News, which averaged 15.4 million viewers.
Although ratings for the second debate were respectable, more people tuned in for the first debate between Trump and Biden which drew 73.1 million viewers.
Newsweek reached out to the Biden campaign for comment.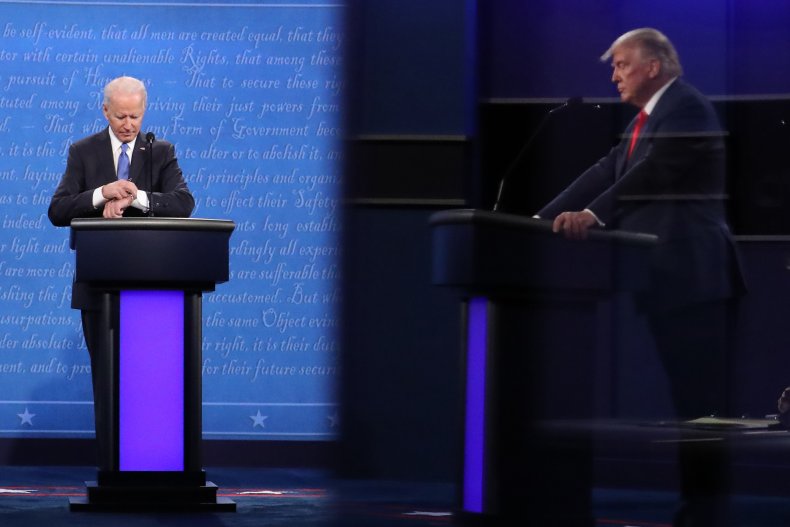 In 2008, Obama's debate against Republican opponent Senator John McCain attracted 56.5 million viewers. When Obama debated Senator Mitt Romney in 2012, 59.2 million people tuned in.
Trump co-set the record for the highest viewership for a final debate in 2016 when his debate against Hillary Clinton attracted over 71 million viewers.
Some observers blamed Wallace for the messy first debate between Trump and Biden, noting Wallace's inability to prevent Trump from interrupting Biden.
Host of The Daily Show Trevor Noah tweeted during the contest that "Chris Wallace's debate performance tonight is a great reminder that kindergarten teachers are underpaid."
CNN's chief political correspondent Dana Bash was more to the point. "I'm just gonna say it like it is," Bash told television audiences after the debate had gone off the air. "That was a shit show."
In response to criticism, the Commission on Presidential Debates announced on Tuesday that the candidates' microphones would be muted at the beginning of each discussion segment. In that way, each candidate was allowed to speak uninterrupted for two minutes as per the debate rules. Both microphones were live during open discussion segments of the debate.
Trump initially balked at the concept of muting the microphones. "This whole thing is crazy," Trump said in a Tuesday interview with Fox & Friends. "It's so set up. It's incredible. We've been winning for so long."
Whether the debates will have an effect on the presidential election remains to be seen. According to information from the U.S. Elections Project, which tracks early voting, more than 53 million Americans have already sent in their ballots. While 50 percent of Democrats have voted early, only 27.1 percent of Republicans have mailed in their votes.