Trump Says No "Big-Ass" War on Way and Claims His "Opinion Counts More" Than Top General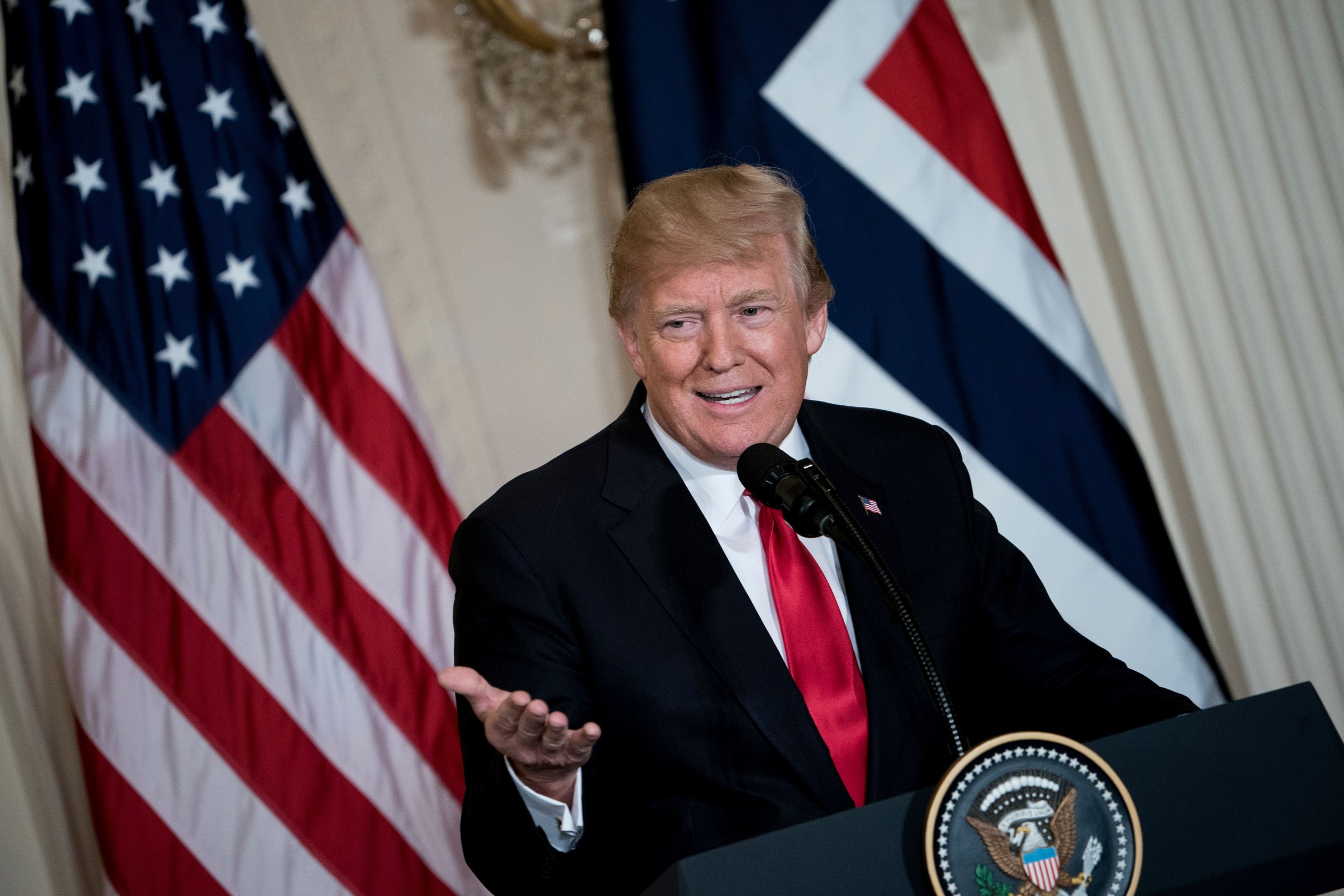 President Donald Trump on Wednesday denied the notion there's a "big-ass" war on the way when questioned about recent comments made by General Robert Neller, commandant of the Marine Corps, to U.S. troops stationed in Norway.
Trump, who was holding a joint press conference with Norwegian Prime Minister Erna Solberg, was asked by a Norwegian reporter, "Recently, an American General, Robert Neller, told his Marines based in Norway, 'There's a war coming, a big-ass fight.' Mr. President, how imminent is that big war and where will it take place?
"When you say the 'big war' you're saying what?" Trump responded.
The reporter repeated the question, and Trump said, "Well, maybe he knows something that I don't know. I would say this: We have a very, very powerful military, we're getting more powerful by the month, by the day.... We are building up our military to a point that we've never been before. We were very much weakened over the last period of time, but not with me."
Trump continued, "But, no I don't expect [a war]. I think we're going to have...peace through strength." The president conceded that the U.S. has "problems" with North Korea, but he applauded Seoul's recent efforts to ease tensions with Pyongyang.
"No, I think we will have peace through strength. Our military will be stronger than it ever was in a very short period of time. That's my opinion. That's not the general's opinion, but I think my opinion counts more right now," Trump added.
This comes after comments from Neller to the roughly 300 U.S. Marines stationed in Norway on Christmas. At the time, the top Marine general told the troops to be prepared for a "big-ass fight."
"I hope I'm wrong, but there's a war coming. You're in a fight here, an informational fight, a political fight, by your presence," Neller said.
A spokesman later said Neller wasn't suggesting a war with any particular country is imminent, but the U.S. military's presence in Norway has drawn ire from the Kremlin and comes as the U.S. seeks to bolster its presence in the region in the wake of aggressive actions from Russia, including the annexation of Crimea in 2014.
And, as Trump noted during Wednesday's press conference, tensions are heightened between the U.S. and North Korea over the rogue state's nuclear program.