Trump Is Bigger Threat Than Kim Jong-Un And Vladimir Putin, Germans Believe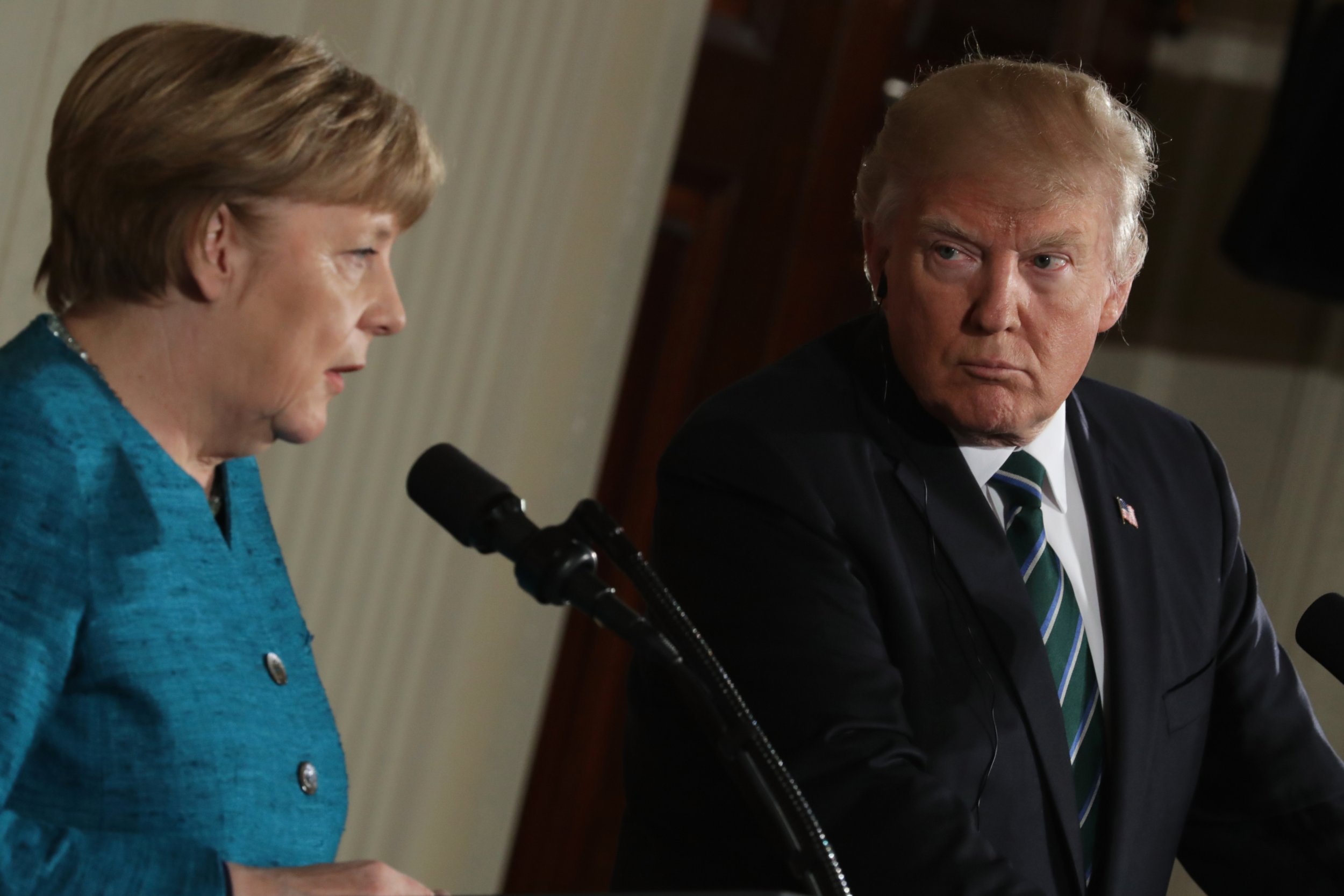 Germans view President Donald Trump as a greater threat to their country's foreign policy than either the North Korean regime or Vladimir Putin's Russia, according to a new poll.
The poll conducted by the Koerber Foundation, a German non-profit organization, showed refugees were the main concern for most Germans asked, with 26 percent worried about the country's ability to cope with high levels of incoming asylum seekers in recent years.
Second on the list was Berlin's relationship with Trump and his administration. In third place was Turkey, with 17 percent of those asked concerned about President Recep Tayyip Erdogan's increasingly authoritarian rule. North Korea followed at 10 percent and Russia closed the top five, at eight percent.
The poll surveyed 1,005 Germans who are eligible to vote. Of those, more than half (56 percent) said that under the Trump administration, the United States' relationship with Germany's was now bad or very bad.
Relations between the President and German Chancellor Angela Merkel have been strained over several issues since his inauguration in January.
Merkel suggested after a NATO meeting in May that Berlin may not be able to rely on its traditional partner in Washington. Trump followed her comments with a tweet criticizing Germany's contribution to the NATO military alliance. "We have a MASSIVE trade deficit with Germany, plus they pay FAR LESS than they should on NATO & military. Very bad for U.S. This will change," he wrote.
German officials had criticized Trump for weakening environmental protections, selling arms to regimes accused of human rights abuses and for anti-immigration policies.
Policies that have concerned Germans include Trump pulling the U.S. out of the Paris climate accord, his refusal to certify the landmark nuclear agreement signed between Iran and world powers in 2015, and his ban on residents for six Muslim-majority countries from entering the U.S.
But Merkel insists that even if she differs with Trump on policy issues, he won a gruelling election and deserves the basic respect due to any sitting U.S. President.
"If you take the president of the United States, whatever differences of opinion there may be, I know he prevailed in a tough election. It wasn't reserved for him on a silver platter," she told business daily Handelsblatt in an August interview.
"In the end, he won the election under American electoral law and that means he is democratically elected and that this person should be shown the appropriate respect, regardless of how I assess his views," she added.
Despite the widening gap between Washington and Berlin, the majority of Germans polled (52 percent) were confident that the country should maintain a relatively limited involvement in international crises.
Because of its history with Nazism and two devastating World Wars, Germany has for decades declined to intervene heavily in international conflicts and matters of global defense.