Two Trump Billboards Outside Mar-a-Lago, Florida: Impeachment Sign to Be Met by Competing 'Thank You' President Message
It's a battle of the billboards just miles away from President Donald Trump's "winter White House."
A top pro-Trump super political action committee plans to put up a billboard Monday thanking President Trump, directly opposite one placed earlier this month by a liberal PAC calling for the commander-in-chief's impeachment, Newsweek has learned. The competing messages will reside about two miles away from Trump's Mar-a-Lago estate and golf club.
The billboard from the Committee to Defend the President will read: "Thank you President Trump, Keep America Great," and includes the name of a website where potential users can send the president a message thanking him.
The website, thankdjt.com, says Trump has the "most thankless job" in the country, which includes "undoing the damage from the last 8 years of [President Barack] Obama's failed policies…"
The billboard will oppose the "Impeach now, Make America America Again" billboard put up on East Shannondale Road near Interstate 95 in West Palm Beach by Mad Dog PAC. The same group has funded similar billboards in Ohio, Virginia and Pennsylvania calling for Trump's impeachment. The PAC has also challenged the NRA with other billboards around the country.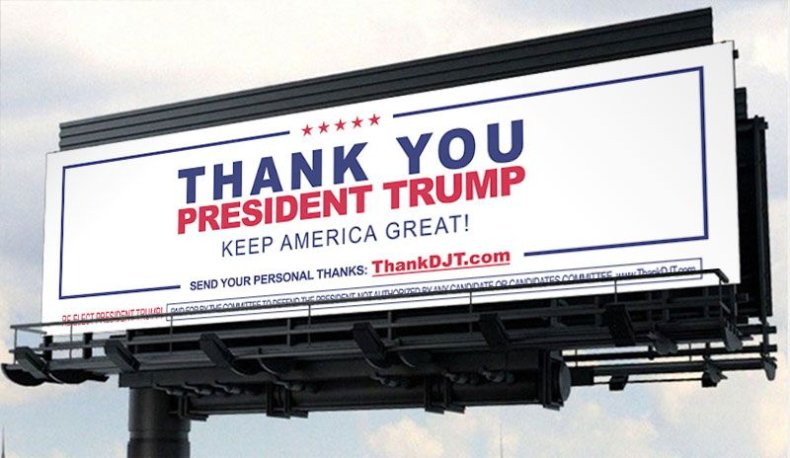 The "thank you" billboard will go up Monday and run for a month. The committee intends to place another pro-Trump billboard on April 2, lasting the same period of time.
In a statement to Newsweek, the committee's chairman, Ted Harvey, decried the so-called Trump "resistance" for spreading "impeachment propaganda."
"The 'resistance' has gone off the rails, spreading impeachment propaganda with no basis in reality," Harvey said. "Millions of Americans nationwide continue to support President Trump's 'Make America Great Again' agenda, and we will continue standing up for them. Despite the Left's divisive rhetoric, President Trump will finish out his first term and win re-election in 2020."
The committee has been a reliable fundraiser funds for Republicans and Trump. In the 2016 election cycle, it raised more than $6.8 million and has raised more than $5.7 million for 2018's cycle, according to campaign finance watchdog OpenSecrets.org.