Trump Biographer Says President Had Him Investigated To Get Him to Back Off: 'The Whole Model Is Extortion'
A Donald Trump biographer revealed on MSNBC today that the president once had him investigated for dirt in an attempt to silence him.
During a discussion on the National Enquirer's alleged attempt to blackmail Washington Post Owner Jeff Bezos on Saturday's AM Joy, David Cay Johnston, the journalist who penned "The Making of Donald Trump," recalled that Trump made inquiries into his personal life while he was working on a book about him.
"We know about the relationship, we know where the catch-and-kill agreements to either put out — to bury stories about potential sexual affairs by Donald Trump and also that there were negative stories, nasty stories about his political enemies published in the National Enquirer, what is this relationship about?" host Joy Reid asked the 70-year-old investigative journalist.
Johnston responded: "Well, Donald has long had other people investigated to try and get them to back off. He did it to me. And the whole model here is one of, as we've been discussing, extortion — of suppressing news."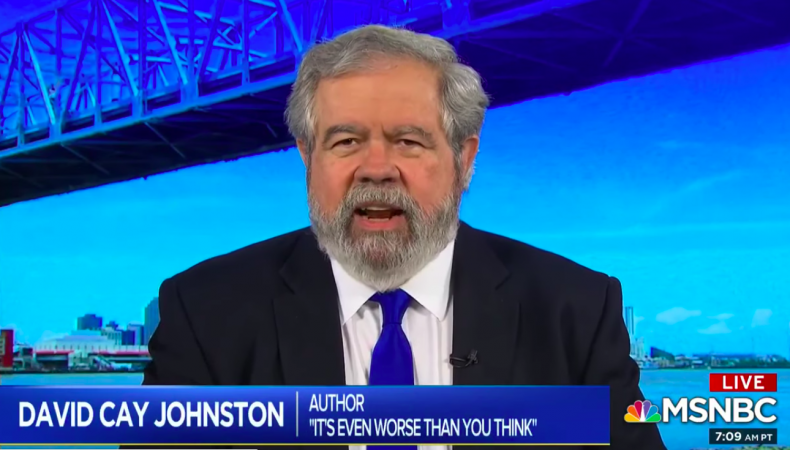 "A lot of things I've written about Donald Trump in my biography, 'The Making of Donald Trump,' they're not in the news for reasons that in some cases have to do with his threatening news organizations if they touched those stories, even though they're in the public record," he added. "And in the past, journalists who have committed extortion like this go to jail."
Johnston, who won a Pulitzer Prize for Beat Reporting in 2001, released "The Making of Donald Trump" in 2016 — a biography of the then-American businessman and presidential candidate. Last January, he also published another book targeting the president's policies, titled "It's Even Worse Than You Think: What the Trump Administration is Doing to America."
Trump has long primed his base to hate journalists by regularly labelling the mainstream news media as "fake news" and attacking reporters as "the enemy of the people." "The Fake News hates me saying that they are the Enemy of the People only because they know it's TRUE," Trump tweeted last year. "I am providing a great service by explaining this to the American People. They purposely cause great division & distrust. They can also cause War! They are very dangerous & sick!"