Bloomberg Opinion executive editor Tim O'Brien this week warned that Donald Trump will continue to distort reality to win by citing the president's history of unscrupulous behaviors.
During a segment on MSNBC's Deadline: White House on Thursday, O'Brien, who penned TrumpNation: The Art of Being the Donald, a biography about Trump, discussed the president's history of distorting facts and cheating to get ahead amid a discussion about the impeachment inquiry with anchor Nicolle Wallace.
"Can you imagine any scenario where the Republicans are forced by public opinion, by the fact patterns to call down there and say we've got to censor you, we've got to do something," Wallace asked, in reference to Trump.
"I think that more evidence has to come out that's damning," O'Brien said. "We've talked a lot about how Trump has gotten control of the GOP and that Fox is essentially his propagandists."
"What's common to all of that is they all live in this reality distortion field and that's classic Trump. You deny facts. You deny what's right in front of your face and then you move forward," he continued, "so, you end up with these absurdities of Lindsey Graham saying, 'I am not even going to read the transcript, I don't care about the fact, but I am going to damn the whole process all along.'"
He added: "And that has worked for them, they saw it had worked for Trump during the Mueller probe and I think that's the institutional danger of all of this. The long term damage that Trump could cause is delegitimizing facts and institution and process in the service of his own survival."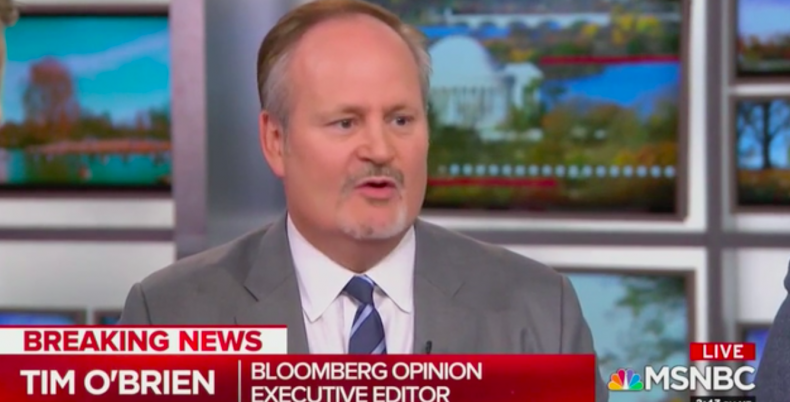 Later in the segment, Wallace noted that she believes most Republicans think that Trump is someone who isn't too weak to have to cheat."
"But, Donald Trump has cheated since he was 20 years old. Donald Trump is a 73-year-old man. He's been doing this for 53 years," O'Brien interjected. "What you see in these transcripts is what Donald Trump did in real estate. It's how he rolled in Atlantic City. He was in business with mobsters in New York and Atlantic City."
"He admires people who are thugs," he added. "He surrounded himself with people who have thug-like profiles, whether it's Corey Lewandowski or Rudy Giuliani or Steve Bannon. He likes guys who talk the talk," O'Brien explained. "That's not going to change."
Amid escalating bipartisan tensions over Trump's impeachment inquiry, House Democrats this week released transcripts from closed-door hearings with current and former Trump administration staffers, during which top Ukraine diplomat William Taylor said he was "embarrassed" when asked by Ukraine this summer about why foreign aid to fend off Russia was being withheld.
The official transcript of his deposition with impeachment investigators in October was released on Wednesday. It further corroborated allegations of quid pro quo by Trump withholding millions of dollars in aid to pressure Ukrainian President Volodymyr Zelenskiy to investigate the family of former Vice President Joe Biden.
Trump has repeatedly denied any wrongdoing and claimed there was no quid pro quo.