Trump Talked About 'Big Black Dick' and Offended Playboy Model, Ending Affair, Report Claims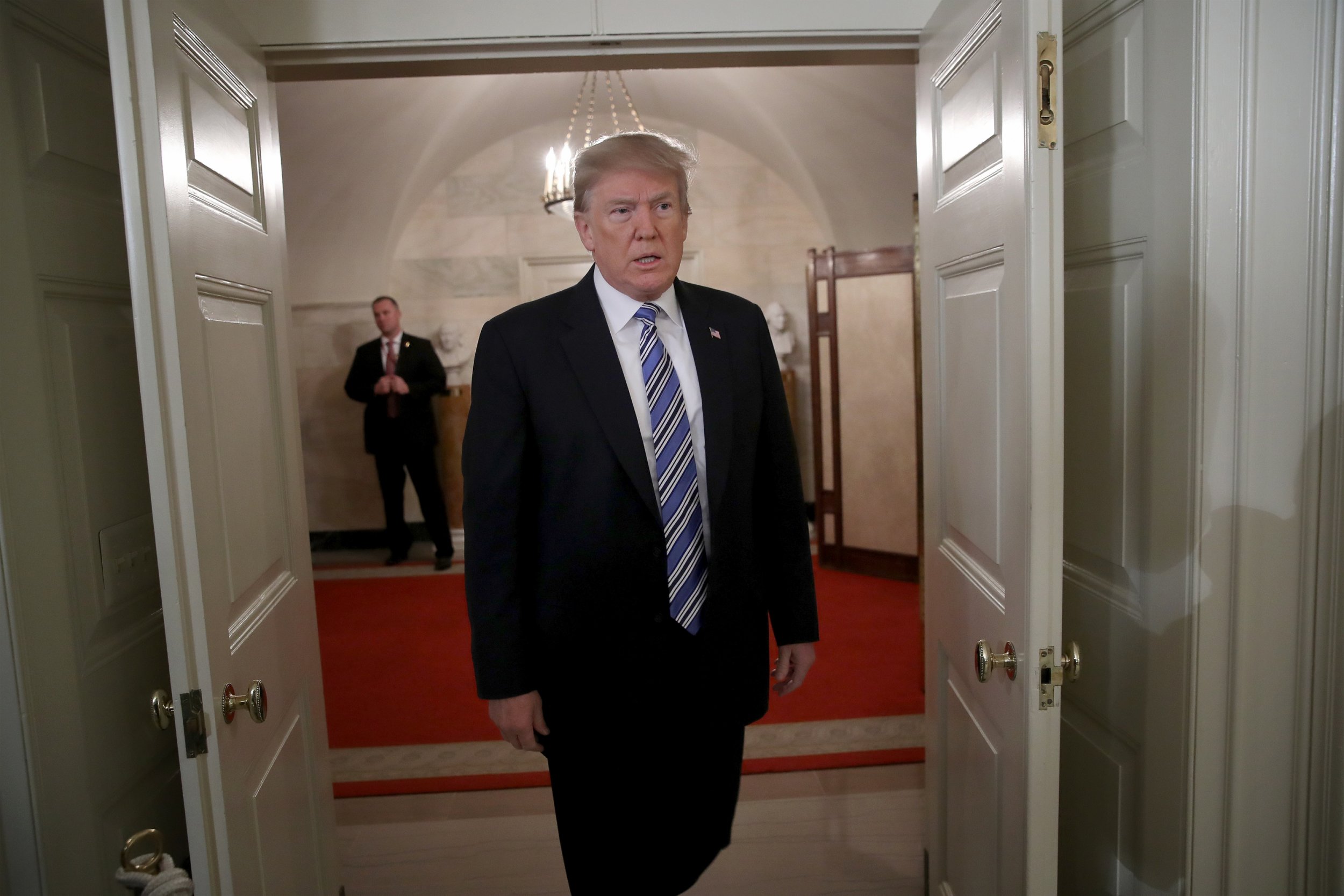 Updated | Donald Trump's alleged affair with a former Playboy model more than a decade ago reportedly came to an end over guilt and some questionable comments made by the would-be Republican president.
Karen McDougal, 1998's Playmate of the Year, had a nine-month-long affair with the New York billionaire that ended around April 2007 after she began feeling guilty about the tryst, according to the New Yorker's report published Friday morning citing multiple unnamed sources. Another factor in the alleged relationship ending, according to the report, was that Trump said a friend of hers liked "the big black dick" when a relationship with an African-American man was brought up in conversation.
Trump is said to have made the comment, which offended both women, while McDougal and her friend rode in his limousine to a Miss Universe pageant. Trump reportedly also discussed how attractive McDougal's friend was and the size of her breasts.
McDougal is said to have told Trump that her mother disapproved of him, to which Trump called McDougal's mother an "old hag."
The report detailed how McDougal sold the rights to her story to American Media Inc. in August 2016, just three months before Trump would claim victory on Election Day. It described, too, how the two met and carried on a relationship similar to the affair Trump allegedly had with former adult film star Stormy Daniels, real name Stephanie Clifford.
The revelation of Trump's alleged comment about black men follows comments he made in the Oval Office last month about people from Haiti and African nations. While discussing immigration reform and policies, the president, according to The Washington Post, asked, "Why are we having all these people from shithole countries come here?"
Trump also reportedly asked: "Why do we need more Haitians? Take them out."
Inciting further furor, the president is said to have also suggested that more people from Norway, a predominately white country, as well as Asian countries, should be encouraged to come to the United States.
Well before he began his political career, Trump had a long history of making perceived racist comments. In 1989, the real estate magnate took out newspaper ads calling for the death penalty against five African-American and Latino men accused of raping a white woman in New York's Central Park.
The men were exonerated in 2002 after another man's confession and DNA evidence, but Trump did not back down and still believed they were guilty back in October 2016.
"They admitted they were guilty," Trump told CNN. "The police doing the original investigation say they were guilty. The fact that that case was settled with so much evidence against them is outrageous. And the woman, so badly injured, will never be the same."
The president faced further criticism following his response to a white nationalist rally in Charlottesville, Virginia, last year. After a violent melee resulted in one young woman's death, Trump later accused "both sides" of facilitating violence and took several days to condemn the white supremacist groups.
This story has been updated to correct the fact that McDougal reportedly sold the rights to her story to American Media Inc. in August 2016, not November 2016.